There are some truly incredible athletes playing this fall across the state. From smart and savvy outside hitters to powerful middles and sneaky defenders, the competition this year is tighter than ever. These athletes may be a bit under the radar, but not for long. They are having breakout high school seasons!
Kyra is explosive for Whitnall. Though she plays middle in club, she is a 6 rotation outside hitter for the Falcons. Kyra puts balls down in the front and back row and also is key on defense and serve receive. She gets the most balls on offense and executes with power and shots. 
Morgan Stewart – Outside Hitter – Green Bay Southwest – 2025
This team has had a successful start to the season and Morgan has been a huge part of that. Even though she is very young, her positive impact is already being felt on this team. She is an energizer on the court and a great teammate. On top of that, Morgan is a talented hitter who only continues to grow. 
Stella Marrero – Libero/DS – Kenosha Christian Life – 2024
You may not know this, by Kenosha Christian Life is currently undefeated. They have a very talented and well-rounded roster this year. Stella is a huge part of their success. She leads the team in digs and service receptions and comes in very clutch in out-of-system plays. 
Alexis is an incredibly talented athlete who sometimes falls under the radar. She is fast, smart, and executes consistently. As a setter, she is great at finding her hitters and bettering the ball on every touch. She is gritty, competitive, and all-around a leader on this team. She spreads out her sets and is very hard to read.
Ella is an explosive middle who can be trusted to earn a kill even in the toughest situations. She is hitting 0.411 on the season, impressive by anyone's standards. What I love about Ella though is she is also amazing as a blocker and server. She has been racking up the aces and blocks every single game and really is a well-rounded and competitive middle. 
Jayden Garratt – Setter – Catholic Central – 2024
Jayden has had an amazing impact on this very talented team. Despite only being a sophomore, she has taken charge as the starting setter for Catholic Central and executed perfectly. She is athletic, smart, and a great setter. This young athlete has a lot to offer this program this season and for seasons to come. 
Ellie is a rock for this currently undefeated team. She is consistent and executes on defense and serve receive and communicates incredibly well. Ellie is a top-level player who isn't afraid to throw herself across the floor for her team. She reads opposing offenses well and is an all-around great athlete to have on this Holmen team. 
Other athletes to watch: 
Gianna Vollrath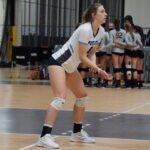 Gianna Vollrath 6'1" | MB Fall Creek | 2022 State WI – Fall Creek 
Morgan Kealy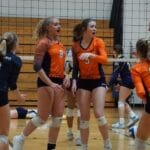 Morgan Kealy 5'11" | S River Falls | 2023 State WI – River Falls
Lilly Bandle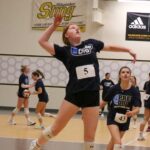 Lilly Bandle 6'1" | MB West Bend East | 2023 State WI – West Bend
Autumn Daute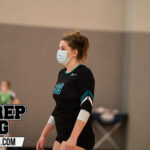 Autumn Daute 5'9" | S Cedarburg | 2022 State WI – Cedarburg
Eva Wall – Freedom 
Alicia Burgos – Dominican