Bold statement, but I stand behind this where Class 2A just might be the best and deepest class in the state of Iowa.  With teams from across the state who have state titles listed behind their names, there are the typical heavy hitters.  There are also some new squads who are on the rise as well as teams who are new to 2A this year.  So, what's the tea with 2A?  We got it for you!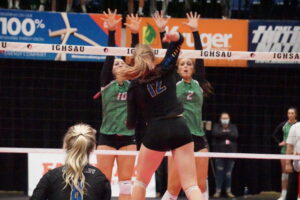 New 2A Teams To Note
Plot twist, the teams who qualified for the 2020 state tournament who are loaded and ready for a return.  However, there are also state tournament teams from other classes who have now moved into Class 2A and will have a major impact on the field.  Defending Class 3A state champion Osage, is now in Class 2A.  They may have lost some key pieces from their title team, but still return plenty of firepower with a front line that includes Meredith Street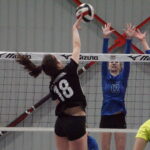 Meredith Street 5'5" | OH Osage | 2022 State IA , Kaebre Sullivan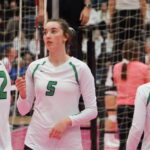 Kaebre Sullivan 6'1" | MB Osage | 2022 State IA , and Claudia Aschenbrenner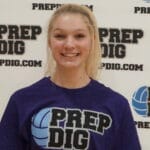 Claudia Aschenbrenner 5'10" | OH Osage | 2023 State IA .  Street is a Northern Iowa commit and Aschenbrenner is a top five Class of 2023 prospect.  They also return libero Jaden Francis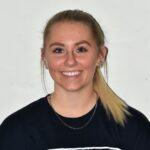 Jaden Francis 5'6" | DS/L Osage | 2023 State IA .  Wapsie Valley qualified for the Class 1A state tournament in 2020 and return a strong core from that team as well including two big attackers in Lydia Imbrogno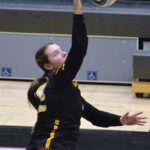 Lydia Imbrogno 5'9" | OH Wapsie Valley | 2022 State IA and Kalvyn Rosengarten Kalvyn Rosengarten 6'3" | MB Wapsie Valley | 2023 State IA .  Setter, Sydney Matthias is scrappy and smooth with how she can distribute to multiple attackers.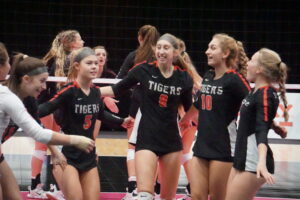 The NICL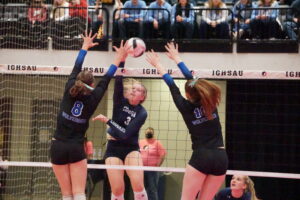 I don' think you will find a tougher small school conference than the NICL.  Small gyms filled with student sections and knowledgeable fans where each match is going to be a battle.  At the top of the conference (and the state) are Dike-New Hartford and Denver.  Both are undefeated and at the top of the class.  DNH has already beaten Class 5A powers, led by Payton Petersen and Jadyn Petersen, the Sophomore twin duo along with setter Madelyn Norton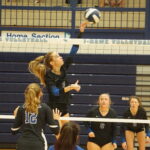 Madelyn Norton 5'8" | S Dike-New Hartford | 2023 State IA .  Denver was the state runner up from 2020 and return a strong core of upperclassmen with setter, Reese Johnson Reese Johnson 5'9" | S Denver | 2022 State IA and attacker Allison Bonnette Allison Bonnette 5'10" | OH Denver | 2022 State IA .  A junior to know would be Kayla Knowles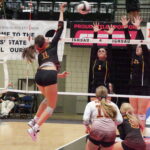 Kayla Knowles 5'11" | OH Denver | 2023 State IA who is really rising on the list of 2023 prospects.  These two teams will face off Tuesday in Denver – with the size of this matchup why not move it to the McCleod Center at the campus of Northern Iowa, maybe someone from these teams has a connection there 😉 
But wait, there's more.  There are also state powers who are familiar with the floor of the US Cellular Center in Cedar Rapids in Union, South Hardin, Grundy Center, Sumner-Fredericksburg, and Gladbrook-Reinbeck.  These teams might not all play each other during the regular season, but once again, a prime example of the depth of this conference. There are six teams ranked in the top 11 with five in the top ten.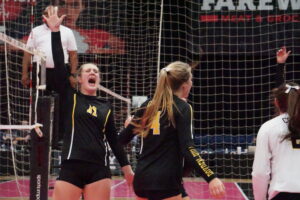 What About Western Iowa? 
There's a school by the name of Western Christian in Hull, Iowa that has won 49 state titles.  Not quite, but when Denver took down Western in the semifinals in last year's state semifinals it was definitely a shock.  Western is accustomed to winning state championship trophies and to walk off the floor without the top one was not what their program is accustomed to.  The Wolfpack has a loaded Junior class in Stella Winterfeld Stella Winterfeld 5'10" | OH Western Christian | 2023 State IA and Abby VerBurg.  Their schedule is loaded with top competition that includes top teams from the Omaha area.  Across town is Boyden-Hull who qualified for the state tournament in 2020.  Senior Jewell Bergstrom Jewell Bergstrom 5'9" | S Boyden-Hull | 2022 State IA paces the offense as the setter where her top target is another senior in dominant attacker, Marissa Pottebaum Marissa Pottebaum 6'0" | MB Boyden-Hull | 2022 State IA . The two teams will not meet in the regular season.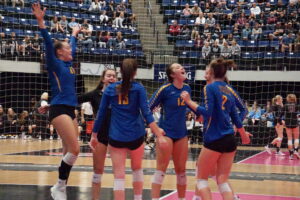 But Wait, There's More! 
We head back to Eastern Iowa where there are perennial powers Dyersville Beckman and Wilton.  Beckman is led by Kiersten Schmitt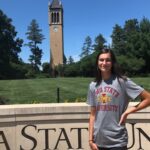 Kiersten Schmitt 6'0" | OH Beckman | 2022 State #103 Nation IA , an Iowa State commit, and Olivia Hogan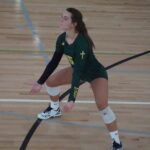 Olivia Hogan 5'6" | DS/L Dyersville Beckman | 2022 State IA at libero who most recently committed to Northern Illinois.  Jenna Lansing will also be key for the Blazers with their only loss coming to Dike-New Hartford.  They scored big wins at the Mount Vernon Shirley Ryan Invite that included Iowa City West, Grundy Center, Davenport Assumption, and Waverly-Shell Rock.  They will continue to be battle-tested in the uber-competitive WAMAC and this upcoming weekend at the Caroline Found Tournament at Iowa City West. 
Wilton is looking to come back to the state tournament where this Senior class has made it a tradition to finish in Cedar Rapids.  They have three college commits in Ella Caffery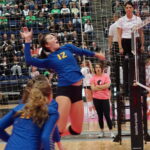 Ella Caffery 5'9" | S Wilton | 2022 State IA (Northwest Missouri State), Kelsey Drake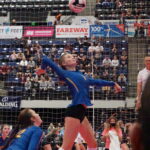 Kelsey Drake 5'7" | OH Wilton | 2022 State IA (UW-Platteville), and Carly Puffer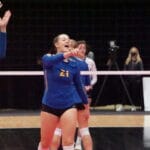 Carly Puffer 6'0" | MB Wilton | 2022 State IA (Cornell).  They are extremely athletic and know how to win big matches.  
So, How Does This Work In The Postseason? 
Before we start getting too wrapped up in what the postseason will look like, Iowa is very unique where the IGHSAU will do their best to get the top teams to the state tournament.  Most states have the same section every year for the same sport.  In other states, there's no way teams like Boyden-Hull and Western would be in different regionals.  Or in other states, they would put everyone in the NICL in the same region and teams like Dike and Denver would face off in round two of the regional.  
Here are some of my predictions of where teams will go with how the rankings are looking as of now (9/10). 
Western Christian and Boyden Hull will get sent East, which the other will get sent South where they would run into a Treynor or a Missouri Valley.  Kuemper is would be in that West Central area that could see Boyden-Hull as well. 
Osage is the furthest West of the teams in that pocket of the Cedar Valley.  They could get sent West to North Central Iowa or they could even see a team like Carroll Kuemper for a regional final in a neutral site like Clarion-Goldfield-Dows. 
Wilton will take the entire Southeast Region and even South Central.  They will be the dominant team in that area.  
Beckman should be somewhat protected as well based on their resume.  They most likely would have to play all the schools around Dubuque up to the far NE corner of Iowa. 
How do you split up Dike-New Hartford, Denver, Grundy Center, South Hardin, Sumner-Fred, and Wapsie Valley? Dike and Denver should be relatively protected. Being the top two teams, they can draw some creative lines to get them a favorable road to the state tournament.  
If you look at teams ranked #5-#11, its goes as follows:
5. Wapsie Valley
6. South Hardin
7. Sumner-Fred
8. Osage
9. Beckman
10. Boyden-Hull
11. Grundy Center
There's a lot of volleyball left to be played, but here is where we currently sit.  Geography gets a little messy around the #8 and #9 teams.  I do think Beckman, based on their wins will end up staying along the Mississippi River.  Osage could see Boyden-Hull at a regional final in Algona.  For teams like Wapsie, South Hardin, Sumner-Fred, and Grundy, it could be a regional final battle between some of them.  Last year, Grundy Center lost in a regional final against Denver, Dike went West and defeated Lake Mills, South Hardin went West and defeated East Sac County, and Sumner-Fred won a regional with Beckman and Hudson all together.  
Let the games continue! 
Regional pairings should be out in just over a month and we'll see where the lines are drawn.