There are players we could write about every time, they have a great game every game, but who are the ones who are giving that extra spark to the team?  Who has become an "X-Factor", who is having a strong start to their season and as a result their team is among the top ten in their division?  The season is very young, but we have plenty of athletes who are the stars and are also serving a huge role for their squad who have caught the eye of others throughout Wisconsin. 
Morgan Kealy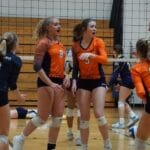 Morgan Kealy 5'11" | S River Falls | 2023 State WI – River Falls 
River Falls is once again off to a blistering start.  Leading the way is Junior setter, Morgan Kealy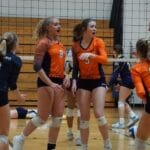 Morgan Kealy 5'11" | S River Falls | 2023 State WI who brings plenty of experience.  She's been setting at the varsity level since her Freshman year when she took over her sister's spot, Maddi Kealy Maddi Kealy 5'10" | S River Falls | 2020 State WI who is now at Minnesota Dululth, when she was out part of the season with an injury.  The Wildcats load up their schedule with plenty of top teams in Minnesota and will be heading to the Charger Rally at the Milwaukee Sting Center in two weeks.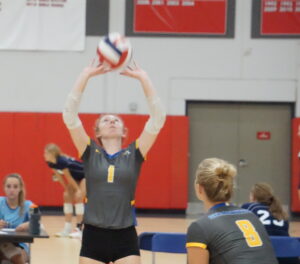 Madelyn Weyda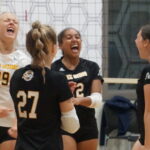 Madelyn Weyda 5'10" | DS/L Germantown | 2022 State WI and Maddie Connor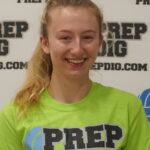 Maddie Connor S Germantown | 2022 State WI – Germantown 
Weyda and Connor have been through it all for the Warhawks who are back to state prominence after a solid performance at the Joust and then a dual win against Brookfield Central.  Connor is committed to Viterbo as a setter and is now the school's all time leader in assists.  Weyda does everything for Germantown where she's been playing on the outside.  She is a steal at the next level where she is accustomed to playing libero at a high level or can score points on the pin.  She is a 2022 who is still rising.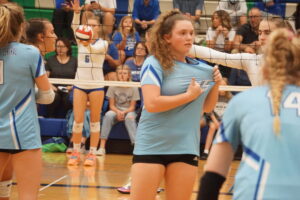 Emily Lavin, Emma Koceja, and Tatum Kebisek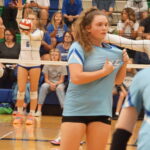 Tatum Kebisek 5'9" | S Brookfield Central | 2022 State WI – Brookfield Central 
Mckenna Wucherer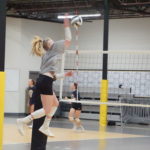 Mckenna Wucherer 6'1" | OH Brookfield Central | 2022 State #1 Nation WI and Morgan Daugherty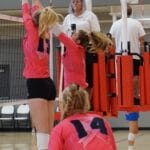 Morgan Daugherty 6'2" | MB Brookfield Central | 2022 State #200 Nation WI have been making headlines since even before they stepped on a high school court.  This is a new look Lancer team where Tatum Kebisek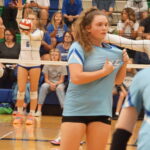 Tatum Kebisek 5'9" | S Brookfield Central | 2022 State WI is taking control distributing to a plethora of attackers that include Emily Lavin and Emma Koceja.  Lavin can swing and score points from anywhere.  She came up huge in the Lancers championship match at the Tom Larsen Invite at Notre Dame Academy, scoring points in key moments.  Koceja is only a freshman and is providing plenty of consistency from the pin and remains an outlet.  These athletes will take up more of the scoring when Wucherer heads to play with Team USA with the U18 Youth National team.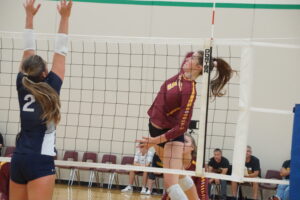 Autumn Flynn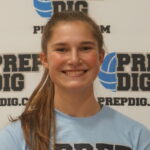 Autumn Flynn 5'11" | MB Luxemburg-Casco | 2023 State WI – Luxemburg-Casco 
Flynn also has plenty of experience for LC, but this season looks a little different for her so far where she has switched from playing middle to playing on the outside.  Senior outside hitter, Grace Holshuh, is out to start the season with a shoulder injury and Flynn has filled in scoring plenty of points.  Who knows, with how Flynn is swinging on the outside she might have a high ceiling on the outside or even with the right side with her ability to attack off one foot.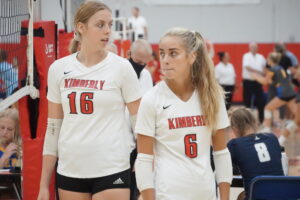 Macy Herman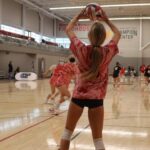 Macy Herman 5'11" | S Kimberly | 2023 State WI – Kimberly 
Kimberly is coming off a huge upset win over number one Appleton North on the homecourt of the Lightning. They have an extremely strong lineup of Juniors and Senior outside hitter, Ella Buddenhagen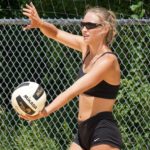 Ella Buddenhagen 5'11" | OH Kimberly | 2022 State WI , but Herman keeps this long, physical, and athletic lineup well balanced and the other side of the net guessing who is the next to attack.  They are in the driver's seat of a really deep Fox Valley Association and will be one of the hunted at the Charger Rally. 
Hannah Kuhlman – Lake Country Lutheran 
Lake Country Lutheran always finds a way to compete.  They play with discipline, have elite ball control, and aren't afraid to go against some top competition.  Adriana Studer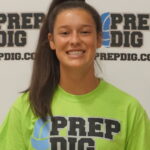 Adriana Studer DS/L Lake Country Lutheran | 2022 State #187 Nation WI and Rachel Rossing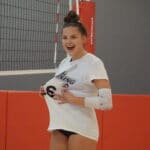 Rachel Rossing 5'9" | S Lake Country Lutheran | 2023 State WI lead with the first two contacts, Studer has experience from their state championship team as a freshman.  Kuhlman has been leading the Lightning in kills this season.  She is springy, and connects extremely well with Rossing.  This team will be one to watch throughout the season. 
Abbi Martin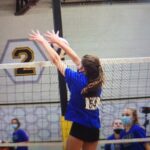 Abbi Martin 6'1" | MB Mosinee | 2022 State WI – Mosinee
Martin is the type of player where the other side needs to know where she is at all times.  A middle blocker who has to be touching near ten feet is long and athletic being able to get from pin to pin.  Mosinee is always one of the top teams in Central Wisconsin and Martin has been part of plenty of wins for the Indians.  She is averaging nearly three kills and a block per set.  Their only loss this season is to River Falls at the Menomonie Sprawl. 
Gwen Crull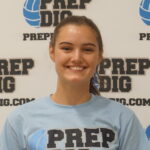 Gwen Crull 6'2" | MB McFarland | 2023 State WI – McFarland
McFarland made an opening statement by winning the Warhawk Open at UW-Whitewater against other top D2 and D3 teams.  Crull, much like Martin, is long and athletic out of the middle for the Spartans.  She has become a big time scoring option as well as a defensive presence.  She connects well with UW-Stevens Point commit Maddy Fortune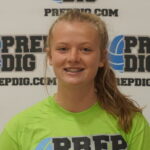 Maddy Fortune 5'8" | S McFarland | 2022 State WI as the setter.  Once against it will be a tough test for all of these D2 teams out of the Madison area who have three of the top four teams currently in D2.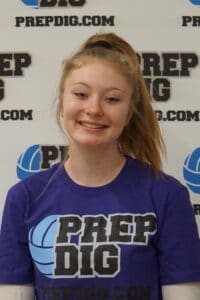 Gianna Vollrath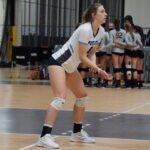 Gianna Vollrath 6'1" | MB Fall Creek | 2022 State WI – Fall Creek
Vollrath led the Crickets to the state tournament in 2019 and they are back with a vengeance starting 19-1, that's a lot of matches in the first two weeks of the season.  She has already surpassed 200 kills on the season and will be key to their run back to the Resch.  
Carizma Muth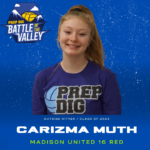 Carizma Muth 5'10" | OH Randolph | 2023 State WI – Randolph 
Randolph is loaded with athletes up and won their lineup.  One of the top attackers from this group is Carizma Muth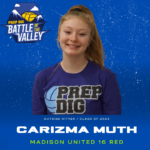 Carizma Muth 5'10" | OH Randolph | 2023 State WI who is a six rotation outside hitter who is currently leading the Rockets in kills with three per set and also chips in two digs a set.  She had a big offseason for the Madison United 16 Red club team and is carrying that momentum into the season. After a tough day on the season, Randolph is on a six match winning streak. 
Mattea Kiepert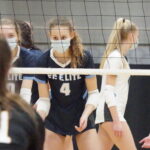 Mattea Kiepert 5'10" | OH Xavier | 2024 State WI – Xavier 
Xavier out of Appleton is coming on strong this year and it's getting done with a strong core of Sophomores and a Freshman.  Kiepert is another springy athlete who plays out of the middle, but is the type who can score from anywhere. She has a high contact point and a loose arm where she can get plenty of snap on the ball.  Her connection with sophomore setter, Mariah Potter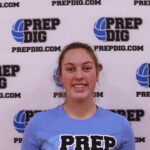 Mariah Potter 5'8" | S Xavier | 2024 State WI is one point.  The Hawks took a set off of Brookfield Central and were toe to toe with Luxemburg-Casco.