So this is what high school volleyball should look like?  These sophomores started their high school careers with plenty of regulations when it came to Covid-19 protocols affecting parents attending, student sections gathering in the masses, and for some an abbreviated season or alternate season.  I have been to some of the top tournaments in Wisconsin, Illinois, and Indiana (with Beast of the East in Michigan coming up this weekend).  Here are some of the top Class of 2024's I have seen LIVE, in person and can provide an accurate read on who these players are and where they are trending.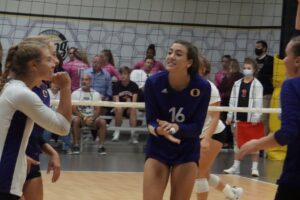 Anna Bjork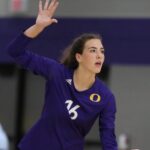 Anna Bjork 6'3" | MB Oconomowoc | 2024 State #47 Nation WI – Oconcomowoc (WI) 
Bjork's athleticism and physicality out of the middle is something special to watch.  She has a fast, high arm snap that makes her hitting efficiency extremely high.  When she hits it square, its a kill.  Her ability to go from pin to pin is tough to top where she gets planted, giving her a chance to really get her hands across the net.  She's had top tier USA training, plays for the top team in Wisconsin's largest class, and will be a middle among the best in the Class of 2024. 
Teams are closing in on winning their pool. Ocon looking dominant this morning at #chargerchallengewi

Anna Bjork Anna Bjork 6'3" | MB Oconomowoc | 2024 State #47 Nation WI – @oconomowocvoll1
Lilly Wagner Lilly Wagner 6'0" | S Oconomowoc | 2024 State #28 Nation WI – @oconomowocvoll1
Kamryn Kaminski Kamryn Kaminski 5'6" | S Howards Grove | 2024 State WI – Howards Grove
Maggie Hartwig Maggie Hartwig 6'1" | MB Sauk Prairie | 2023 State WI – @SportsSauk pic.twitter.com/ZNXK8LwsJf

— Chris Fitzgerald (@PrepDigChris) September 18, 2021
Lilly Wagner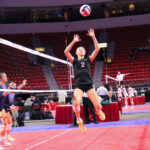 Lilly Wagner 6'0" | S Oconomowoc | 2024 State #28 Nation WI – Oconomowoc (WI)
Yes, she is the one setting Bjork and is alongside her blocking which makes for a massive barrier for opponents to hit around.  Wagner is essentially running a college offense with a lineup of attackers who are 6'0 tall and extremely fast and dynamic.  Her court presence is beyond her years, she has command, leadership, and makes something out of nothing.  There is little weakness to her game.  At just under six feet tall and very long she gets her hands to every ball and knows how to put her attackers in a spot to score. 
Ava Utterback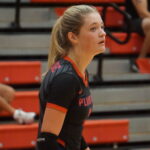 Ava Utterback 5'10" | OH Plainfield | 2024 State #5 Nation IN – Plainfield (IN)
I'm struggling to find the appropriate analogy when it comes to watching Ava Utterback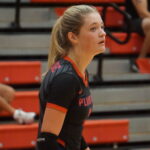 Ava Utterback 5'10" | OH Plainfield | 2024 State #5 Nation IN approach and jump.  It's deer like, but she approaches and jumps like its a well choreographed dance.  She is so smooth.  I saw Utterback play way back in January and again late in the spring/early summer and she has improved with her overall physicality and with how high she can play above the net.  With continued top tier training, she is going to be really dangerous when she applies that approach and high contact to the backrow.  
Lauren Salata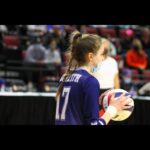 Lauren Salata 5'9" | OH Nazareth | 2024 IL – Nazareth Academy (IL)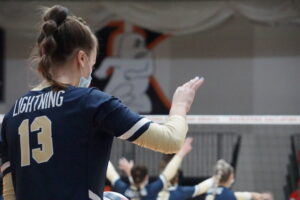 I remember seeing Salata playing during the club season and her progression into the high school season is not surprising. Her versatility is the biggest perk of her game where she could play on either pin and is a real point scorer on the right side.  She is part of a high school program who knows how to utilize their athletes the best way possible with two other athletes who are setting and swinging with Katie Hurta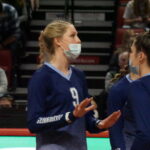 Katie Hurta 6'0" | S Nazareth | 2022 State #14 Nation IL (Committed to Indiana) and Kitty Sandt (Committed to Clemson). 
Ella Demetrician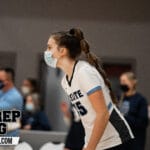 Ella Demetrician 6'1" | OH Appleton North | 2024 State #64 Nation WI – Appleton North (WI) 
Demetrician just got back from a big road trip to Omaha where the Lightning took on some of the top teams out of the Omaha and Kansas City area.  Demetrician is a six rotation outside who is extremely physical on the pin.  She is experienced, well trained, and when she turns it on, she is tough to stop.  Appleton North, along with Oconomowoc will be two of the top teams heading into the post season in Wisconsin's largest class. 
Lot of pressure from the @McAuley_VB serve and Macander just took over as a setter finding Ellie White Ellie White 5'11" | RS Mother McAuley | 2024 #52 Nation IL . Macs take set one over Marist pic.twitter.com/oI57BsYq1O

— Chris Fitzgerald (@PrepDigChris) October 2, 2021
Ellie White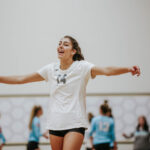 Ellie White 5'11" | RS Mother McAuley | 2024 #52 Nation IL – Mother McAuley (IL) 
White is another solid six rotation outside hitter who can do it all.  She has a really high IQ from the pin where she knows what's open and how to score to the open spot using her power and finesse.  She works really well with top uncommitted senior setter in Caroline Macander Caroline Macander 5'9" | S Mother McAuley | 2022 State IL where she finds White in any rotation.  I really like how White is able to run different tempos all across the net where teams always have to know where she is because there isn't a shot she can't hit.