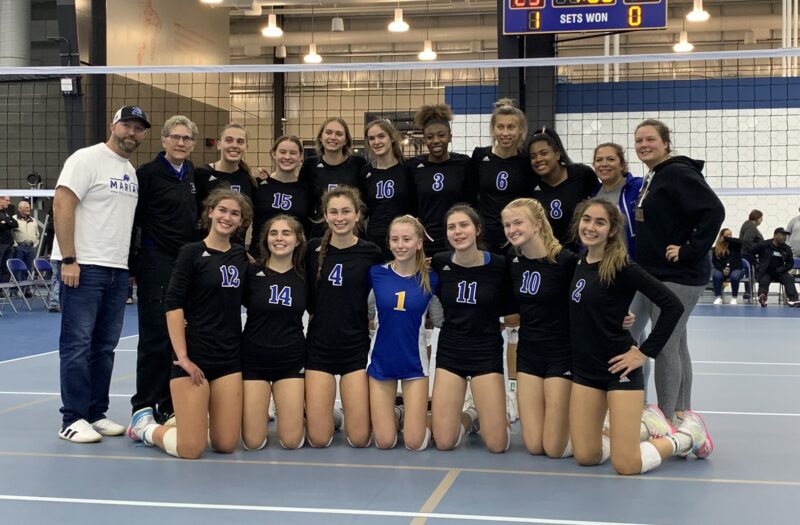 Posted On: 10/17/21 10:07 AM
You could just call them the Marian Beasts.
For anyone that ran into Marian in Saturday's Beast of the East, that's certainly what it had to feel like.
Top-ranked Marian left no question as to who was the Beast of the field as they went 7-0 on the day without dropping a set while claiming the championship.
In the final, Marian bested Grand Rapids Christian (No. 2 D2) by scores of 25-20, 25-9.
"I think all around, we did very well in every position," Marian coach Mayssa Cook said of the day. "We have walked away from a lot of matches wishing we did a little something better, but today I think it was really solid all around as a team. Everyone really came together."
https://twitter.com/PrepDigChris/status/1449521493017305089?s=20
Through 14 sets, the Mustangs only allowed opponents to get to 20 or more three times throughout the day. Rockford (No. 2 D1) gave Marian its toughest challenge of the day in the semifinals. The Rams held some leads, but ultimately fell 25-23, 25-20.
Marian was able to push a pace that opponents just couldn't match. Their many offensive weapons, led by Miss Volleyball finalist Ava Brizard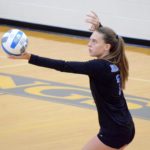 Ava Brizard 6'0" | OH Marian | 2022 State MI (N.C. State) and Ava Brizard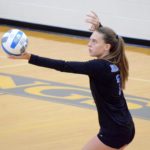 Ava Brizard 6'0" | OH Marian | 2022 State MI (N.C. State) and Sarah Sylvester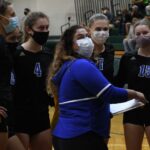 Sarah Sylvester 6'3" | MB Marian | 2022 State MI (TCU) were well spread out by setter Ava Sarafa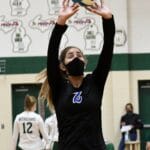 Ava Sarafa 6'0" | S Marian | 2023 State MI (Kentucky). https://twitter.com/PrepDigMI/status/1449467870048567297?s=20 Defensively, Lauren Heming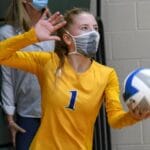 Lauren Heming 5'6" | DS/L Marian | 2023 State MI played an outstanding tournament to keep the offense running, while senior middle Janiah Jones Janiah Jones 6'1" | MB Marian | 2022 State MI was also a bright spot throughout the day. Her connection with Sarafa often led to highlight-reel finishes. "(Jones) was capable of this last year, but she just needed time to get comfortable with the new team. Pound-for-pound in skill and athleticism, she rivals any middle in the state," Cook said. "I truly believe we have two of the top middles in the state." Grand Rapids Christian still had a great day, besting Mercy (No. 9 in D1) in the semifinals 25-17, 25-13. The Eagles also earned bracket wins over Bloomfield Hills and Lakeland. https://twitter.com/PrepDigMI/status/1449471719798755332?s=20 Mercy handed Notre Dame Prep (No. 1 D2) its first loss of the season in a three-set battle in the bracket quarterfinals. NDP setter/outside Alyssa Borellis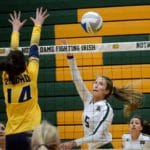 Alyssa Borellis 5'11" | S Notre Dame Prep | 2022 State MI dislocated her thumb earlier in the day, but taped it up and fought through the pain to contribute what she could for the Irish, but was unable to set. https://twitter.com/PrepDigMI/status/1449486877409619968?s=20 Teams will now start to polish up their play as they look toward the start of the postseason on Nov. 1. Beast of the East 2021 Results Pool Play [player_tooltip player_id="108716" first="Emily" last="May"], Coopersville Pool A: 1. Notre Dame Prep, 2. Byron Center, 3. Portage Central, 4. Allen Park Pool B: 1. Marian, 2. Mattawan, 3. Lowell, 4. L'Anse Creuse North Pool C: 1. Rockford, 2. Lakeland, 3. Flushing, 4. Eisenhower Pool D: 1. Grand Rapids Christian, 2. Coopersville, 3. Oxford, 4. GP South Pool E: 1. Dakota, 2. Troy, 3. Cadillac, 4. Grand Haven Pool F: 1. Lakewood, 2. Bloomfield Hills, 3. TC Central, 4. Birch Run Pool G: 1. FH Northern, 2. SMCC, 3. Stoney Creek, 4. Marshall Pool H: 1. Mercy, 2. Saline, 3. WL Northern, 4. Grand Blanc Gold Bracket First Round [player_tooltip player_id="140476" first="Meredith" last="Simmons"], Rockford Notre Dame Prep def. Mattawan Mercy def. SMCC Bloomfield Hills def. Dakota GR Christian def. Lakeland Rockford def. Coopersville Lakewood def. Troy FH Northern def. Saline Marian def. Byron Center Gold Bracket Quarterfinals Mercy def. Notre Dame Prep GR Christian def. Bloomfield Hills Rockford def. Lakewood Marian def. FH Northern Gold Bracket Semifinals [player_tooltip player_id="24853" first="Evelyn" last="Doezema"], GR Christian Marian def. Rockford 25-23, 25-20 GR Christian def. Mercy 25-17, 25-13 Gold Bracket Finals Marian def. GR Christian 25-20, 25-9 Silver Bracket Final Flushing def. Cadillac Bronze Bracket Final Eisenhower def. Grand Blanc