Posted On: 10/6/21 10:48 AM
We are roughly in the middle of the season based on the date of the season as we have now moved into October. We took a look at outside hitters and now let's take a look at the top setters. These ladies have really impressed me this season. The list is in no particular order. 
Joanna Andrews (Williamstown)
Andrews leaves her fingerprint on every play for Williamstown. Her volleyball IQ is off the charts and is the reason why Williamstown is unbeaten. She makes the correct play every time and ensures they are in the best position to be successful. Andrews has left her mark and has 313 assists on the season. 
Emily Wolters Emily Wolters S North Hunterdon | 2022 State NJ (North Hunterdon)
Wolters was a major surprise in the spring and now has put herself as one of the best. What happens? Wolters showcased her precision passing and ability to be creative from anywhere on the court. Now it has been Wolters show and she could easily lead the state in assists. She presently has 276 assists on the season and just eclipsed 500 in her career. 
Emily Carcich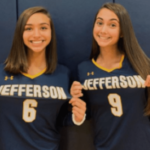 Emily Carcich 5'7" | S Jefferson | 2022 State NJ (Jefferson)
When it comes to Jefferson, you look no further than Carcich.  Having