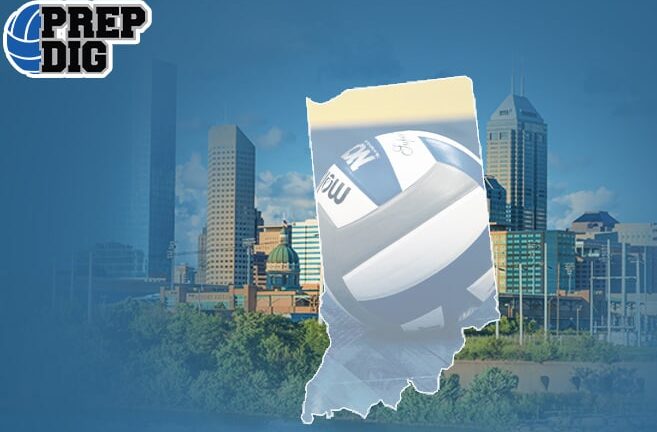 Posted On: 10/15/21 2:51 PM
Of the 3A teams I've seen this fall, this group of four could easily be in the top five (or have already made appearances in the top five) any year. The good news is that all four of these programs are still alive in the IHSAA playoffs, and are playing in their respective sectional semifinals tomorrow at various sites around the state. Here are the teams that almost took permanent residence in my top five, plus the players that have helped them get this far.
Muncie Burris (24-6)
It's hard for me to type a review of this group, as these Owls have been in and out of the top five all season. By drawing a bye to the sectional semifinals, they've at least avoided a tough quarterfinal match. Bellmont, a top-five resident, survived their match earlier in the week in five just to get the Owls. We'll see how tired/prepared the Braves are, because the Owls are due for a big win this season. My favorite on this roster (and it's no secret) has always been  Abigail Kesler Abigail Kesler 5'11" | MB Muncie Burris | 2022 State #196 Nation IN ('22, 5-11 MB/Pin, Lincoln Memorial commit), who will be a D2 stud in no time. She's in the 4+ KPS/.300+ stat category of elite level play, and her Munciana career will have to wait a little longer as long as the Owls are playing.
NorthWood (29-2)
By sweeping Lakeland in their first round matchup, the Panthers earned the right to play Wawasee (21-10), a conference foe that they swept earlier this season to take the Northern Lakes Conference title. There are multiple athletes that can carry this squad to a sectional title, but the kid that impresses me the most is Sophia Barber ('25, 5-9 OH/RS/S). At Empowered, she's a setter, but for the Panthers, she's the leading attacker and go-to pin player averaging more than three kills per set.
Fort Wayne Concordia Lutheran (22-9)
There's always a good-news/bad-news story about playing in Fort Wayne. The good news is that there's always great ball to be played, whether it's in club or in high school. The bad news is that there's always great ball to be played, meaning that every match is a tough one. The Cadets won the Summit Conference title earlier this month, and knocked off a strong Leo program in five earlier this week. That earned them a match with……defending 3A champ Fort Wayne Bishop Dwenger tomorrow morning. Hopefully, Jersey Loyer ('24, 5-10 OH) will recover from her rough outing against Leo and keep up her four-kills-per-set average. They'll need all of it and then some against the Saints.
Evansville Memorial (20-6)
Although volleyball in the southwestern portion of the state is not highly regarded by some, Evansville United VBC has had a number of solid club teams with commitments to excellent volleyball programs. Leading the attack (and proving my point) is  Traeston McCutchan Traeston McCutchan 6'2" | RS Evansville Reitz Memorial | 2022 State IN ('22, 6-2 OH, Middle Tennessee commit), who adds to a long list of commits that EU has produced in the recent past. At nearly four kills per set, Trae will bring her hammer against Gibson Southern on Saturday.