Posted On: 10/25/21 3:27 PM
Another week is gone in the fall season. Who would have thought that we would be through seven weeks of the season. This past week has been highlighted by top performances, tournaments, and major conference matchups as the season winds down before postseason play. The postseason seedings were announced on Friday: did some teams allow there play to subside because of it. So let's take a look some of the biggest takeaways from Week 7 of the season. 
Bergen County Tourney Upsets
Talk about pandemonium in the Bergen County Tournament as there was two major upsets in the Bergen County Tournament. Bogota got their revenge in one of the matches of the season taking down Immaculate Heart in three-sets. After winning a hard-fought first set 25-22, Bogota dropped the second 16-25 before grinding out a 25-21 third set to secure the win, handing Immaculate Heart its first defeat of the season. Ashanna Caviness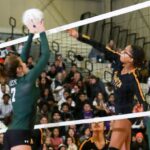 Ashanna Caviness MB Bogota | 2023 State NJ recorded team highs of 20 kills and three blocks to lead Bogota. 
What happens next? Ridgewood upsets Bogota in three-sets in the semifinals. Do you believe it be a lack of energy coming off the high from the IHA win, possibly. But what a victory