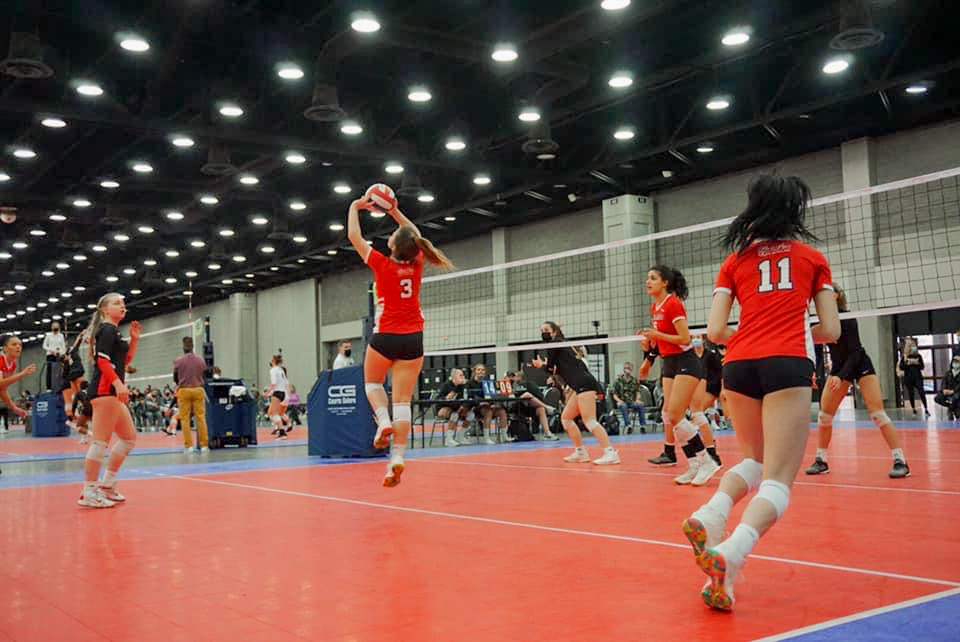 Posted On: 11/11/21 9:25 AM
The state of Texas has as many as 97 senior high school players included in the second annual American Volleyball Coaches Association (AVCA) High School All-Region Teams.
The selections are made by each of ten AVCA High School Regional Committees and the top 50% of nominated athletes make the cut. The All-Region teams also include the athletes that will be named to the AVCA High School All-American First Team, Second Team, Third Team, and Honorable Mention All-American as well.
Texas is part of the Region 4, alongside Arkansas, Louisiana, Mississippi and Oklahoma.
Texas Players Selected for AVCA High School All-Region Teams:
Abbie Smith – Libero – HS: Cy-Falls
Alexa Pyle – Middle Blocker – HS: Smithson Valley
Alexis Roberson Alexis Roberson 6'4" | MB Ridge Point | 2022 State #163 Nation TX – Middle Blocker – HS: Ridge Point
Allie Sczech Allie Sczech 6'4" | RS George Ranch | 2022 State #41 Nation TX – Setter – HS: George Ranch
Alyssa Clark – Libero – HS: Cedar Ridge
Alyssa Finister – Middle Blocker – HS: Cy-Falls
Alyssa Rojo – Libero – HS: Northwest
Asani McGee – Middle Blocker -HS: Rudder
Ava Camacho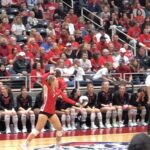 Ava Camacho 5'8" | DS/L Lovejoy | 2022 State TX – Libero – HS: Lovejoy
Ava Derbes Ava Derbes 6'0" | S A&M Consolidated | 2022 State TX – Setter – HS: A&M Consolidated
Ava Roberts Ava Roberts 6'0" | RS Mansfield | 2022 State TX – Right Sider – HS: Mansfield
Alexis Roberson Alexis Roberson 6'4" | MB Ridge Point | 2022 State #163 Nation TX – Middle Blocker – HS: Ridge Point Allie Sczech Allie Sczech 6'4" | RS George Ranch | 2022 State #41 Nation TX – Setter – HS: George Ranch Alyssa Clark – Libero – HS: Cedar Ridge Alyssa Finister – Middle Blocker – HS: Cy-Falls Alyssa Rojo – Libero – HS: Northwest Asani McGee – Middle Blocker -HS: Rudder Ava Camacho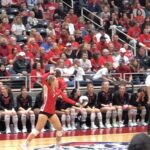 Ava Camacho 5'8" | DS/L Lovejoy | 2022 State TX – Libero – HS: Lovejoy Ava Derbes Ava Derbes 6'0" | S A&M Consolidated | 2022 State TX – Setter – HS: A&M Consolidated Ava Roberts Ava Roberts 6'0" | RS Mansfield | 2022 State TX – Right Sider – HS: Mansfield Averi Carlson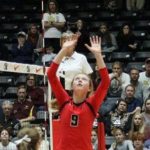 Averi Carlson 6'0" | S Lovejoy | 2022 State #3 Nation TX – Setter – HS: Lovejoy Avery Calame Avery Calame 5'11" | OH Boyd | 2022 State TX – Outside Hitter – HS: McKinney Boyd Avery Fowler Avery Fowler 5'9" | S Oak Ridge | 2022 State TX – Setter – HS: Oak Ridge Avery Shimaitis Avery Shimaitis 5'11" | OH George Ranch | 2022 State #142 Nation TX – Outside Hitter – HS: George Ranch Bailey Miller Bailey Miller 6'2" | OH Boles | 2023 State TX – Middle Blocker – HS: Boles Bekah Williams – Outside Hitter – HS: Smithson Valley Briana Zamora – Libero – HS: Clear Creek Brooke Jeffrey Brooke Jeffrey 6'1" | OH Lake Travis | 2022 State TX – Outside Hitter – HS: Austin Brynn Williams Brynn Williams 5'10" | OH Mansfield | 2022 State #95 Nation TX – Outside Hitter – HS: Mansfield Callie Humphrey – Libero – HS: VR Eaton Camryn Hill Camryn Hill 5'10" | OH Reedy | 2022 State TX – Outside Hitter – HS: Reedy Carlee Pharris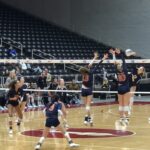 Carlee Pharris 5'11" | S Brandeis | 2022 State #141 Nation TX – Setter – HS: Brandeis Casey Batenhorst Casey Batenhorst 6'1" | S Seven Lakes | 2022 State TX – Setter – HS: Seven Lakes Cassidy Maclean – Libero – HS: The Woodlands Catherine Boldrick – Middle Blocker – HS: Westlake Chloe Charles – Outside Hitter – HS: Vandergrift D'Nari Mills – Outside Hitter – HS: Cypress Woods Elaina Amador Elaina Amador 5'8" | DS/L Flower Mound | 2022 State TX – Libero – HS: Flower Mound Emily Canaan Emily Canaan 5'8" | DS/L Allen | 2022 State #48 Nation TX – Libero – HS: Allen Emily Hellmuth Emily Hellmuth 6'4" | RS Highland Park | 2022 State #77 Nation TX – Outside Hitter – HS: Highland Park Emma Schroder – Right Sider – HS: Seven Lakes Faith Cox – Setter – HS: Cedar Ridge Gabby Walker Gabby Walker 5'10" | RS Flower Mound | 2022 State TX – Outside Hitter – HS: Flower Mound Grace Milliken Grace Milliken 6'1" | MB Lovejoy | 2022 State TX – Middle Blocker – HS: Lovejoy Grey Foster – Setter – HS: Westlake Hannah Billeter Hannah Billeter 5'11" | OH Boyd | 2022 State #106 Nation TX – Outside Hitter – HS: McKinney Boyd Ifenna Cos-Okpalla Ifenna Cos-Okpalla 6'2" | MB Marcus | 2022 State #123 Nation TX – Middle Blocker – HS: Marcus Ireland McCauley Ireland McCauley 5'5" | DS/L Vandergrift | 2022 State #173 Nation TX – Libero – HS: Vandergrift Isabella Martinez – Libero – HS: Hendrickson Isabella Ortiz – Middle Blocker – Flower Mound Jaci Mesa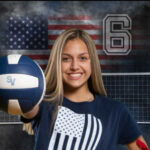 Jaci Mesa 5'6" | DS/L Smithson Valley | 2022 State TX – Libero – HS: Smithson Valley Jackie Velzis Jackie Velzis 6'0" | MB Cy Woods | 2022 State TX – Right Sider – HS: Cypress Woods Jailen Hurley – Outside Hitter – HS: Frisco Lone Star Jalyn Gibson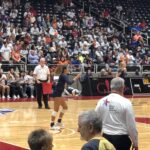 Jalyn Gibson 6'0" | OH Brandeis | 2022 State #181 Nation TX – Outside Hitter – HS: Brandeis Janet deMarrais Janet deMarrais 6'2" | OH Grapevine | 2022 State #82 Nation TX – Outside Hitter – HS: Grapevine Jazzlin Ford – Setter – HS: Prosper Jenna Gray – Setter – HS: Pearland Jessica Dunn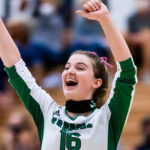 Jessica Dunn 6'1" | S Carroll | 2022 State TX – Setter – HS: Carroll Jordan Chapman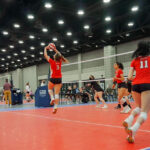 Jordan Chapman 5'8" | S Reedy | 2022 State TX – Setter – HS: Reedy Jordan Gamble Jordan Gamble 6'2" | MB Katy | 2022 State TX – Middle Blocker – HS: Katy Jordan Hairell – Righty Sider – HS: Tomball Kailee Gims – Libero – HS: Cypress Ranch Kasen Rosenthal Kasen Rosenthal 6'0" | S Westlake | 2022 State #169 Nation TX – Setter – HS: Austin Kate Bueche – Outside Hitter – HS: Friendswood Katelyn Krienke Katelyn Krienke 6'0" | MB Vista Ridge | 2022 State TX – Middle Blocker – HS: Vista Ridge Katherine Neille – Outside Hitter – HS: Hendrickson Katie Warden – Outside Hitter – HS: Crawford Kelsey Perry Kelsey Perry 6'3" | MB Reedy | 2022 State TX – Middle Blocker – HS: Reedy Kendall Hewitt Kendall Hewitt 6'0" | RS Prosper | 2022 State TX – Right Sider – HS: Prosper Kierstyn McFall Kierstyn McFall 6'4" | MB Klein | 2022 State #144 Nation TX – Middle Blocker – HS: Klein Kyla Malone – Outside Hitter – HS: Canyon Lexi Guinn Lexi Guinn 6'0" | OH Frisco | 2022 State #52 Nation TX – Outside Hitter – HS: Frisco Lexi Moody – Setter – HS: Crawford Lindsey Harris Lindsey Harris 6'3" | MB Eaton | 2022 State TX – Middle Blocker – HS: VR Eaton Lindsey Kriendler Lindsey Kriendler 6'1" | MB Cy Creek | 2022 State TX – Outside Hitter – HS: Cypress Creek Logan Lednicky Logan Lednicky 6'1" | RS George Ranch | 2022 State #133 Nation TX – Right Sider – HS: George Ranch Lydia Mesusan – Right Sider – HS: Klein Mackenzie Tijerina – Outside Hitter – HS: Antonian College Prep Maddie Dennis – Setter – HS: Smithson Valley Maddie Waak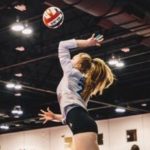 Maddie Waak 5'10" | S Katy | 2022 State #36 Nation TX – Setter – HS: Katy Maggie Boyd Maggie Boyd 5'10" | OH Marcus | 2022 State TX – Outside Hitter – HS: Marcus MaKenna Miller – Outside Hitter – HS: Northwest Mattie Gantt – Setter – HS: Aledo Maya Duckworth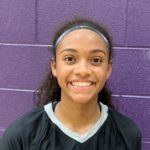 Maya Duckworth 5'9" | OH Birdville | 2022 State #49 Nation TX – Outside Hitter – HS: Birdville McKenzie Cutler – Outside Hitter – HS: Carroll Mecca Freeman – Outside Hitter – HS: Mayde Creek Megan Xie – Libero – HS: Memorial Melanie McGann Melanie McGann 6'3" | RS Keller | 2022 State TX – Outside Hitter – HS: Keller Mia Moore Mia Moore 6'0" | RS Heritage | 2022 State #194 Nation TX – Right Sider – HS: Heritage Morgan Perkins Morgan Perkins 6'1" | MB Episcopal | 2022 State #67 Nation TX – Middle Blocker – HS: Episcopal Natassia Baptiste – Middle Blocker – HS: Tompkins Naylani Feliciano – Libero – HS: Plano Nina Moorer – Setter – HS: Ridge Point Nylah Raspberry – Libero – HS: Ridge Point Olivia Arredondo – Setter – HS: Antonian College Prep Paige Mooney Paige Mooney 5'8" | DS/L Eaton | 2022 State #131 Nation TX – Outside Hitter – HS: VR Eaton Paris Hermann – Outside Hitter – HS: Tompkins Reagan Whatley – Outside Hitter – HS: The Woodlands Riley Weigelt Riley Weigelt 5'9" | DS/L Vandergrift | 2022 State TX – Libero – HS: Vandergrift Rosemary Archer Rosemary Archer 6'0" | S Lovejoy | 2022 State #35 Nation TX – Setter – HS: Lovejoy Samantha Cousins – Outside Hitter – HS: Memorial Samantha Wunsch Samantha Wunsch 6'1" | RS Vandergrift | 2022 State TX – Right Sider – HS: Vandergrift Sarah Sitton – Middle Blocker – HS: Friendswood Sophia Keene Sophia Keene 6'1" | OH Concordia Lutheran | 2022 State #100 Nation TX – Outside Hitter – HS: Concordia Lutheran Tatum Parker – Libero – HS: Paschal Trinidy Huynh – Libero – HS: Parish Episcopal