The girls' volleyball season is rapidly coming to an end as the Group State Championships took place this past weekend with the teams playing their State Finals. Everyone was hoping to get to this point but there were just two teams remaining in each Group. It was time to see who will get to be named State Champions! Let's take a look at how it unfolded. 
Group 1
Bogota's Dominance Continues
Bogota does it again! The Buccaneers continued their group title dominance as they took down Delaware Valley in two tight sets. The group title represents the third consecutive for Bogota and its fifth in the last six years in which a group tournament was held, with no group semis or finals being held in 2020 due to the coronavirus pandemic.
Their superstar Ashanna Caviness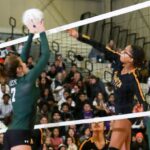 Ashanna Caviness MB Bogota | 2023 State NJ recorded 16 kills, a block and six digs in the victory. 
Group 2
Mendham Rallies Past Old Tappan
It took guts from Mendham as they seemed down and out at times in both sets but instead of giving in, the team showed resilience as they battled their way back twice to beat Old Tappan in two highly-contested sets. 
Sarah Wilcock Sarah Wilcock S Mendham | 2023 State NJ , who opted out in the spring, led the way for Mendham with 13 kills and 8 assists. Jola Olutiola Jola Olutiola 5'9" | OH Old Tappan | 2022 State NJ had 10 kills to lead Old Tappan in defeat. 
Group 3
North Hunterdon Ends Colts Neck Miracle Run
North Hunterdon did not have the chance in the spring to be a Group Champion as the scheduling for the spring only allowed sectional crowns. The team finished the job this time as they down Colts Neck in straight sets. A highly-balanced team with senior leadership continues to roll as they now have their eyes on the Tournament of Champions. 
Emily Wolters Emily Wolters S North Hunterdon | 2022 State NJ led the offense with 14 assists for North Hunterdon. Mary Huegel had 10 kills for Colts Neck in defeat. 
Group 4
Williamstown Perfection Continues
The perfection continues as they were the only unbeaten team remaining after the semifinals taking down East Brunswick. This time it was arguably their biggest test in Ridgewood in the final. The team was balanced and poised as they won in straight sets. 
Dajah Williams was spectacular carrying the Braves with 14 kills. Cammi Quirk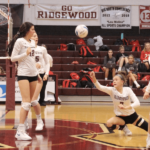 Cammi Quirk S Ridgewood | 2023 State NJ led the way for Ridgewood with 18 assists. 
Non-Public A
Paul VI Pulls off Monster Upset over IHA
Many did not see this coming including myself as Paul VI did the unthinkable by rallying in three-sets to take down the powerhouse in Immaculate Heart. It was easily the match of the day and Paul VI played perfect volleyball after being dominated in the first set to say the least. They ended a 13-year run. 
Zharia Harris-Waddy Zharia Harris-Waddy 6'0" | MB Paul VI | 2023 State NJ tallied four kills and one block for Paul VI, making things difficult up front for IHA's Brookelyn Talmadge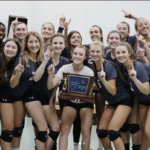 Brookelyn Talmadge 6'0" | MB Immaculate Heart | 2023 State NJ , who has been one of the most dangerous hitters in the state this season.
Non-Public B
Newark Academy Takes Down Lodi Immaculate
Newark Academy saved their best volleyball for the postseason and they won both sets in different ways as they took home the Non-Public B crown. The first set was a fast-start and never looked back and the second set was a monster comeback to not allow the match to go to a decisive third set. 
Andria Huang spread the wealth with 17 assists and eight digs.