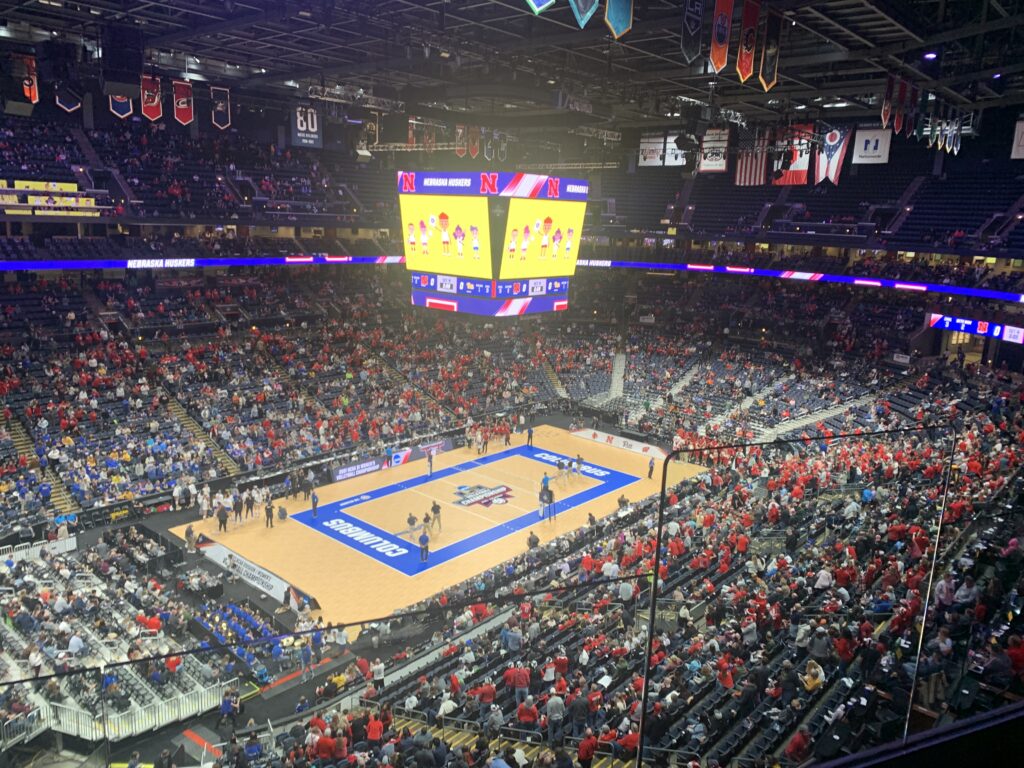 Posted On: 12/18/21 9:47 AM
Wisconsin vs. Nebraska, Nebraska vs. Wisconsin, the storybook ending for two top programs in the country from the Big Ten will come to an end with what is building up to be a national championship for everyone to put on their "Red", sit back, and enjoy some of the top athletes in the country. 
Austin Kingsley, Prep Dig Nebraska Scout, and myself, Chris Fitzgerald, Prep Dig National Analyst will give our breakdown of the championship match.  Kingsley is a Nebraska grad, a Husker through and through, while I am an adopted Badger fan, a current Wisconsin native, and have seen this team play live, on TV, and attended plenty of the camps put on by the Badger staff.  Will there be some personal bias in here? Sure.  But here is what we see will be the key factors and storylines in the championship match for Wisconsin and Nebraska. 
@cprebelsvball takes set two 25-21. @BadgerVB commit Izzy Ashburn running such an efficient offense spreading the defense pretty thin. pic.twitter.com/nrXClUcMTR

— Chris Fitzgerald (@PrepDigChris) November 9, 2018
Thoughts From Fitz
What Mini Star Will Shine Bright? 
First off, these players are all stars in their own way.  To be competing in the last match of the year, different players have had to step up in crucial times to help their team advance.  For Wisconsin.  Anna Smrek, the 6'9 Freshman had a career match against Louisville where she was an absolute force at the net, with momentum changing swings and big time blocks.  Who will it be Saturday night?  Can Smrek continue off the momentum she established Saturday night. Does a steady and consistent player like Grace Loberg have a career night?  Or for Nebraska, will one of the Freshman such as Lindsay Krause or Ally Batenhorst have their time to cement themselves as a Nebraska legend to win their first championship for their class.  The All Americans will be All Americans, but the next level of athletes, the role players who are now emerging as the stars can be the ones to ultimately have the biggest effect on the match. 
Ok @BadgerVB fans, meet your incoming Class of 2020 middle @Devyn_Robinson_ of @acgcchargervb – so fun, energetic, and will no doubt be a fan favorite! pic.twitter.com/xAcIqCxx13

— Chris Fitzgerald (@PrepDigChris) October 12, 2019
Who Wins Serve, Pass, and…Slide? 
Nebraska went right after Pittsburgh and had a clear strategy of attacking the libero, eventually forcing her out of the lineup.  With all of the metrics and film these teams have on each other, everything is intentional.  What can Nebraska do to exploit Wisconsin in the serve game to force them out of system.  What can they do to force Hilley to heavily depend on her pins and not get the ball to Dana Rettke, Devyn Robinson, or Smrek.  They will have to keep the serve away from Lauren Barnes who has been ridiculously great this post season and is serve receiving almost ¾ of the court.  That first touch will be so crucial on both sides, as it is in any match, however with an offense who features a National Player of the Year and five time first team All American who loves to play big against Nebraska, they have to keep Wisconsin out of system and not let the Hilley/Rettke show take center stage. Both teams run the slide extremely well with Rettke and seeing Lauren Stivrins of Nebraska run a slide is a thing of beauty.  Rettke will find a way to run the slide with the connection she has with Hilley, but can they get the slide rolling to Devyn Robinson, who will be one of the top athletes in the arena tonight.  Stivrins and Kayla Caffey are tough to stop when they are on, especially when you have the likes of Madi Kubik who is consistently producing from the pin. 
When @mikaela_foecke graduates from @Huskervball the next great Iowan will fill in with @MadiKubik – what a fun player to watch. Besides jumping out of the gym, she can hit on with pin and plays with such positive body language. Enjoy @nebhsvolleyball

— Chris Fitzgerald (@PrepDigChris) November 6, 2018
Super Senior/Feb Freshman Factor
Both teams have a unique combination of Super Seniors and Fab Freshmen.  Freshmen, Julia Orzol and Anna Smrek have been so key to the Badger success this season and especially for Smrek against Louisville.  While the fifth year Seniors of Sidney Hilley, Lauren Barnes, Dana Rettke, Giorgia Civita, and Grace Loberg are thriving in their fifth years.  As for Nebraska, Lindsay Krause has had some huge moments when Nebraska has needed her the most on the pin, while Lexi Rodriguez has only been the Big Ten Defensive Player of the Year and the National Freshman of the year.  What is scary is how well fifth year players Nicklin Hames has been connecting with her fellow fifth year teammates Stivrins and Caffey.  Will the Freshmen come out and just be on fire like Anna Smrek was Thursday?  Will the Seniors at some point feel the pressure? This Senior class of Wisconsin has had the number on Nebraska the past couple years.  Is that an advantage for them?  Or is this the time for the Huskers who have been on fire this whole tournament.  The first fifteen points will be messy, with teams finding their groove, but what happens when both teams get to 20 will be the deciding factor and how those players play. 
And On A Personal Note…
I have nothing but respect for these two programs.  I have been going to the Wisconsin Team Camp as a coach or a Prep Dig Scout since 2016.  I saw this Senior class for Wisconsin as incoming freshmen do demos for the high school kids.  The Wisconsin staff does so much to promote the sport for all levels of play in the state of Wisconsin and these athletes have been amazing role models for the aspiring youth athletes in the Badger Region. When I take a look at both teams, I am so proud that an Iowan will win a national championship.  I have seen Devyn Robinson (Ankeny Centennial/Iowa PowerPlex) of Wisconsin and Madi Kubik (West Des Moines Valley/Iowa PowerPlex) of Nebraska play since they were in high school.  And yes, they have been on the same side of the net during club ball (scary).  I have watched Lindsay Krause play at Skutt Catholic, Kennedi Orr at Eagan (MN), and our claim to fame is that Lexi Rodriguez and the Sterling "Golden Girls" played in our Prep Dig Tournaments in Appleton, WI when part of Wisconsin and all of Illinois did not have a fall in 2020.  
Future @BadgerVB commits on the court today taking in warmups. 2020 commit @Devyn_Robinson_ for @BadgerVB is a club teammate of @MadiKubik of @Huskervball at @iowapowerplex pic.twitter.com/GQdo9mPpiT

— Chris Fitzgerald (@PrepDigChris) November 24, 2019
Who Wins? 
I think all sets will go deep into the 20s, and with that, it could mean Wisconsin runs out of subs like set four which will force Grace Loberg to serve receive and pass more which Giorgia Civita typically plays her backrow.  With these teams and really most Big Ten matchups, its splitting hairs, it comes down to who can best execute.  Wisconsin has been building for this moment and this is a complete team with the offensive firepower and defenders who make it so tough to score points on. 
Badgers win it, 3-1. 
Austin's Key Factors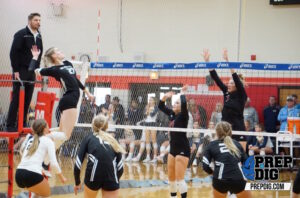 Will History Repeat Itself…Again?
The Badgers are stacked with a tremendous group of fifth-year seniors. It's a tight-knit class that collectively took advantage of an extra year of eligibility due to pandemic-related rule changes.
The aforementioned Hilley, Rettke, Barnes, Civita, and Loberg have found extraordinary success against a Nebraska program that is usually one to go on huge winning streaks against its rivals. Wisconsin has won seven consecutive meetings with the Cornhuskers, which is a nearly unprecedented streak for a Nebraska program. There was a run of four straight sweeps in there, too, including three in the 2019 season (the third of which ended Nebraska's season in the regional finals).
These super seniors know how to get it done against Nebraska. I was a freshman in college when I watched Wisconsin's only loss to Nebraska in the "Rettke-Hilley era." It was a 3-2 reverse sweep in the Devaney Center, and the starting setter on that Nebraska team is now a volunteer assistant on the Cornhusker bench. A lot has changed since Nebraska's last triumph.
So, perhaps the mental game is the biggest key of all for the Cornhuskers. It is emotionally taxing to come up short against the same opponent over and over. To put this in perspective, super senior middle blocker Lauren Stivrins is the only Husker player on the roster who has defeated Wisconsin.
Maybe Nebraska can find an advantage in the change of scenery and the raising of the stakes. There are no bigger stakes than this. Saturday's meeting is for a national championship, and it will be interesting to see if that shifts the power dynamic in a rivalry match that has recently been all about the Badgers.
Out-of-System Production
Tough serving is a staple in both of these programs' success. That's surely not surprising, as serve-pass has such a huge influence on how any match unfolds.
I expect we'll see plenty of passes trail off the net in Saturday's matchup. As Fitz mentioned, teams have advanced analytics and data that help them determine the most suitable serving target in each rotation that could help force the passing team out of system. If these teams aren't getting that coveted three-point pass, there will be a lot of pressure on the left sides to take some tough swings and make the most of it.
It's tough to say who might have the advantage in this regard. Nebraska junior outside hitter Madi Kubik has found success attacking high hands throughout her career, especially when she's not perfectly in rhythm after an errant pass. Those shots will have to be dialed in on Saturday, because Wisconsin's high hands are…very high.
Wisconsin's left sides have shown a bit of range in their out-of-system attacks. Orzol and Loberg have a tendency to tip over the block into zone 2 or cut it sharply into zone 4. Hames will need to have a great night picking up the tips in right-back, and Nebraska's off-blocker defenders will also need to be ready.
While out-of-system volleyball is not always the prettiest, it could be a huge key to victory.
What a gritty three set win for the "Golden Girls" from Sterling against the Thunder from Appleton North to take the 🥇🥇🥇- such great volleyball all around! pic.twitter.com/MNHU3PwUQS

— Chris Fitzgerald (@PrepDigChris) September 19, 2020
No More Subs?
Fitz made brief mention of this already, but the limit of fifteen subs per set could be a factor in this match.
Nebraska and Wisconsin both normally have only one six-rotation pin hitter in their lineup: Kubik and Orzol, respectively. If a set starts to get very heavy on sideouts, that kind of sub distribution puts teams at risk of running out and playing a disadvantageous lineup.
Wisconsin is perhaps more at risk in the sub department. In addition to putting in backcourt subs for Loberg and Smrek, the Badgers also deploy Izzy Ashburn at the service line for Rettke. That's a heavy substitution burden if a set is competitive or, even worse, goes to extra points.
We saw that in Thursday's matchup against Louisville. Rettke was forced to serve at the end of the first set due to dwindling subs, and it resulted in an error. Loberg was also thrust into backcourt duty at the end of the fourth set, and Louisville targeted her for an ace to force a fifth set.
Nebraska could realistically benefit from keeping things close. The Huskers have started using Stivrins at the service line to help prevent some of their own sub problems. That could make all the difference.
Husker Memories
I was raised in Lincoln, went to the University of Nebraska, worked in the athletic department, and beat reported for this volleyball team. Regardless of the result, it's exciting to be here to watch the Huskers compete for another championship.
The volume of homegrown talent on this championship-caliber squad is amazing. Krause was an absolute force for Omaha Skutt and was a joy to cover during her prep career. Waverly's Whitney Lauenstein had that competitive edge and desire to win that made her a standout performer wherever she went. She is joined by former Waverly teammate Anni Evans, who has been a big factor in Nebraska's serving substitutions throughout the year.
I've seen some ups and downs in this Nebraska volleyball program, but this is one of the peak moments for the team in recent memory. This is a squad that saw some struggles and growing pains in the regular season, but now they've surged forward into the championship match as a #10 seed. It's hard to remember a moment as awe-inspiring as that.
Who Wins?
Saturday's stage is a massive one, and there will be immense pressure on these Big Ten powers to perform. Many of the players in this match have seen this kind of pressure in their playing careers. For those who haven't, they're going to grow up really fast.
Nebraska is looking for that one breakout moment against a program that has recently dominated the series. There is perhaps no better time to find that moment in the biggest match of the year. The Huskers have five national titles to their credit, and it's time for them to channel that magic again. It's what they do.
Nebraska wins, 3-2.