MLK Weekend, let the games begin and the bids be earned with the 18s as they start their journey to Arizona for USAV Nationals at the end of April.  18s can be an interesting combination of teams with some athletes heading off early to college, and some of the 16s and 17s might be playing up on the 18s. Let's zero in on the 18 Open Division in Chicago which will feature some top teams across the country and who will be the first ones to grab a bid to Arizona. 
*This is from pools posted as of 6:00 PM Thursday Night
The Favorites
Sunshine 18 LA – Los Angeles Area
This team out of Pacific Palisades is a heavy front runner going into the weekend.  When the West Coast teams come out the Midwest those 8 AM matches hit a little different when it's 6 AM Pacific time.  Ella Rubin headlines a roster full of Division 1 commits where she will head to Stanford in the fall.  The other athletes on the team who are heading to some high powered programs would be Ella Geoghegan (San Diego State), Kerry Keefe (Duke), Dani Thomas-Nathan (USC), and Kennedy Hill will get the chance to play in her future home where she is committed to Northwestern.  This team will rely on their depth, experience, tempo, and "California" style with their relentless ball control and high IQ.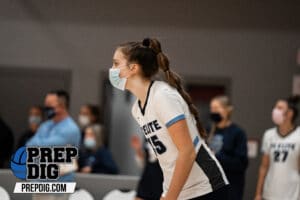 FC Elite 18 Elite – Appleton, WI 
FC Elite was in the elite eight of the USAV 18 nationals in 2021 and return a strong core of athletes from that team.  They will have potentially the best defense and serve receive in the country this year behind 2023 Wisconsin libero commit, Saige Damrow, and her high school teammate and Dayton libero commit, Karissa Kaminski.  They will have plenty of length on the right side with Kennedy Martin (Florida) and newly committed Kyla Dunaway (Alabama).  On the pins they will be lead by one of the top six rotations in Wisconsin in Brianna Cantrell (East Tennessee State University) and one of the top 2024 pins in the country in Ella Demetrician. FC Elite was a bit of a surprise to teams last year, but they will not go in quietly to any tournaments this year.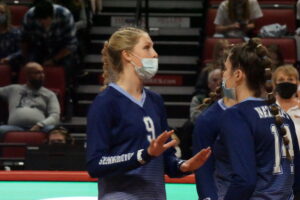 Adversity G18 Adversity – Chicagoland
Every team playing in 18 Open has athletes who are the best in their state or even the country, same is said about the Adversity 18s where these athletes are accustomed to open level success.  Katie Hurta will lead this team where is one of the most versatile players in the country.  She will head to Indiana, but will first look to capitalize on her last club season.  She was named the Gatorade Player of the Year in Illinois and is the top ranked player in Prep Dig Illinois Class of 2022.  She can score points on the pin or run the show as a setter.  Her high school teammate, Gillian Grimes is a spark at the libero position and is committed to Michigan State.  This team has plenty of depth where last year they qualified two teams in 17 Open.  They are extremely well trained and have plenty of athletes who can contribute at any time. 
MN Select 18-1 – NW Minneapolis Metro 
This group was on fire last year as 17s where they qualified in 17 Open and had some big wins along the way where heading into the season they weren't on any top national radars.  I've seen Elle Cotton play since she was a sophomore in high school and she is extremely dynamic.  She is a do it all type setter that is committed to Boise State.  Ella Voegele (UNC Greensboro), Emma Goerger (St. Thomas), Sierra Moore (UMBC), and Kathryn Riviere (North Dakota) all won a large class Minnesota state title together this past fall and will look to end their club careers at the highest possible level on the club circuit. 
Rockwood Thunder 18 Elite – St. Louis Area
I remember watching this squad win the Northern Lights Qualifier as 15s, now they are all grown up, found their future homes, and are looking for one last ticket to be punched to USAV Nationals.  Vanessa Polk is committed to Pepperdine and is a really physical athlete in the front row, it's her front row, and everyone else is playing in it.  Other athletes to watch for this weekend would be Madilyn Sell (Missouri), Madison Scheer (Auburn), and libero Ally Williams (Maryland).  Rockwood traditionally has some of the top teams in their region and have a standard of qualifying their top teams for open level nationals.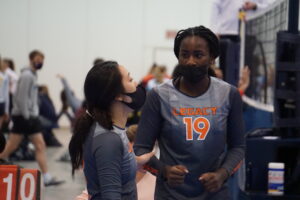 Who Else Is In The Hunt?
The Michigan Teams – Legacy 18-1 Adidas and Michigan Elite 18 Mizuno will be two highly competitive teams throughout this season.  Legacy will have two future Big Ten commits in Cari Bohm (Illinois) and Serena Nyambio (Michigan).  Jada DiVita is an extremely physical outside hitter who will head to Lipscomb and another six rotation outside for Legacy is future Duke commit, Sydney Tomlak.  Michigan Elite is led by Ava Brizard (NC State), the winner of Miss Volleyball and the Michigan Gatorade Player of the Year.  She has a big swing and is a threat anywhere on the court.  A fiery competitor she can will her team to win.  Others to note on this squad would be Sarah Sylvester (TCU), Alyssa Borellis (Ole Miss), Josie Bloom (Virginia Tech), and Kimani Johnson (East Tennessee State). 
Ava Brizard with the kill to capture the Beast of the East title for Marian pic.twitter.com/jDpst5bbaI

— Chris Fitzgerald (@PrepDigChris) October 16, 2021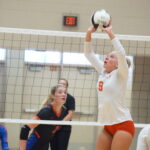 Chicagoland Squads – Adversity is one of the top seeds, but there are other Chicagoland teams who will be right there among the top squads that include Michio, Epic, 1st Alliance, and Sky High.  Michio and Epic were right with each other all of 2021 where the two met for the national championship with Epic taking home the title in the 17 National Division over Michio. Epic has two future Horizon League commits who are also high school teammates in Kendall Schara (Green Bay) and setter, Rachel Rossman (Oakland).  Michio will be led by Haley Melby, a long, athletic outside hitter who is committed to Iowa.  1st Alliance 18 Gold will have two big swings heading to Ohio with Chelsea Thorpe (Ohio State) and Paige Pickering (Cincinnati).