We are proud to announce our Inaugural Prep Dig All-State Teams.  Our All-State players are considered to have played the best at their respective position THIS YEAR.  Some of the athletes listed may have played multiple positions on the court, but we have chosen them for the positions that we think they excelled at the most. 
We are proud to announce our First Team All State in this article series.  We will be posting a few athletes at a time in order to give enough credit to each player.  We are very proud of each player and everyone who helped them reach their goals this year. These players are being picked due to their individual performance on their teams this high school season. This next article in this series is devoted to the Middles.  These two young ladies are our picks for 1st Team All- State.
1st Team All State Selection:  Middle
  Lainee Pyles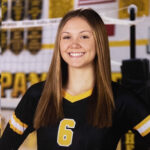 Lainee Pyles 6'3" | MB Fossil Ridge | 2024 State #44 Nation TX [2024] 6-0 Middle  (HS: Fossil Ridge/Club: Madfrog/Verbal: Uncommitted)
Lainee is currently ranked as the 9th best overall prospect and the 3rd best middle in the 2024 Class according to our Prep Dig State Rankings.  We profiled her this past year and here is a little of what we stated, "She is from a club who is known nationally as always having some incredibly athletic players who play at a high level.  She has the frame and upper body power that will electrify for years to come.  She understands the hard drive with her footwork to do some damage offensively in the middle on quick attempts.  I like how she turns on the ball to hit the hard cut back shot to right back.  It is almost impossible to stop when her setter is in system for it.  She has incredible athleticism out of the middle and routinely scores on overpasses and 2nd contact kills.  You can attribute this due to her incredible play in sand volleyball.  It takes a special player to excel in both indoor and beach volleyball and Miss Pyles is one of those players who can easily transition from one sport to the other. She will be a force to be reckoned with for the next four years.  We will grab our popcorn and watch the show.  Please welcome her to the Prep Dig family and congratulate her on being ranked with the top players in the great state of Texas.  This season Lainee has been stellar on varsity. She has amassed 483 kills on a 271 hitting percentage.  Her kill total is leading the entire state out of all sophomores across Texas.  She also has 41 blocks and 54 aces on the year. Miss Pyles has proven that she is one of the best sophs on the court.  Please help us congratulate her on the achievement of being in the running for an All-State award."  This super sophomore has proven herself on both offense and defense this past season. We are proud to announce that she is the recipient of our inaugural 1st Team All-State award.  Please help us congratulate her on the special achievement. 
1st Team All State Selection:  Middle
Aspen Maxwell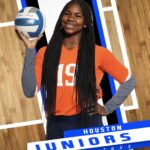 Aspen Maxwell 6'1" | MB Summer Creek | 2024 State TX  [2024] 6-1 Middle (HS: Summer Creek/Club: Houston Juniors/Verbal: Uncommitted)
Aspen is currently ranked as the 38th best overall prospect in the 2024 Class according to our Prep Dig State Rankings.  She plays high school volleyball at Summer Creek High School and also club for the famed Houston Juniors program.   We previously wrote an article about her and stated the following, "Miss Maxwell has already burst onto the scene as a Freshman standout for her varsity squad who went 18-8 overall and 10-2 in district.  This past season she had 112 kills, hit a .226 hitting percentage, and added 40 blocks. She is showing out and will be looked at to keep the momentum going for Summer Creek as the years pass by.  Her Houston Juniors team is tearing it up during the club season and is poised to be one of the best 15's team in the nation. She has fantastic power and will be great under the tutelage of the great trainers at Houston Juniors.  Please help us welcome Miss Maxwell to the State Rankings as we are excited to cover her this club season and for the future.  We have been watching closely and she has not disappointed.  She currently has the 5thmost kills in the entire state amongst sophomores.  Aspen has tallied 314 kills for her varsity squad to go along with 77 blocks and 10 aces. She has played against some amazing competition so far in her young career and has a very bright future.  We are proud to announce that she has earned the right to be a candidate for an All-State award due to her play."  After some careful consideration, we have chosen Miss Maxwell as the recipient of our inaugural 1st Team All-State award. She has done an amazing job this season and is more than deserving of this honor.  Please help us congratulate her on the achievement. 
As always stay tuned for more articles on your favorite athletes.  If you have anyone you think we should watch out for, please shoot me an email with some info at nov8vb@yahoo.com.  Also don't forget to help these kids get more exposure by sharing our stories with your friends.  Help us help them by simply retweeting on Twitter or sharing on Facebook.  Thanks for following us, Prep Dig Texas Family! Don't be afraid to interact with us. We love the likes, shares, and quotes/comments.  Keep them coming!