Posted On: 01/9/22 5:46 PM
Another high quality team that combines top prospects across the Ohio and Kentucky border that is greater Cincinnati. An open-level qualifier a year ago as the USA Girls' Junior National Championships, this squad returns a lot of talent in every facet of the game as they get set to take on another tough schedule against some of the nation's best teams. Here are their key athletes:
Sydney Nolan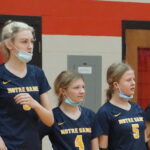 Sydney Nolan MB Notre Dame | 2023 State KY - 6'3 | OH/MB | Commitment: North Carolina
One Kentucky's top prospects from the 2023 class Nolan is long, athletic, and has a high ceiling in her skill set. She has good versatility to terminate from any location on the floor as a pin or through quick options in the middle. At 6'3, she has good ball control skills that allow her to contribute as a six rotation athlete. When in system and on tempo she is tough to defend. 
Ava Siefke Ava Siefke 6'1" | OH St. Ursula | 2023 State OH - 6'1 | OH | Commitment: Eastern Michigan
Siefke has good tools as a pin attacker and adds good depth to the high quality ball control this team has throughout their roster. She has the ability to terminate with good range while also defending