We are almost a full month into club season. Most teams have now played in multiple tournaments and there are some big tournaments just around the corner. Adidas Classic was the biggest tournament in Oklahoma this past weekend with 118 teams in action from 11s-18s. We will be focusing on how the teams from Oklahoma finished up and some of their top players. 
This tournament is hosted by UPVBC and saw a total of 35 of their teams in action. Only two of the divisions saw a non-UPVBC team bring home the title. They had an impressive tournament as a whole club. 
11s– The overall 2nd seed was Club Velocity U-11-1 from the Delta region. They got the upset of the #1 seed UPVBC 11 Pink. It was a tight match, finishing 15-8 in the 3rd and final set. It is awesome to see kids of this age already building fundamentals and seeing that love for the game blossom.
12s– One of the most loaded divisions of the tournament. Multiple top 10 teams from the state met up here: Peak 11-1. TPV 12-1, Virago 12-1, Peak 12-2, UPVBC Pink, and UPVBC Mint.  These are all solid teams, and at this age, it only takes one or two good serving runs to really swing the momentum of a match. Virago 12-1, the #1 team in the region, was upset the first round by the eventual champ. TPV 12-1 and UPVBC Pink met in the championship, making it worth the price of admission. UPVBC Pink made a come-from-behind run at the end to win in the 3rd set 15-13. TPV 12-1 now sits at 11-1 on the season, while UPVBC Pink upped their record to a strong 10-1. These teams will likely see each other again and we look forward to that matchup. 
13s– UPVBC dominated this division from the start, with four of their teams picked in the top six overall seeds. It was an all UPVBC final between 13 Open and 13 Pink. No upsets here, as 13 open cruised to the championship with only one team in the entire gold bracket scoring 20 points on them. They are 16-3 on the season and have ascended to the top of the region. 
14s– This age division was full of upsets and wild finishes. We saw the 2nd and 14th overall seeds in the championship. For the most part, the seeding held in pool play, but it is when we got to bracket play that everything got topsy turvy. We saw Virago 14-1 slip up and end up in the silver bracket, where they made quick work of getting their medals. No team scored more than 15 points of them, except their 14-2 team that they saw in the first round. UPVBC Pink had to battle through two three-set matches just to get to the championship. Once there, they beat the Delta region team in straight sets to bring home the championship. 
15s– We saw some craziness unfold in the 15s. We saw the overall top two seeds in the championship, that's where it ended. Pool 3 was loaded with three solid teams. UPVBC 14 open, Virago 15-1, and ONEVA 15-1 from Wichita. After a 3 way tie, UPVBC 14 Open and Virago 15-1 moved on to the gold bracket and ONEVA 15-1 went to the silver. ONEVA 15-1 had only one set where an opponent scored more than 10 points of them throughout the silver bracket. UPVBC 15 Pink and Mint ran through their pools with ease. UPVBC Pink saw Virago 15-1 in the quarter-finals where the strong serving and outside play was just too much for Virago 15-1, in the forms of Katelyn Standifer and Elyse White. UPVBC 14 Open saw UPVBC 15 Mint in the semifinals, with Mint winning in straight sets 25-12, 25-21. Mint then got the upset over Pink 25-17, 25-17 to take home the title and some bragging rights. Camryn Allen and Emily Ingraham both have did a great job for their team. 
UPVBC Mint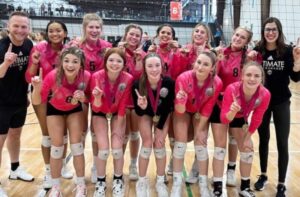 UPVBC Pink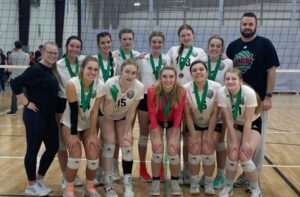 Virago 15-1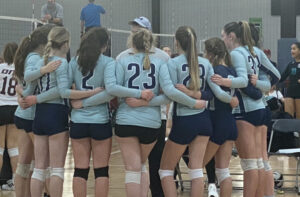 16s– We saw some good out-of-region teams show up in the 16s division with four of the final eight in the gold bracket. We saw the stellar Peak 15-1 team play up and have a great tournament, going 6-0 and bringing home the title. They had a goal of not dropping a set for the second straight tournament and they did just that. This is a special team with the likes of Livia Ward, Georgia Byers, and Morgan Manning. Watch out! Just watch out folks! 
Peak 15-1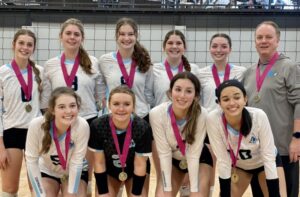 17/18s– Boy, oh boy, was this a good division! Some of the top teams from Oklahoma squared off: UPVBC 16 Open, 17 Open, 16 Pink, 18 Open, Charge 17 National, and Blaze 17-1. The gold bracket ended with an all UPVBC quarterfinals, with 16 Pink facing 16 Open and 17 Open facing 18 Open. The top two overall seeds met up and 17 Open came away with the title. Both of those teams will likely find a bid along the courses of their seasons. 18 Open has players like Mia Otten Mia Otten 6'3" | RS Bartlesville | 2022 State OK , Kate Ringer, and Megan Salyer Megan Salyer 5'5" | DS/L Jenks | 2022 State OK . 17 Open has Olivia Vance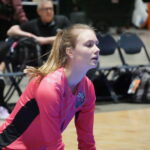 Olivia Vance 5'10" | OH Bixby | 2023 State OK , Jessica Shildt Jessica Shildt 5'3" | DS/L Bishop Kelley | 2023 State OK , and Megan Roy Megan Roy 5'10" | MB Bishop Kelley | 2023 State OK . 16 Open has players like Avery Jones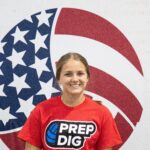 Avery Jones 5'4" | DS/L Broken Arrow | 2024 State OK , Maren Johnson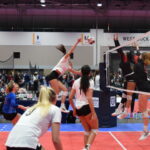 Maren Johnson 6'0" | OH Jenks | 2024 State OK , and Kiya Colvin. All of these players could make just about any team in the state better. 
UPVBC 16 Open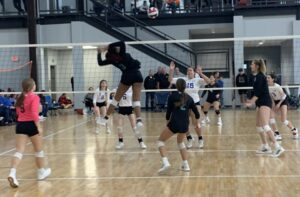 UPVBC 17 Open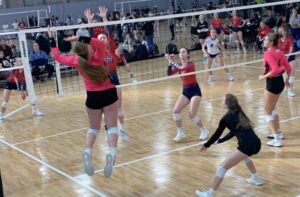 UPVBC 18 Open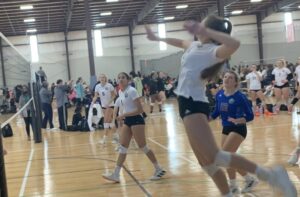 Adidas Classic was a place we saw plenty of teams face some tough competition. Some rose to the occasion and some fell. The teams we were able to see in person again have clearly gotten better. We expect in a month or so, most the teams will have ironed out some kinks and gelled as a team. These top teams will be fun to watch in the last couple of months of the season.