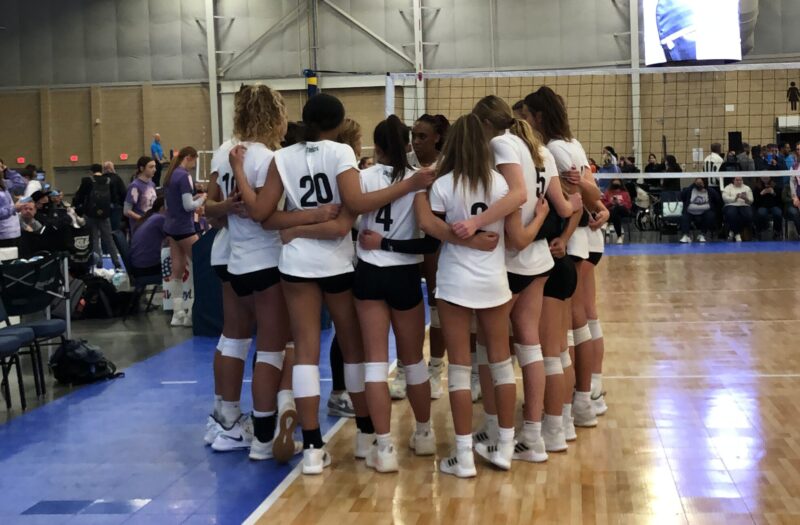 Posted On: 01/12/22 5:58 PM
Redland Rendezvous is a prestigious tourney that happens every year in Oklahoma City and has over 250 teams from Oklahoma, Texas and other surrounding states.  It is a great opportunity to get some quality reps in the early part of the season against some tough competition.  Most of the teams have just been practicing and this is their first chance to work on their lineups and others have competed in one tournament prior to this.  We were able to watch some amazing action over the course of the weekend and will be writing a few articles on some teams and players that showcased their skills. This next article will be on the 16 Open Division and Ultimate Performance's 16 Open team. 
Some of these players are currently ranked in our State Rankings and some have been on our watch list from this past high school season.  We will be unveiling our updated rankings with more of them listed in it in a few weeks.  Stay tuned to see where they fall on the rankings.  As far as the tourney is concerned, UPVBC 16 Open came in ranked as the third seed overall in the Open division.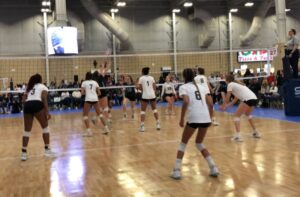 I was able to watch this team in person on day one and they were a little up and down in their opening pool.  You could tell a couple of things by watching them play in this early tournament.  The first thing that you could see was that they need some time to gel.  Now that is not necessarily a bad thing.  Every team at the beginning of the season will have some lineups to work at and tighten up both offense and defensive issues that their coach wants to work at. This tourney is perfect for that as it puts each team in situations to work on these things against some great competition.  The second thing that was truly apparent when I watched this team play was just how hard they fight when adversity hits.  They battled with both teams on day one and pushed through to pull out tough wins when they needed to. 
They finished the entire tournament undefeated although they had three matches out of the five they played that went to three sets.  Fort Smith Juniors from Arkansas gave them fits in the opening pool and played UPVBC 16 Open very tough.  That third set was played to the very end and UPVBC won by two points, 25-23.  It could have gone either way but UPVBC showed just how tough they can be when push comes to shove.  They ended up playing them again in the championship match of the tourney and again battled to a 25-22, 25-22 win. 
This team has great size across the entire roster as they are long and strong.  Super sophomores Kiya Colvin, Carly Butler, & Maren Johnson Maren Johnson 6'0" | OH Jenks | 2024 State OK lead their offensive attack.  Maren is currently ranked on our list but Kiya and Carly will be added when we update the rankings in a few weeks.  I will be talking to college coaches about these three for sure.  Let's meet some of their other awesome players.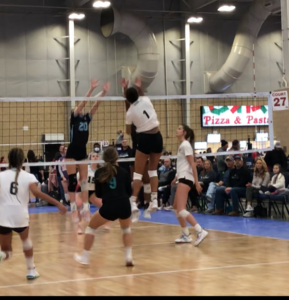 Ramsey Wagner Ramsey Wagner 6'1" | MB Cascia Hall | 2024 State OK has some great size and power and we will be watching her progress all season long to see where she can move in our State Rankings.  Libero Avery Jones Avery Jones 5'6" | DS/L Broken Arrow | 2024 State OK has a great base and a solid platform that keeps her serve receive super consistent.  Kate Schneeberg Kate Schneeberg 5'10" | S Bishop Kelley | 2024 State OK is ranked as the second best setter in our State Rankings and she showed exactly why in this tourney.  Her size is what most people will see as she has the tall frame that most colleges would love.  What is truly exceptional is how fast she is able to track passes down due to great footwork.  Her location is repeatable and there is not a set that she cannot make from anywhere on the court.  She was throwing darts all tourney long and changing up both speed and height to keep her opponents defense off-balance.  Her six-two offensive counterpart is Madeline Frenner.  This kid is very athletic and showcased it all weekend.  She is able to set all locations along the net.  But what is very appealing is the fact that she is able to hit in the front row at a high clip.  Although sometimes unassuming, Carly Butler hits a fantastic quick set out of the middle position.  Don't sleep on her ability to light it up on the offensive end.  Kiya Colvin absolutely punishes the ball when she rips it to either corner out of the middle.  But Maren Johnson Maren Johnson 6'0" | OH Jenks | 2024 State OK is the "go to" hitter on this super team.  They will go as far as her arm will take them.  She can put it away from anywhere on the court and turn on the ball to hit around any block.  She will for sure make a serious jump in the rankings when I update them in a few weeks. 
We will be covering these young ladies throughout their season and are anxiously awaiting seeing them after they work out some things they saw from this weekend.   
As always stay tuned for more articles on your favorite athletes.  If you have anyone you think we should watch out for, please shoot me an email with some info at nov8vb@yahoo.com.  Also don't forget to help these kids get more exposure by sharing our stories with your friends.  Help us help them by simply retweeting on Twitter or sharing on Facebook.  Thanks for following us, Prep Dig Oklahoma Family! Don't be afraid to interact with us. We love the likes, shares, and quotes/comments.  Keep them coming!