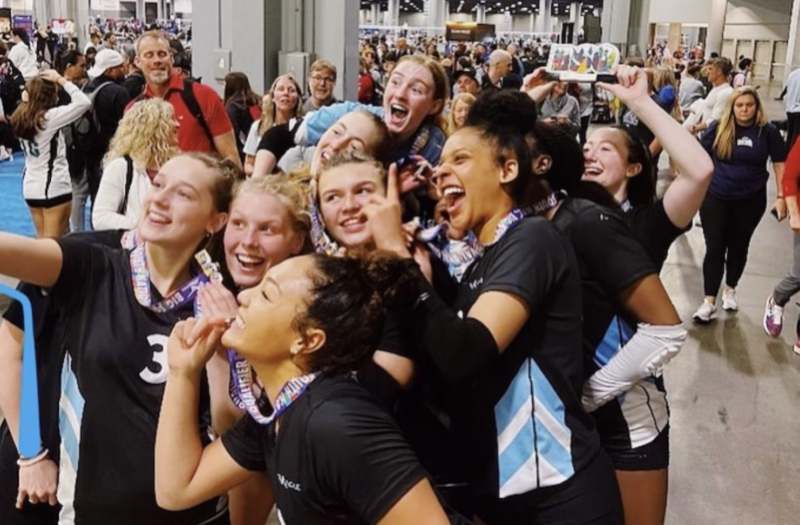 Posted On: 05/22/22 8:22 PM
From Morrisville, North Carolina, the Triangle Volleyball Club has made waves throughout the country with so many different types of teams: 15 selected to go to nationals, 7 regional plus, 3 regional squads, and five boys teams! Plus, they have Triangle Beach with three of their own sand courts!! Triangle Volleyball Club is spreading the love of volleyball, and their elite teams deserve to be recognized. Starting off this series, I want to cover their very talented 16 Black team with some serious studs! 
Alayna Smith- The right side hitter for this team, Alayna Smith, truly knows how to play the game at an elite level. My favorite part about her is how high she plays. Whether it's attacking or blocking, she is elevating up to her highest point every time she jumps. Attacking wise, she hits high off the hands which is a super smart shot for any 16 year old. It can really get any hitter out of a pinch when not in system. Plus, Smith brings the energy to her team when she enters the game. A true leader for this Triangle 16 Black squad. 
Kiarrah Home- A 6'1 outside hitter, Kiarrah Home, proves to be the team's go to at every tournament. One of my favorite shots she takes on the left is a beautiful four to four swing with power which is very hard to do, but she makes it look effortless. Home excels at moving the ball around offensively and handling what ever sets she's given out of system. Sure, she is hitting over people, and that's quite amazing, but Home does it with class. She's simply balling out for her team because she loves the sport, and that's what makes Kiarrah Home special. 
Asia Thigpen- The smallest hitter on the team, standing at 5'11, Asia Thigpen, shows out every time she takes a swing. Her athleticism and power in her approach is just immaculate which helps her elevate to a new level when she's swinging. If there's a double block in front of her, Thigpen just isn't scared. She's swinging through it. She's tooling the hands. Or one of my favorite shots in her toolbox- swinging line with some massive power. Thigpen just makes the outside hitting game look so easy, and I love it! 
Emily Bobbitt- Setting is a hard enough skill, but being a setter brings on a whole new level for the term, "difficult." Whenever I saw Emily Bobbitt play for the first time, she reminded me that a setter is a quarterback. It's not just about doing your job, but it's leading the whole team to get their jobs done as well. Bobbitt excels in the setting category with the smooth hands, quick footwork, and offensive power at the net. Yet, she also betters the team with her constant communication skills, great attitude, and positive talk on the floor. Bobbitt is a big key to Triangle 16 Black's success. 
Of course, there are other awesome players to watch from this team, but these four were just the beginning of their talent. This gifted squad even showed out at Big South where they won the 16 open division. What an accomplishment!! Make sure to keep an eye out for Triangle 16 Black at JVA Summerfest, AAU Junior Nationals, and USAV Girls Junior National Championships as they finish up their successful year!