Here's the other position group I wanted to discuss before 15 Open GJNC action starts.
Yesterday's feature honed in on some setters who should stand out during the championship chase in Indy. My focus now turns to a group of 2025 middle blockers who have a huge opportunity to raise their stock in this season-ending venue. There are few better ways to make a lasting impression than stepping up at USAV Nationals, and I expect these athletes to find themselves at the forefront of the Indy highlight tape.
So, keep these names on your radar.
Reese Dunkle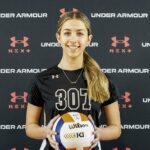 Reese Dunkle 6'2" | MB Center Grove | 2025 State IN – 6'2 MB – Circle City 15 Purple
Earlier, I tabbed Circle City 15 Purple as one of the teams to watch in this division heading into Nationals. Dunkle is a big reason why. This physical middle blocker fortifies the Circle City net in various ways, from her terminal swings on the middle quick to her massive blocks on either pin. If Dunkle feels comfortable playing close to home, Indianapolis should be an excellent spot for this 2025 prospect to take another step forward.
Keira Schmidt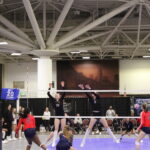 Keira Schmidt 6'3" | MB Eagan | 2025 State MN – 6'3 MB – Northern Lights 15-1
Northern Lights 15-1 is one of the squads doing an AAU-USAV double-dip, and players like Schmidt should be confident after an impressive showing in Orlando pool play. There are not many 15s teams in this division that boast more length at the net. Schmidt contributes to much of that physicality and will undoubtedly be a factor in Northern Lights' chance at redemption in Indy.
Kalyssa Blackshear – 6'4 MB – Mizuno Long Beach 15 C
Blackshear brings the kind of length that you simply can't miss. Not only does she present an intimidating block to hit against, but Blackshear's athleticism grants her an even bigger edge when attacking in the middle. Hitting over opposing defenders is a regular occurrence for Blackshear, and that has helped put Mizuno Long Beach firmly in the championship running at GJNC.
Keirstyn Carlton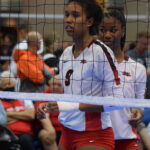 Keirstyn Carlton 6'2" | MB Stephenville | 2025 State TX – 6'2 MB – Drive Nation 15-Red
I won't soon forget the wild run that Carlton and Drive Nation had to a bid at NLQ earlier this year. High-impact Texas middles could be found all over the gym that weekend, and Carlton definitely earned her way into the spotlight.
Jenna Kolosta – 6'1 MB – 1st Alliance 15 Gold
Whenever 1st Alliance 15 Gold is looking for a spark, Kolosta is usually the one to provide it. She has been notorious for her one-on-one stuffs in clutch situations this year. Kolosta dominates at the net in a way similar to other 1st Alliance middles we've seen this year, so the club is certainly doing something right.
Peyton Bergman – 5'11 MB – WAVE 15-Scott
Lockdown defense is a hallmark of Bergman's game. Her blocking success can be attributed to many things, from her ability to read setters to the consistency with which she closes seams. In any case, Bergman will be an important torchbearer in a California Class of 2025 that is really starting to take shape.
Trinniti Stevens Trinniti Stevens 6'0" | MB Bishop Miege | 2025 KS – 6'2 MB – MAVS KC 15-1
Bring on Kansas City's next wave of must-see middle blockers. Stevens' impressive lateral quickness embodies the kind of volleyball we've always seen from MAVS: fast, up-tempo, and precise. This was one of several Midwest middle blockers that dazzled us at the Show Me Qualifier, and Stevens will likely add to the highlight reel at Nationals.
Corrine Blackburn – 6'3 MB – NKYVC 15-1 Tsunami
Blackburn is one of several talented middles that NKYVC has fielded across multiple age groups this season. 15-1 Tsunami has no problem running its offense through Blackburn, as this middle is quick off the floor and will always work hard to be a transition option. NKYVC also schemes ways to get Blackburn involved on the right pin in two-hitter rotations, so versatility continues to be a major storyline throughout this feature.