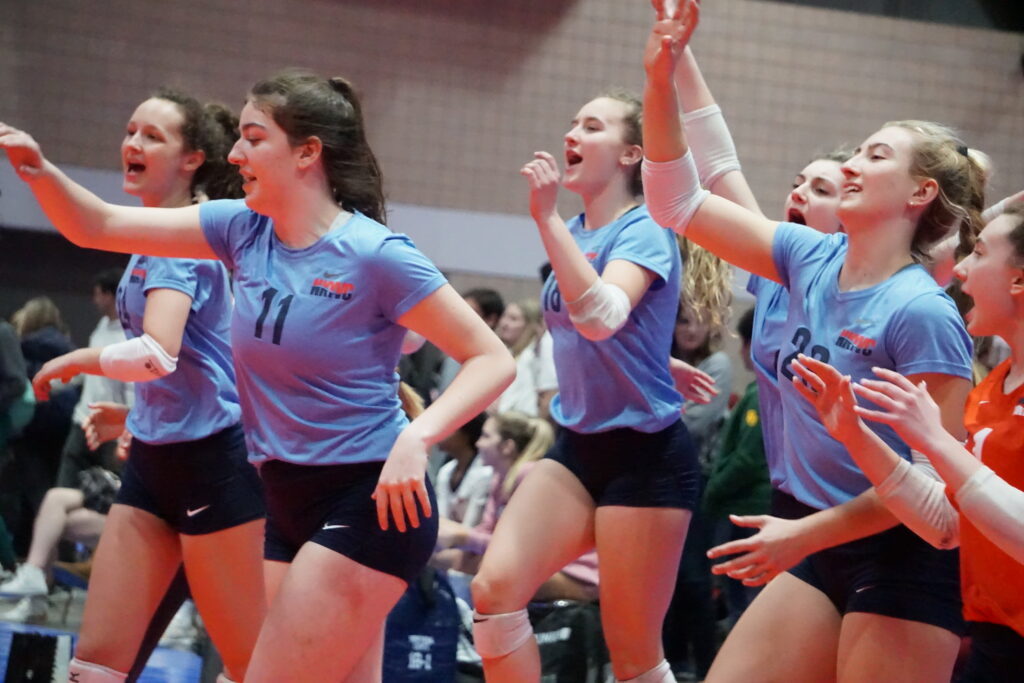 Posted On: 06/14/22 10:37 AM
The Prep Dig 2024 National Rankings are LIVE! 
There are 100 players on this list from coast to coast, athletes who are ready to get on the phone with college programs in a matter of days to start talking about their future as a collegiate volleyball player.  I have made it a priority to be on a lot of 16s courts to see as many of these athletes play live, but how do we narrow it down to 100 athletes? 
Deep diving into some 2024s. So many players, this class is DEEP! Here are some sleepers (even though they are going to be on the list of plenty of coaches). Here is the first part of "Who you gonna call" – parents, please educate kids on Ghostbusters https://t.co/Swuyhbb2iz

— Chris Fitzgerald (@PrepDigChris) May 9, 2022
How? 
I am constantly taking notes of players at events and will write articles from those notes.  I also am able to organize those notes into a database where I am able to organize players – some of this is for rankings, but more so to keep track of what clubs athletes are playing for and I can also see the gaps of what players I need to see at future events (much like college coaches).  Is this a process done alone?  Absolutely not. 
At Prep Dig, we have a network of scouts across the country, these scouts know these athletes at a hyper local level.  I am able to get feedback from our scouts, pull player information from our database and continue adding to the information that has already been gathered.  Do all the puzzle pieces fall into place as far as ranking athletes?  Not exactly.  Ranking volleyball athletes can be difficult in regards to what value do people place on specific positions.  A six rotation outside hitter vs. a dominant middle blocker vs. a libero vs. a three rotation right side or a setter who sometimes plays right side.  When I ask for feedback in regards to athletes, I ask, "What is their impact at the highest level of competition?"  There is also the debate of what is their impact now versus what will their impact be at the collegiate level and beyond. 
I receive plenty of names to consider for rankings at the state and national level.  I do try and see these players live, but I also make an effort in going to a court with a clean slate and seeing what athletes rise, making a major impact, finding the new names.  I really take the positive from their games.  Every athlete has an off match, that's why I try and see some of these teams time and time again, and also see them in various scenarios.  What are they like on day three of a qualifier, compared to a blowout on day one?  What about the athletes playing up an age level or two, how do you factor these athletes? (I'm still trying to figure that one out).  
From the feedback from Prep Dig scouts, to seeing these athletes live, I reach out to different coaches (not college coaches to avoid any NCAA compliance violations) throughout the country with a preliminary list to get feedback on anything obvious that seems "off".  That could be a player who needs to move up 20 to 30 spots, a player who wasn't mentioned on the list, it could be a player who is no longer playing, and the list goes on.  
This is also a big math problem too.  I will usually get people telling me or writing to me that specific athletes are definitely in the top twenty in the country.  However, when there are 50 athletes recommended for top twenty, it just doesn't mathematically work out.  The same can be said with athletes who are not in the top 100.  The names I was recommended, I couldn't put them all in the list (but they are still on the radar).  There are a lot of really talented players out there.  The ones listed will be getting calls from top collegiate programs across the country.  They will have their pick.  There are a lot of really good athletes from outside of this list who will be getting the same calls.  This is a constantly moving target at Prep Dig where we will continue to evaluate the athletes who are making the biggest impact at the highest level of competition. 
Why Rankings? 
This is simply a resource for college coaches and for us to use as a database for athletes.  We can tag articles to these athletes where they  can always use content from Prep Dig in writing to college coaches throughout the recruiting process.  This is only one year of data, but we can continue to track this class with any club changes, position changes, and add their commitments to the list. 
The college commits and tracking where athletes are going to continue their future is what is very fascinating to me.  What programs are getting the top ten recruits?  What programs are getting four to five recruits in the top 100?  What new programs are picking up momentum in their recruiting that maybe weren't even on the radar a few years ago.  In the 2023 class, there are the typical programs like Nebraska and Texas who have plenty of top recruits coming in, but a program that is one fire with their program and recruiting is Pittsburgh.  They weren't in the conversation a few years ago and now they have four top 100 athletes from 2023 heading to their program to be on the roster in a couple years. 
With NIL being a factor in recruiting, how could that affect some of these programs?  Will there be a correlation between the football and mens basketball programs that pull in big time money with lucrative NIL deals translating to women's sports?  (Hypothetical questions)  We can also look at this list two years from now and even six years from now seeing how many athletes change their verbal commit from when they were 16 to 18 and even transfer from 18 to 22.  
This is going to be good…we have a stacked field of 16s and plenty of 2024s coming to the Prep Dig Gauntlet. Here are some college coaches will be getting in contact with come June! @stingvb1988 @TheAcademyVB @SkyHigh16Elite @MissionVb @nlightsvball https://t.co/9MrKjiGUeK

— Chris Fitzgerald (@PrepDigChris) May 16, 2022
What's Next? 
We will continue evaluating athletes at Prep Dig and we will continue to take a look at the athletes who are in the local summer league and camps to the Open level at the USAV and AAU National Championships.  As these athletes change and improve, so must our scouts at Prep Dig, so will our process in improving our rankings process at the state and national level.  
We will have scouts out all year long, we will continue to cover the game at all levels, and we look forward to following this class as the process really ramps up on June 15.  
Class of 2024 National Rankings are 𝐋𝐈𝐕𝐄!

This class is stacked with talent.

Take a look at the 100 prospects who are listed 👇 https://t.co/04xT5XwI3s pic.twitter.com/WGLylwoNe3

— Prep Dig 🏐 (@PrepDig) June 13, 2022