Time to peek ahead at 16 Open.
This division will undoubtedly draw a lot of eyes as we turn toward July. I'll be one of those sets of eyes, and I can't wait to join everyone in Indy for one last club outing to wrap up the 2022 season.
Before all the action starts, let's get you primed for opening day. Here are a few key matchups I'll be watching when 16 Open play gets rolling on Friday.
Dynasty 16 Black vs. TAV 16 Black
Ah, the storylines in this one. If you're looking for a physical, hard-hitting matchup to help kick off your 16 Open viewing experience, this is one you have to see.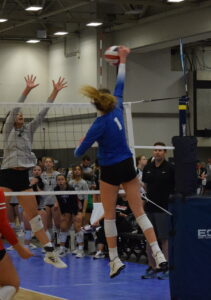 Dynasty comes into USAV Nationals as the undisputed championship favorite in 16 Open. That seems like a lofty claim to make in a division full of so many talented teams, but 16 Black has backed up that distinction throughout the entire 2022 season. Skyler Pierce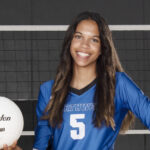 Skyler Pierce 6'2" | OH Olathe Northwest | 2024 State #1 Nation KS , now a Nebraska commit and our top-ranked player in the 2024 class, will lead an offense that has so many other lethal attackers. Carlie Cisneros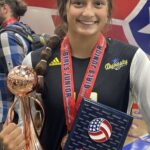 Carlie Cisneros 6'0" | OH Liberty North | 2024 State #6 Nation MO should continue her six-rotation dominance, while middle blockers Piper Newton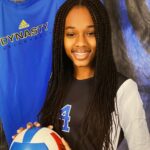 Piper Newton 5'11" | MB St. Teresa's Academy | 2024 KS and Jada Ingram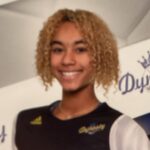 Jada Ingram 6'0" | MB Washburn Rural | 2024 State #49 Nation KS continue to step up in clutch moments.
Okay, so we just mentioned Nebraska commitments with Pierce. This match has to be the first-ever meeting between 2024 athletes committed to the same school. Future Cornhusker Ayden Ames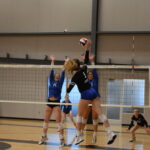 Ayden Ames 6'4" | MB Prosper | 2024 State #7 Nation TX looms large on the TAV side of the net and brings some incredible physicality anywhere along the net. She can swing on the left, middle, or at her current "home" at opposite. Aside from the Big Red duel, look for multi-talented outside hitters Jadyn Livings Jadyn Livings 6'1" | OH Prestonwood Christian | 2024 State #29 Nation TX and Mikala Young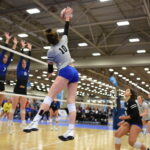 Mikala Young 6'0" | OH Prestonwood Christian Academy | 2024 State #45 Nation TX to hold down serve receive and put down some huge swings on the left.
This matchup has the makings of a classic, so buckle up.
KC Power 16-1 vs. Premier Nebraska 16 Gold
These two squads just keep finding each other.
I've been able to hone in on two different meetings between these squads during qualifier season. The first occasion was at the Northern Lights Qualifier, where these two sides squared off in the Gold pool opener. It was a match won by 16 Gold that eventually propelled Premier Nebraska to secure a bid at that event.
These teams met again in the Gold pools of the Show Me Qualifier. It was a rematch that went all the way down to the wire until 16 Gold secured a 16-14 win with a third-set comeback.
Even if you don't consider the series history, this contest will be another awesome display of some top-tier Midwest talent. Middle blocker matchups should be a big storyline, with Premier's Mia Tvrdy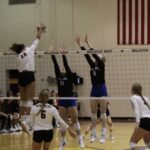 Mia Tvrdy 6'0" | MB Papillion-La Vista | 2024 State #78 Nation NE and Morgan Bode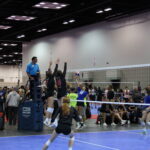 Morgan Bode 6'1" | MB Papillion-La Vista South | 2024 State NE facing off against Julia Headley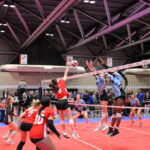 Julia Headley 6'2" | MB St. James | 2024 State #97 Nation KS and Zoe McDonald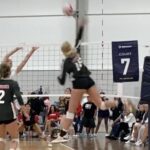 Zoe McDonald 6'2" | MB Shawnee Mission East | 2024 State KS from KC Power. While these athletes battle, we'll see which pin hitters step up when this regional clash is rekindled.
A huge comeback late in the third lifts @Premier16_G past KC Power! pic.twitter.com/DGZcETpm3y

— Austin Kingsley (@KingsleyATK) April 11, 2022
AJV 16 Adidas vs. Skyline 16 Royal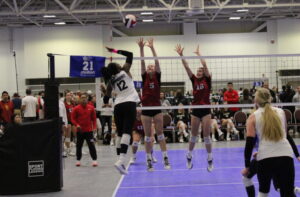 Another Texas battle. Is anyone surprised?
AJV and Skyline will surely give our Lone Star enthusiasts something to talk about. Both lineups boast some high-flying talent that we'll surely feature before GJNC is done. For AJV, Savannah Skopal Savannah Skopal 6'0" | S Rouse | 2024 State #38 Nation TX brings a rare combination of physicality and finesse to the setter position. She is flanked on the pins by Giovanna Mason Giovanna Mason 5'11" | RS Liberty Hill | 2024 State TX and Avery Hamlin Avery Hamlin 6'1" | OH Lake Travis | 2024 State TX , two attackers who can score at will when they're in rhythm.
My in-person look at Skyline 16 Royal this year came at NLQ, where the pin-hitting duo of Lauryn Lambert and Lauren Perry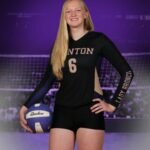 Lauren Perry 6'0" | OH Denton | 2024 State #33 Nation TX stole the show in several different matches. The middle blocker spot is also in good hands with Ashby Daniel Ashby Daniel 6'3" | MB Plano East | 2024 State TX and Shelby Burriss Shelby Burriss 6'2" | MB Lovejoy | 2025 State TX holding down the net.
NKYVC 16-1 Tsunami vs. MKE Sting 16 Gold
NKYVC and MKE Sting have consistently risen to the forefront of events I've covered this year. Now, the two talented 16s teams are destined to meet in an early matchup at Nationals.
16-1 Tsunami has produced some big moments in Kansas City this year, with trips to that city yielding runner-up finishes at Triple Crown NIT and Show Me. The dominance of NKYVC middle blocker Julia Hunt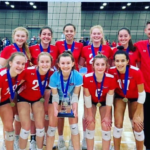 Julia Hunt 6'1" | MB Holy Cross (Covington) | 2024 State #37 Nation KY has been well documented, but she's gotten plenty of help from other talented standouts. Alivia Skidmore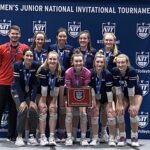 Alivia Skidmore OH St. Henry | 2024 State #48 Nation KY has made a consistent impact in recent matches and is connecting well with setter Abby Yoder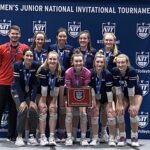 Abby Yoder 5'9" | S Kings | 2024 State #92 Nation OH . This trio will undoubtedly have a huge say in how far the Tsunami rolls in Indy.
Meanwhile, MKE Sting 16 Gold is coming off an impressive string of success in both qualifiers and our Prep Dig Circuit. I was lucky enough to cover the team's title-winning run in Cleveland at the Prep Dig Open, and you could see the squad start to reach its peak in late-season tournaments. Setter Lilly Wagner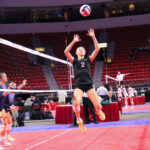 Lilly Wagner 6'0" | S Oconomowoc | 2024 State #28 Nation WI continues to run an outstanding offense that is also aided by Claire Luoma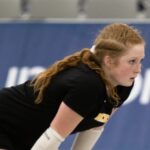 Claire Luoma 5'8" | DS/L Franklin | 2024 State #77 Nation WI 's rock-solid passing in the backcourt. Madison Quest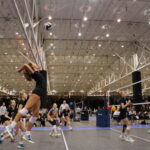 Madison Quest 6'3" | OH DSHA | 2025 State WI and Anna Bjork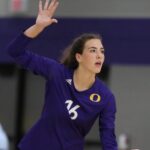 Anna Bjork 6'3" | MB Oconomowoc | 2024 State #47 Nation WI are a couple of frontcourt hitters you'll want to see, too.
It was never an easy road, but @sting_gold emerges victorious!

16 Open champs at #PDTheOpen. pic.twitter.com/5KjFGMdJ6p

— Austin Kingsley (@KingsleyATK) May 1, 2022
Absolutely clutch from @NKYVC!

16-1 Tsunami fights off a match point and wins 16-14 in the third set to secure a pool win, a trip to the 16 Open title match, and a Nationals bid! pic.twitter.com/MqxjXNClcz

— Austin Kingsley (@KingsleyATK) April 11, 2022
COAST 16-1 vs. 1st Alliance 16 Gold
COAST and 1st Alliance will have quite a presence in Indy throughout Nationals, and it has culminated in an opening day meeting in 16 Open.
The SoCal Region has a few different representatives in this division. COAST 16-1 is one of those entries in Pool 5, and this team has a good chance to make some noise as the pool's second-overall seed. A variety of attackers will likely shine on the Nationals stage, as we've seen big contributors from a few different positions for COAST. Tiana Owens is an intimidating opposite to watch this weekend, and Hayley Ogden has had an exceptional year in the middle. And, if you're looking for a do-it-all player, left-side hitter Madison Triplett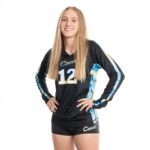 Madison Triplett 5'9" | OH El Capitan | 2024 CA is always a safe bet.
On the other side of the net, 1st Alliance 16 Gold is another one of those teams that can expect clutch moments from anyone on its roster. Ball control has been particularly strong from 16 Gold, with Kinsey Smith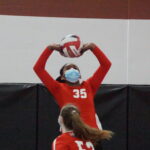 Kinsey Smith 5'10" | S Oak Park And River Forest | 2024 IL dishing well at setter and Samantha Falk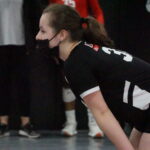 Samantha Falk DS/L Mother McAuley | 2024 IL having a breakout year at libero. It's certainly nothing new to see a 1st Alliance team led by its consistent first and second touches, so watch for this trend to play out again at GJNC.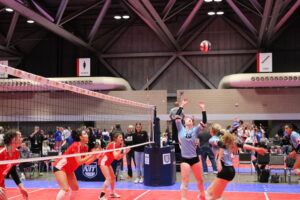 Triangle 16 Black vs. Vision 16 Gold
Let's wrap up this preview with East Coast versus West Coast–though this battle will take place in the Midwest. It's perfect!
Triangle 16 Black is a North Carolina squad that certainly looks the part as a #1 pool seed. Middle blocker Ashlyn Philpot recently became one of the early pledges in the 2024 class, committing to Illinois. Several more players on the roster have shown some big-time talent, too, with Asia Thigpen Asia Thigpen 5'11" | OH Northwood | 2024 #59 Nation NC and Kiarrah Horne having a monster season on the left side. Emily Bobbitt Emily Bobbitt 5'11" | S Corinth Holders | 2024 #81 Nation NC will tie everything together at setter.
Now, let's make a quick hop over to California. Vision 16 Gold hails from the NorCal Region and will bring an impressive lineup to the fold in 16 Open. Briley Lackey and Taylor Williams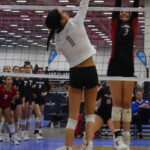 Taylor Williams 6'1" | RS Saint Francis | 2024 CA keep this team humming along the net while libero Michael Torkaman takes care of business in the backcourt. It can be easy to get lost in the wide field of California clubs, but don't lose sight of Vision this weekend.