Pool play is done.  There were some must wins by the time the last match came around and a few of the seedings are officially scrambled.  It's nationals.  We head into Thursday with gold pools with eight pools of three teams each.  We have officially reached the top 24.  Here is a breakdown of pools heading into what will be a wild Wednesday. 
Teraya Sigler back at it today for @az_stormvbc looking to go undefeated in their pool. pic.twitter.com/70hvy76TY5

— Chris Fitzgerald (@PrepDigChris) June 28, 2022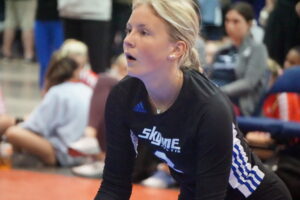 Pool 1
1 – Arizona Storm 15 Thunder 
16 – Austin Skyline 15 Royal 
17 – 1st Alliance 15 Gold 
Arizona Storm rolled through pool play the first two days and have a whole lot of power led by outside hitter Teraya Sigler, but there is also a lot of length on the front line to cause problems for the other side.  What makes this interesting is the length of Austin Skyline and the experience of 1st Alliance 15 Gold.  Skyline has a real strong libero in Callie Krueger and a front line of six footers who could match up well with Storm.  1st Alliance won Triple Crown this past February and knows how to win at the big moment.  Abigail Vander Wal is one of the top outside hitters in 2025 and she can take over a match. 
@houstonjuniors has responded! Up 20-7 in set two. Aaliyah Smith with the hammer down the line pic.twitter.com/XLiAIuRAsH

— Chris Fitzgerald (@PrepDigChris) June 28, 2022
Pool 2 
2 – HJV 15 Elite
16 – Surfside 15 PV Legends 
18 – Northern Lights 15-1
Houston Juniors was looking scary good the past two days.  I saw them play at the Windy City Qualifier in April, and the pieces were all there.  When they are in system and their middles are involved – watchout.  Mackenzie Collins is so dynamic for this team out of the middle where she can attack in plenty of different ways as well as Aaliyah Smith on the outside.  This team is playing with a lot of confidence.  Surfside will have Kaci Demaria who can score points from anywhere on the court.  There's something about Northern Lights, this team just finds a way to keep on advancing, they are gritty.  They have a lot of length and solid ball control, as well as an electric outside hitter in Ava Ball. 
One of the top 2025 setters in the country Campbell Flynn of @LegacyLvc doing damage. Huge match here between Legacy and Long Beach pic.twitter.com/zVXOvCYmnk

— Chris Fitzgerald (@PrepDigChris) June 28, 2022
Pool 3 
3 – Legacy 15-1 Adidas
13 – Wave 15 Scott
19 – GP 15 Rox 
Legacy 15 Adidas has been on a major run starting last week when they won the 15 Open AAU National Title in Orlando.  They went through their pool with only one loss to NorCal going 16-14 in set three.  Campbell Flynn is one of the top setters in the country leading this team and a 2026 outside in Gabby DiVita who scores a lot of points.  Wave has a lot of balance and rely heavily on their pins with Mae Kordas on the outside and Keila Gabriel on the right side.  GP 16 Rox is an up and coming program and this team is setting the standard. They snuck in with two huge sweeps today over Tstreet and Madfrog. 
Huge match for @dynastyvbc and HJV. Both fighting for a spot in gold tomorrow. Such high level volleyball. Dynasty takes set one 26-24 pic.twitter.com/UAnu5muuT0

— Chris Fitzgerald (@PrepDigChris) June 28, 2022
Pool 4 
4 – TAV 15 Black 
14 – Dynasty 15 Black 
20 – Drive Nation 15 Red 
We have the battle of the BBQ between the Dallas area and Kansas City.  Dynasty came in as the number two overall seed and had to battle to get into the gold pools.  They have a well balanced squad where they play so clean with their ball control.  However, TAV and Drive Nation have a lot of firepower and point scoring ability.  When TAV is in system watch out for middle Taryn Morris who will thump it on the ten foot line and athletes like Kennedy Washington who just make things happen.  Drive Nation has Hannah Beauford running the show and a really gritty defense that will keep the point alive.  They won a three set battle, 16-14 against HPSTL to advance to the gold pools.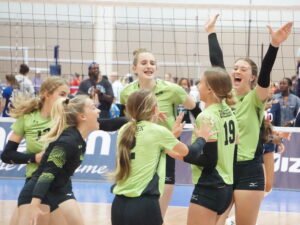 Pool 5
5 – Circle City 15 Purple 
11 – Nebraska One 15 Synergy 
21 – Absolute 15 Black 
How do you stop a setter? That will be the key to slowing down Circle City 15 Purple where Isabella Brown has been running a quick, well balanced offense for the hometown team in Circle City.  Circle City has this fire and energy about them where they are relentless in every play.  Nebraska One is led by one of the top liberos in the Class of 2025 in Keri Leimbach.  They are a classic Nebraska style team where they have well rounded, hard working athletes who play the game the right way – these players know how to control the ball and play extremely clean.  Absolute 15 Black has plenty of firepower.  If they are in system, watch out for middle blocker Isabella Ehrlich who is lethal on the slide.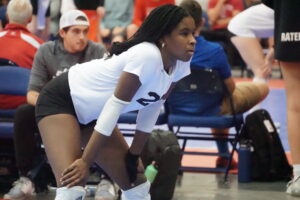 Pool 6
6 – Houston Skyline 15 Royal 
12 – Coast 15-1 
22 – NorCal Black 15-1 
I think Houston Skyline really has a shot to take it all.  They have multiple weapons, a solid libero, and two really good setters that allow them to run different lineups depending on what's on the other side of the net.  Their length and explosiveness is going to give teams a lot of problems.  However, this is a really interesting pool with the California clubs.  Coast 15-1 started on fire with a 3-0 Monday where outside hitter Ava Pointsett can score a lot of points in the front and backrow.  NorCal is really scrappy, they have had some streaky moments the past two days, but I wouldn't count them out.  They are led by two really solid outside hitters in Lucy Chertock and Abigail Kruse. 
Pool 7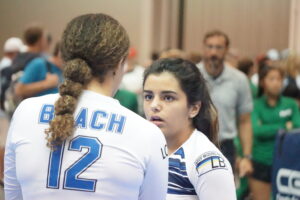 7 – OT 15 T Randy
9 – Mizuno Long Beach 15 Rockstar 
23 – Michigan Elite 15 Mizuno 
This is a really interesting pool.  OT 15 Randy plays at quite the tempo, they have a lot of balance and a setter who is really athletic and physical in Isabella Mogridge.  They will face a familiar opponent in Michigan Elite 15 Mizuno who they defeated a week ago in the Final Four at AAUs.  Michigan Elite is real scrappy and now with new life – watch out.  OT and Michigan Elite run a quick tempo and like to spread the ball from pin to pin, but Mizuno Long Beach might have the best ball control in the whole tournament.  They are so organized defensively and one of their main point scorers, Layli Ostovar can do it all! 
Pool 8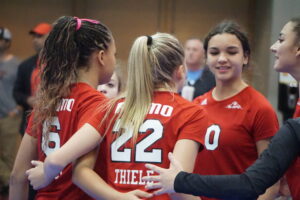 8 – AZ Sky 15G
10 – Alamo 15 Premier 
24 – AJV 15 Adidas
Arizona Sky has been a tough opponent and came in as a bit of a surprise.  They took down top seed in their pool, 1st Alliance on day one and had Circle City on the ropes.  They have two really strong pins in SaMya Dorsey and Georgi Stein.  Alamo will come after their opponents with a lot of ball control, a dynamic offense, and a healthy dose of Megan Fitch who will swing hard out of the front and backrow.  Austin Juniors (AJV) had Arizona Storm on the ropes in the opening match and with an outside hitter in Parker Duncan and setter Takyla Brown, they have the ability to turn heads.