When it comes to GJNCs, the competition is impressive across the board in each division, and in 16 USA they sure did not disappoint the first few days of matches. Here are five-setters in 16 USA who showed up ready to lead their teammates one step closer to the top:
Lucy Russ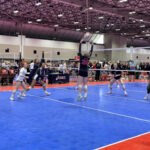 Lucy Russ S IL (#30 for 1st Alliance 16 Silver): The first thing you will notice about Lucy is the consistent energy that she is always giving to her teammates. Her setting decisions and ability to transfer her sets long distances make her hitters so successful, giving them holes in the block to bury the ball. The way she finds her middle hitters from the 10ft line and deeper is what opens everything up for her hitters and makes it very frustrating for the opponent blocking. My favorite thing about Lucy's play is her willingness to keep the ball off the ground in defense, instilling trust in her teammates to put up a ball for her hitters to score out of system. Everyone loves a setter who can play defense, and Lucy's defense brings her level of play ahead of others. 
Milica Tomic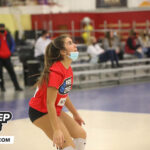 Milica Tomic 5'8" | S Lake Central | 2024 IL (#43 for 1st Alliance 16 Silver): Milica is another excellent piece of 16 Silver's success, with her fast feet and clean natural finish putting up a consistent offense for 1st Alliance 16 Silver. Her calming yet competitive personality pushes her hitters to be brave with their swings and is always ready there to instill confidence in them. She has set the standard when she is on the court to get her hands on every ball she can, so she can put up a clean set for her hitters to put away. She has great court awareness and understands the importance of going against the flow which benefits the overall offensive production for 1st Alliance 16 Silver. Her presence cannot be missed and this team is certainly one to watch. 
Aaliyah Bradford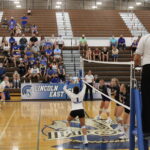 Aaliyah Bradford 5'4" | S Lincoln East | 2024 State NE (#1 for Premier Nebraska 16 Black): Aaliyah's consistent location of each set establishes the success of Premier Nebraska 16 Black. She might only be 5'4″, but her ability to make a huge presence on the court with the power she has with transferring sets from pin to pin and her heavy float serves, will show that she should not be underestimated. She also has a very natural defensive read which makes her one step ahead and puts her in the best position to dig a quality ball for her teammates to set up an out-of-system play. Be sure to stop by her court to see how she sets the tone in running the offense.
Mallory Merz (#4 for Cape Coast 16 Titan): The most impressive part of Mallory's play is her constant trust in her middle blockers. She has an impressive front row and her middle hitters, in transition, will audible to sets behind her, off one foot, and she has no problem giving them the set they need no matter where she is. Her mature and very natural body awareness is what makes her produce a consistent tempo and location with each set she delivers to her hitters. Defenders that are up against her also need to keep an eye on her, as her own offensive tendencies and range of dump locations catch her opponents off guard.  She takes the ball from a very neutral position, so if blockers are playing the guessing game with her, she's the one that comes out on top. 
Lauren Baek (#8 for TAV Houston 16 Adidas): Baek plays with confidence and runs her court with her natural setting IQ. She does not shy away from taking chances to motivate her teammates as she herself is a very hard-working and motivating athlete to have next to you on the court. You can see that she is the kind of player who loves to compete and that is contagious for others to be a part of. Her vision as a setter makes her decisions next level and gives her hitters many options on how to get the ball on the ground. She also impresses watchers by keeping tempo with her sets no matter her location on the court, feeding into the aggressive momentum of her hitter's approach to the ball.