A couple of weeks ago we took a quick glance at some of the high school teams hitting the camp scene following nationals. Since then, we've had more teams attend camps around the midwest as they prepare for the upcoming high school season set to kick off in a couple of weeks. Let's see who went where.
Nebraska Team Camp
We do know Blair Oaks returned to Nebraska for another opportunity to grow and develop as a unit. They attended last year and it proved to be big in their run to a historical season. The Class 3 defending state champions hope the same path they took a year ago leads to similar results in 2022. Megan Distler's squad went 35-4 and returns key players Autumn Bax Autumn Bax 5'11" | RS Blair Oaks | 2024 State MO , Bailey Braun Bailey Braun 5'10" | OH Blair Oaks | 2024 State MO , and Anna Wekenborg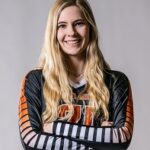 Anna Wekenborg 5'10" | MB Blair Oaks | 2023 State MO .
Park Hill South also took the trip north to Lincoln for Huskers Team Camp. They are entering year 2 under the guidance of Jackie Rathke and will look to build on 19-11 record. The Panthers grabbed another league title in 2021 and will be led by Isabel Day Isabel Day 5'9" | DS/L Park Hill South | 2023 State MO . The senior has committed to play her college volleyball at the University of Alabama-Birmingham for their beach program.
Creighton Team Camp
Let's stay in Nebraska and move over to Omaha where the Staley Falcons attended camp hosted by the Ceighton Blue Jays. Staley was a young team in 2021 and the growth and chemistry developed at camp should go a long way in their season. Ady Horn, a staple in the line up since her freshman year is back. She contributes from both the setter and oppposite positions. Also back is MB Autumn Erickson and pin Gabby Ramierz, both among team leaders in the kill category. Park Hill transfer Londyn Cage is a welcomed addition to the front row.