What an opening day for 16 Open at USAV Nationals.
This division has given us so many memorable moments over the 2022 season, and we're currently writing the final chapter of our drama novel in Indianapolis. The first day of 16 Open competition has just wrapped up, and we already have some intriguing storylines and standouts to follow heading into Day 2.
Before we look ahead, though, let's briefly recap some of Friday's action.
New Names at the Top
You can never expect USAV Nationals to go all chalk. In other words, not all the #1 pool seeds are going to remain at the top once pool play is complete. Friday's results are a good indicator that we could have some parity here in Indianapolis.
The drama is immediately evident in Pool 1, where some hungry challengers consistently pushed first-overall 16 Open seed Dynasty 16 Black. One such challenger was OT 16 O Roberto, a team that crossed paths with Dynasty more than once during qualifier season. OTVA rallied from a rocky first set to win the next two stanzas and take down Dynasty to kick things off at GJNC.
However, the big breakout team after a day in Pool 1 is probably TAV 16 Black. This talented Texas squad finished Friday at 3-0 after wins over Rockwood Thunder, Colorado Juniors, and that same Dynasty squad mentioned earlier. It was an unblemished run that certainly had no shortage of tense moments, but the leadership of 16 Black outside hitter Jadyn Livings Jadyn Livings 6'1" | OH Prestonwood Christian | 2024 State #29 Nation TX was a huge factor in lifting TAV to the forefront of Pool 1.
Whew, what a match.@TAVVolleyball 16 Black wins a three-set thriller in extra points over Dynasty.

That's a great way to lead us into the continuation of opening pools tomorrow at #GJNC. pic.twitter.com/aOdCpEJu7M

— Austin Kingsley (@KingsleyATK) July 1, 2022
NKYVC 16-1 Tsunami is another team that earned a 3-0 Friday record from outside the #1 pool seed. This is far from shocking, of course, as 16-1 Tsunami has been in championship contention at just about every venue it has visited. We saw Alivia Skidmore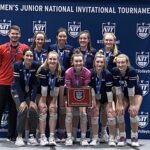 Alivia Skidmore OH St. Henry | 2024 State #48 Nation KY step up for this team throughout the morning, and Julia Hunt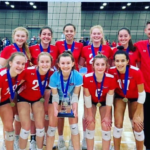 Julia Hunt 6'1" | MB Holy Cross (Covington) | 2024 State #37 Nation KY is still as dominant as ever. This could be the start of a big GJNC run for NKYVC.
A lot of eyes on this 16 Open contest between @NKYVC and @MADFROGVBALL.

Plenty of 2024 talent on both sides that we'll surely talk about throughout the weekend. #GJNC pic.twitter.com/fOnBCa6KaK

— Austin Kingsley (@KingsleyATK) July 1, 2022
The Mixing Bowl
Time to address the "mixing bowl" pools–groups that produced a variety of results and have no clear leader after opening day.
There is no 16 Open pool that embodies the mixing bowl better than Pool 6. No team in this pack emerged from Friday's matches without a win or a loss. Triangle, Mizuno Long Beach, and Vision all sit at 2-1 overall and will be vying for separation on Saturday. Of course, Pool 6's medley of 1-2 teams is not in bad shape given the circumstances.
A three-set battle goes to @VisionVBC 16 Gold on Court 32! Taylor Williams comes up clutch again.

So many tight contests and upsets to discuss in 16 Open, and we're just getting started at #GJNC. pic.twitter.com/ZfKHqzqXMM

— Austin Kingsley (@KingsleyATK) July 1, 2022
Pool 3 also had a wild day with WAVE 16-Brennan, Arizona Storm 16 Thunder, Skyline 16 Royal, and Gainesville Juniors 16 Black all securing 2-1 records to kick off the tournament. What a quartet. Pin-hitting talent is particularly strong in this pool, and I imagine we'll have some standouts to talk about during post-event coverage.
Brooklyn Tealer has been absolutely teeing off for Gainesville Jrs. this morning.

The Class of 2024 outside hitter is already committed to play in the Big Ten with @uscwomensvolley. (There, I said it!) #GJNC pic.twitter.com/TKBmirWa70

— Austin Kingsley (@KingsleyATK) July 1, 2022
Miscellaneous Shoutouts
Let's leave you with a few other points to keep in mind as we move forward to Saturday.
16 Open's #2 overall seed looked nearly untouchable in its first three matches. A5 Mizuno 16-Gabe has dazzled us all year with an incredibly physical frontcourt, and those players showed up and dominated Friday's pools. Mia Hood Mia Hood 6'6" | MB Home Schooled | 2024 #20 Nation GA was especially effective in the middle, while Hannah Benjamin took care of the team's tough swings on the outside.
Another dominant showing for @a5volleyball 16-Gabe!

2-0 start for the second-overall seed in 16 Open. #GJNC pic.twitter.com/88NBb7Bfff

— Austin Kingsley (@KingsleyATK) July 1, 2022
While we're talking about teams getting out to hot starts, watch out for Metro 16 Travel. That outside hitter duo of Emerson Sellman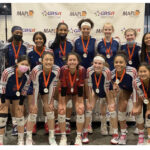 Emerson Sellman 6'3" | OH Academy of Holy Cross | 2024 State #42 Nation VA and Macaria Spears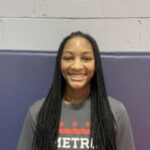 Macaria Spears 6'3" | OH Flint Hill | 2025 State VA remains extraordinary.
Finally, I want to mention that I've still had some new scouting opportunities here at GJNC, even as we reach the end of the season. This was my first in-person look at OJVA 16-1 Gold, which got some good production from right-side hitter Amber Walker. Seal Beach 16-Black is another new team for me, and Haylee LaFontaine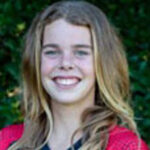 Haylee LaFontaine 6'0" | OH Huntington Beach | 2024 CA had a persistent impact on that group with her quick arm and wicked jump spin serve.