Posted On: 11/18/19 2:27 PM
At the IHSA class 4A state tournament, there was an all-around excitement over the caliber of player and competition that was to be had on the weekend. There was no disappointment as the stories were set. Match one was a match no one ever expected, An underdog plagued by injuries, Wheaton  Warrenville South came ready to play against the Vikings of Fremd, who toppled Hersey to make their second trip here in the school's history. 
Players, Year, Height, Pos, HS
Darby Harris Darby Harris 5'8" | S Wheaton Warrenville South | 2022 IL , 2022, L, Wheaton Warrenville South
One of the best liberos in her class, Darby can read an offense like no other. She totaled digs in the two set win over Fremd.
Bridget Feeley, 2020, DS/S, Wheaton Warrenville South
In limited action, Bridget came up with 6 digs, vital for the offense to run efficiently. She also had four service points in the match.
Zayna Meyer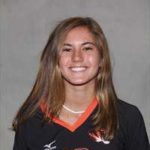 Zayna Meyer 6'1" | S Wheaton Warrenville | 2021 State IL , 2021,OH, Wheaton Warrenville South
She can be your setter, opposite, pretty much wherever she's needed. The team needed her to play outside and answered with 10 kills on 23 swings and 3 errors,  accumulating a .304 hitting percentage.
Deme Yianas,