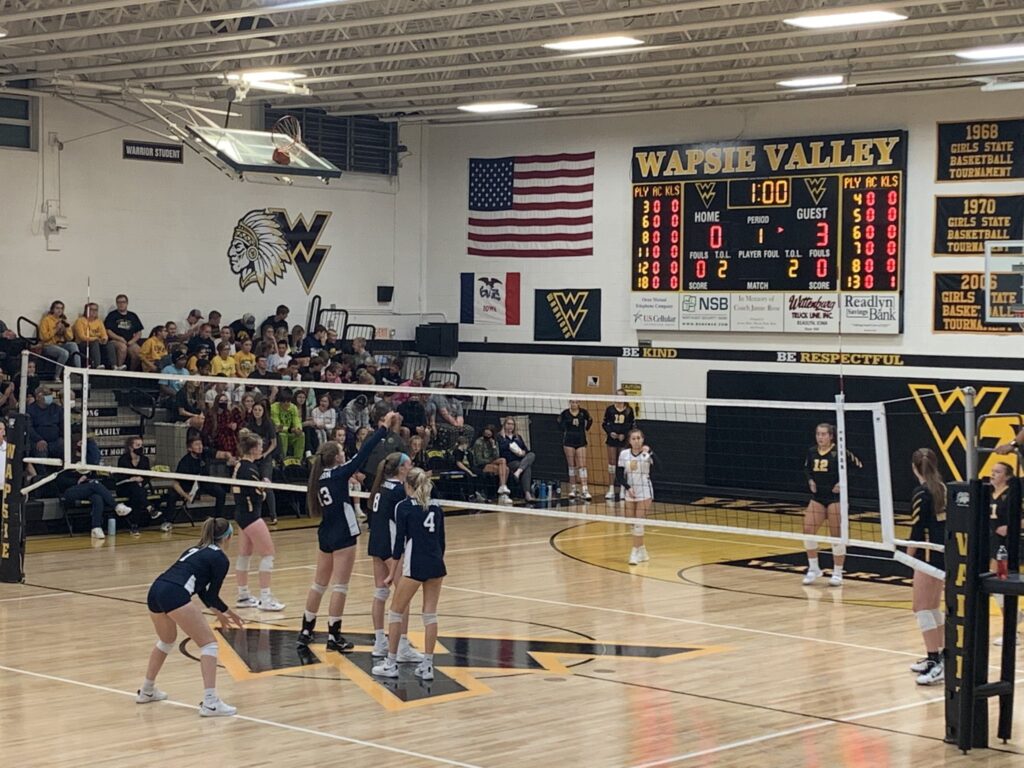 Posted On: 10/9/20 1:06 PM
I knew this one would be quite the matchup between two teams that are all too familiar with each other, seems to be the case with most NICL teams.  With Hudson and Wapsie Valley, they are accustomed to success, they know how to play in big games, and this one was no different.  Hudson jumped out to an early 2-0 lead, but Wapsie wasn't going down without a fight with gritty defense, some key plays, a balanced offense, and crucial momentum gaining points to even it up at 2-2, forcing a fifth set.  However, in the fifth set, the Seniors took over for the Pirates resulting in a 15-11 set win, sealing the deal for a key win in conference play between two ranked teams.  Here is what the final score didn't tell you about this match. 
All the feels from a 3-2 battle between Hudson and Wapsie Valley. Here are just a few of @DrakeVolleyball commit Ashlynn Kuhn Ashlynn Kuhn 5'10" | MB Hudson | 2021 State IA 's 40 kills for Hudson pic.twitter.com/xDu5Enbgxm

— Chris Fitzgerald (@PrepDigChris) October 9, 2020
Ashlynn Kuhn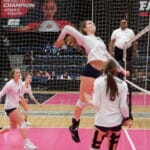 Ashlynn Kuhn 5'10" | MB Hudson | 2021 State IA 's 40 Kills
The scoreboard had her at 38, and looking at QuikStats this morning, she was at 40.  Kuhn is the type of player you want the younger athletes to watch.  She is positively engaged with her teammates, she's a middle, but plays all the way around, she talks, she has positive body language, and she might not be your prototypical middle that is tall and long, but she packs a major punch.  With her quickness and athleticism she can get from pin to pin and score in a variety of ways.  Above all she is aggressive.  Her aggressiveness as well as adjusting to the block where she can change her angles at the last moment in mind boggling.  Come the 5th set with Wapsie ready for the big swing, she then mixed in the tip and off speed and showed complete control over the match.  She connects extremely well with her fellow senior and DMACC commit Sara Hansen Sara Hansen MB Hudson | 2021 State IA .  This was a human highlight each time she went up to swing, I am so fortunate to be able to watch performances like this. 
Wapsie's Fight and Grit 
Going down 0-2 is obviously never the ideal situation, but from the culture and fight that Wapsie continuously portrays, the comeback was going to happen someway, somehow.  There were multiple plays where I thought for sure the ball was down, but the Warriors continuously kept the play alive and just kept chipping away.  No need for the big homerun – one point at a time, keeping the play alive, they just found a way.  Big defensive play, one right after another built momentum and ultimately brought them back to tie it up 2-2.  
Let's play 🤚- @WapsieAthletics roars back to force a set five. Plenty of outstanding defensive plays. Matthias for Wapsie is running a well balanced offense. Great hands and tempo! pic.twitter.com/u8YNTW6iJC

— Chris Fitzgerald (@PrepDigChris) October 9, 2020
Standout Setters
Sara Hansen Sara Hansen MB Hudson | 2021 State IA of Hudson showed her experience and maturity throughout the night. Yes, Kuhn was having an outstanding night, but she was still able to balance the offense going to all of her attackers, keeping the other side of the net honest.  Wapsie Valley setter, Sydney Matthias was really smooth.  This was my first time watching her play and the command she had of the court, as well as her ability to put up a clean ball for all of her attackers really kept everyone in the flow of the game.  She ran a well balanced offense finding the hot hitters  Lydia Imbrogno Lydia Imbrogno 5'9" | OH Wapsie Valley | 2022 State IA and Kalvyn Rosengarten Kalvyn Rosengarten 6'3" | MB Wapsie Valley | 2023 State IA are the big names with booming kills, but the lefty right side Becca Platte came up with kills at key moments, specifically to send the match into set five. 
Becca Platte with the big left handed swing for Wapsie. Warriors fighting back. Timeout Hudson in set five, Hudson up 7-6, WV with the momentum. pic.twitter.com/FSaB5SlUro

— Chris Fitzgerald (@PrepDigChris) October 9, 2020
The Public Address Announce – The Best
With not a lot of live sports going on, you tend to forget the small details that make a big difference.  Wapsie Valley has an amazing public address announcer who has the perfect blend of entertainment, energy, and an overall excitement for big plays for both teams that adds so much to the game.  His name, Blake Buhr – this is an element of high school sports that always brings the extra spice we all need from time to time.  Plenty of fun and again, the extra detail that makes a big difference. 
He is the best around! His social media work might even be better than his PA work! #warriorpride https://t.co/CndXXt3m8L

— Brett Bergman (@Mr_Bergman) October 9, 2020
The Seniors vs. The Underclassmen 
Both teams are incredibly talented, they've played in big matches and are accustomed to tough competition.  However, when scanning the program, Hudson has plenty of key players who are Seniors, with nine total on the roster.  Kuhn, Hansen, and Kylee Sallee Kylee Sallee OH Hudson | 2021 State IA provide plenty of firepower.  Sallee was another who was in double digit kills where she is typically a pin, but was playing out of the middle last night.  Another major spark on the pin was Senior, Faith Hoffman who came in clutch with key points for the Pirates.  Things were close, but there was never a panic, and their confidence showed heading into set five. For Wapsie, there is one senior on the roster with plenty of freshmen and sophomores.  Matches like this only provide more experience for young teams to learn, knowing what adjustments to make throughout for the next time they step on the court.  The IGHSAU just released the pairings and both of these teams you can plan on seeing in some key matches with dreams of getting back to Cedar Rapids.