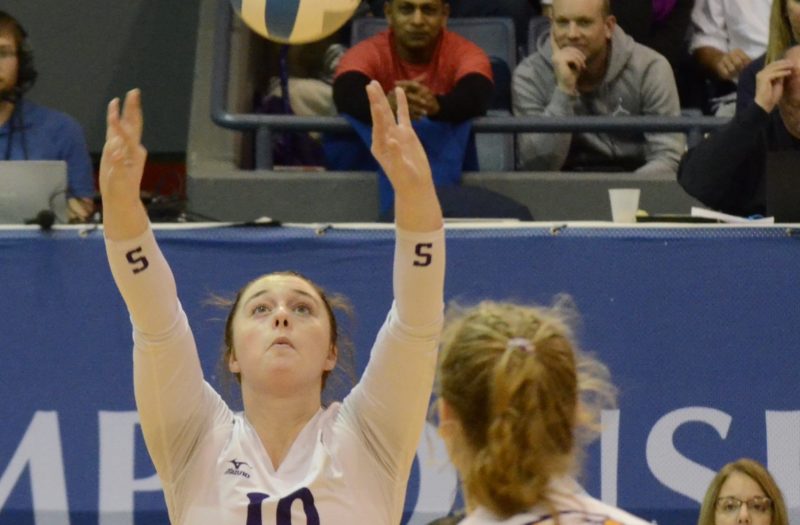 Posted On: 11/27/20 4:04 PM
Division 3 is the only division that has all four 2019 semifinalists still in the mix for a state championship this year.
The field of eight that remains is very deep and very talented.
Which team has the game-changing player that will spark their squad to a state championship?
Related: Division 1 quarterfinal game-changers
Related: Division 2 quarterfinal game-changers
Related: Division 4 quarterfinal game-changers
Beaverton: The Beavers were a semifinalist in 2019, but felt like 2020 was their year to really make a charge. Molly Gerow and Mady Pahl are standout stars for Beaverton. Pahl sets the ball and Gerow finishes it. The key for Beaverton will be finding that consistent compliment to Gerow at the net, as opponents will definitely be trying to limit Gerow's impact. Becca Wirt, a senior middle, could be that option. Wirt has the finishing power, she just needs to elevate her game to the next level to really push Beaverton to the top.
Bronson: Bronson is program that knows plenty about winning state championships. This year's squad is very experienced all-around. The offense is very well run by four-year player Meagan Lasky. She has the Bronson attack running like a smooth engine. The key for the Vikings to get three more wins comes in the defense. Jaydn Cary is the junior libero for the squad and she has been a rock in the back row. Bronson has tested itself against some big hitters already, so Cary knows what to expect in finals week. Now, it's just about executing.
Calumet: The Copper Kings pack quite a punch at the net, but their ability to block on defense could be what will get them further in the tournament. Helen Beiring has been the big catalyst there. She racked up six blocks during the regional final win over Charlevoix. If she can continue to get a piece of opponents swings, it's going to do wonders for Calumet's chances. Along with her blocking ability, Beiring is a finisher on offense and has a smooth passing game.
Grandville Calvin Christian: The Squires have been catching teams by surprise during the offseason, but nobody is going to overlook them in the final week. Calvin Christian has been led by some multi-talented players that have shined at the net and in the back row. Among them is Morgan Velting, who racked up an impressive 10 kills and 11 digs in a win over North Muskegon in the regional semifinal. The Squires need quality passing and players that can finish a good set. Velting has shown she can be that player.
Monroe St. Mary Catholic Central: The defending D3 state champs are loaded with talent once again, headlined by one of the leading Miss Volleyball vote-getters in Mikayla Haut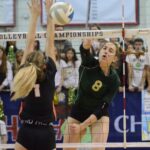 Mikayla Haut 5'11" | OH SMCC | 2021 State MI . The Kestrels are experiences all over the court, but their relentless attack is tough for any team to compete with. Jaydin Nowak, another senior, will be very important to SMCC's title defense. Nowak has been great in the back row all season and it was the back row play of Nowak, Haut and 2020 graduate Payton Osborne that really propelled the Kestrels to the five-set win in last year's D3 final. Nowak will need to find that magic again for finals week.
Royal Oak Shrine: The Knights have a great defense, led by senior Mya Minjares Mya Minjares 5'2" | DS/L Royal Oak Shrine | 2021 State MI at libero. What Shrine will need to do is raise its offense up a notch to be able to compete with the best of the best. To do that, senior setter Ellie Plunkey will be important. Plunkey should get a lot of opportunities to keep the offense in-system, so the Knights will have to make the most of that and finish points. Her ability to set a good ball and mix up the hitters will be crucial. She's got the experience and poise to step up.
Saginaw Valley Lutheran: The Chargers have the experience from reaching Battle Creek last year and this veteran squad is very focused on making that happen again in 2020. Valley Lutheran has a really balanced offense, which puts the focus on the final week on the defense. Senior libero Kya Belill has been playing at a high level all season, but now is her time to really shine. For Valley Lutheran to get back to Battle Creek, and win once it gets there, the defensive play has to find its next gear for the final week of play.
Schoolcraft: Last fall, Schoolcraft rode the powerful arm of Andelyn Simkins Andelyn Simkins 6'2" | OH Schoolcraft | 2020 State MI to a finals appearance. This year, the Eagles are using a total team effort to continue their success. A senior-heavy roster has led to a lot of steady play and a balanced offense. Kayla Onken, the team's senior setter, will be a big key for Schoolcraft during the final week. Her leadership on the floor will be as important as her play. Onken sets a great ball and can find the hot hand on the court, but also keep her team composed when opponents are on a rally.