Only two weeks after the Prep Dig Resolution tournament, the Quad Cities Clash is set to take place this weekend. Teams will be traveling from several states to compete in this tournament and it looks to be incredibly competitive. Here is a breakdown of the Badger Region teams competing in the 15/16 division of the Quad Cities Clash
1W Bay 15 Mizuno 
This 1W team is very well rounded. Libero Nadia Roemer has a solid platform and is a great talker and leader on the court. Setter Madelynn Kreider (MI) has good ball control and places the ball well for her hitters. Brynn Frappier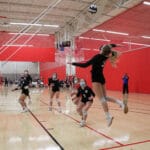 Brynn Frappier 5'8" | OH Seymour | 2024 State WI is a pin hitter with a huge vertical and a ton of potential to earn points for this team and lefty right side Madison York has a lot of height and a good snap on the ball. She was a go-to hitter at the Prep Dig Resolution tournament and will likely continue to be throughout the season. 
Madison United 15 Red
This is a talented team that should have some great competition this weekend. Setter McKenna Oetzman played every set of her freshman season as a varsity athlete and clocked in 180 assists. Jaydnn Gruner is a dynamic hitter who can hit well across the net. She finds smart spots and is efficient on the court. Adison Hamele is a middle blocker who puts up a solid and consistent block. 
Madison United 16 Red
This team has huge energy on the court. Even when playing a match that ran two hours behind at 10 PM on Sunday night at Badger Region Power League, they were consistent, competitive, and energetic. Carizma Muth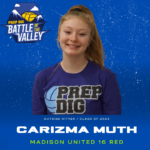 Carizma Muth 5'10" | OH Randolph | 2023 State WI is a six rotation outside with a lot to offer. She has a great platform and makes great adjustments on serve receive and defense. She also has a powerful swing. Taia Hodgkinson Taia Hodgkinson 5'10" | MB Janesville | 2023 State WI is a powerful middle blocker with great court awareness. Defenders Payton Maly and Julia Trias both made huge saves and put up good balls on serve receive.
RVA G14 Navy
This RVA team has a solid foundation and good movement on the court. At the Prep Dig Resolution Tournament, they only dropped one match and played at a very competitive level the entire weekend. 
RVA G16 Navy 
RVA has some very solid teams this year, and this is one of them. Cayce Farrell is a leader on the court and a very consistent setter. She is always learning and improving her entire game whether it is serving, defense, setting, or anything else. Pin hitters Elle Haddon and Claire Nesemann have a lot of potential as six rotation outsides and will earn a lot of points for this team. 
Wisconsin Ice 15 Purple
This Ice team will be a force to be reckoned with. London Metropulos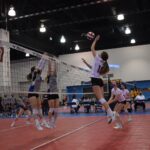 London Metropulos 6'0" | RS Wittenberg-Birnamwood | 2024 State WI is a 6'0" lefty pin hitter who is versatile and has a fast arm swing. She is powerful and can really pound the ball when she connects with her setters. Setter Paige Guld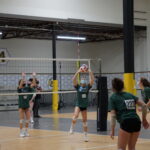 Paige Guld 5'3" | S Newman Catholic | 2024 State WI is fast and strong. She has the ability to run any tempo of offense and has a great foundation. Ashlyn Barwick Ashlyn Barwick 5'5" | DS/L Marshfield | 2024 State WI is a defender who has speed and a consistent platform. She is a big talker and leader on the court. Middle blocker Aaliyah Krenn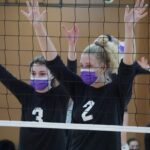 Aaliyah Krenn 6'1" | MB Columbus Catholic | 2024 State WI is a strong blocker and gets a lot of touches off the block. She can play and be effective anywhere on the net. 
These teams should be super competitive this weekend and will be fun to watch at the Quad Cities Clash.