The class of 2024 has a ton of potential and it is already starting to show. Even just a few weeks into the 2021 club season, athletes are really starting to build confidence and earn points on the court. Some teams have already started playing, while some haven't started competing yet. Either way, the 2021 club season is set to be highly competitive for the class of 2024. 
Here are some pins with huge potential in the class of 2024. 

Brynn has a great vertical and a solid snap on the ball. She has an insane amount of potential. Brynn places the ball well on offense and can control the speed of her swing well for her age. She also is scrappy on defense and serve receive and always seems to be pushing herself to improve and make good decisions. 
Ellie Schumacher – Midwest Penguins 15 Black – Lake Country Lutheran
Ellie is a true six rotation outside. She has huge power in the front row, puts up a solid block, has a beast float serve, plays gritty defense, and is consistent on serve receive. Ellie has great endurance and is very competitive. She is a leader on the court and makes very few errors in transition. 
Briana was a freshman on varsity at Kettle Moraine and has a lot of potential on the court. She finds good spots on offense and has a bit of power behind her swing. She is also a strong blocker and plays solid defense and serve receive. As Briana continues to develop as an athlete she will be a force to be reckoned with.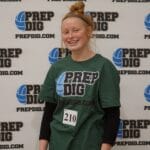 Alli had a huge impact on her varsity team this year, clocking in 105 kills and 148 digs. She is a competitive athlete in every position from aggressive serving to consistent serve receive and powerful offense. Alli is a player to watch in this class and has the potential to be a huge asset to any team she is on. 
Lydia is a dynamic hitter with great control of her shots. She can just as easily find a deep corner or a hole in the opponent's defense as she can pound a ball down the line. She is a smart hitter who can change the speed and location of the ball easily. Because of this, she is a fun outside to watch and has a ton of potential for success.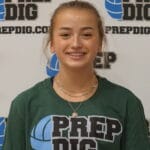 Kaitlyn has a fast and powerful swing. What makes her a great pin though is her ability to hit anywhere across the net. She has a lot of energy on the court and is talented in the back row as well as the front. She is confident and controlled on defense and is very fast in transition. Kaitlyn sees the court extremely well and is a very smart athlete. 
These pins have a lot to offer in this class of 2024. It will be fun to watch them compete over the course of the club season and the rest of their high school and club careers.