Along with some 2021's, the 2022's have been hit hard by Covid 19 for recruiting also.  Many have been doing their own visits and lots of virtual tours going on.  DII, DIII and NAIA are recruiting as normal, able to have official visits and watch recruits in person.
Sydney Raszler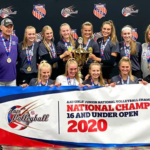 Sydney Raszler 6'0" | MB Elkhorn | 2022 State NE | Elkhorn | MB/RS | Nebraska Elite 171
I watched film of Sydney from AAU Championships last summer and was really impressed.  She's quick, great off one foot and has a high reach, checking many boxes for next-level play. 
What are you looking for in a college?  The opportunity to excel not only academically but also on the court. I want to be able to take what I learn from being involved in college athletics into my future career as an Occupational Therapist with the focus on helping others.
What does your dream school look like?  A small to medium size school with a strong volleyball program with supportive coaches and teammates who will encourage me to grow not only as a volleyball player but also as an individual. 
How important is location?  Are you wanting to stay close to home or venture further away?  I am looking for a school that is a drivable distance away from home.
How has covid affected your recruiting?  It has limited the number of coaches who are able to watch me in person and my ability to attend college camps and tour campuses. 
Raszler and her team are hoping to win another championship this summer!  She brings a lot of energy to the floor and has a great volleyball IQ.  She's got options already, but making sure she finds her perfect match before making decisions.  Good luck Sydney!
Anything else you'd like to add?  Last year I was fortunate to be part of the 16 Open AAU National Championship team. One of the many highlights from that season was the genuine bond we all formed together to support each other in both our individual and team successes. 

Ashlyn DeBoer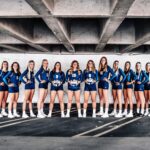 Ashlyn DeBoer 5'10" | S Lincoln Lutheran | 2022 State NE | S/RS | Lincoln Lutheran | VCNebraska 17 Black
Ashlyn helped lead her Lincoln Lutheran team back to the state tournament in 2020.  She's been a 3-year starter on varsity and has made it to the state semi-finals all 3 years.  She's hoping to make it to the championship again and repeat their state championship win from freshman year her senior year.  Ashlyn had 839 assists, 177 digs, and 44 aces her junior year.
What are you looking for in a college? I'm looking for a school that has great academic support and offers me a chance to play volleyball.
What would your dream school include? A beautiful, safe campus. One that supports their student-athletes on and off the floor.
How has Covid affected your recruiting? I haven't been able to visit any schools in person but it's given me an opportunity as well as more time to reach out to more schools.
Are you looking to stay close to home or open to any area? I am open to both as long as it's the right fit for me!
Anything else you want to tell me?  Four things I put first in my life are school, Faith, family, and volleyball. It has played a role in my life since I was 4 and I can't imagine stopping now. I want to continue this into my college career. 
Coach Sue Ziegler had this to say about Ashlyn: 
Ashlyn is a very versatile player as she contributes to the game with her fast tempo setting, aggressive attacking, and proficient serving. Her height is also a good attribute as she is very capable of playing all around being 5'11". Ashlyn is very coachable and is a supportive teammate, so I would view her as an asset to her team at the next level. 
Watch highlights here: 

---
Elise Estudillo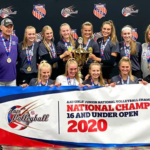 Elise

Estudillo

5'8" | DS/L

Fremont | 2022

State

NE

| DS/L /OH | Fremont HS | Nebraska Elite 171
Elise plays 6-rotation outside hitter in high school and DS for her club team.  She was also part of that AAU National Championship team last summer.  She's projecting as a defensive player in college. 
---
Maddie MacTaggart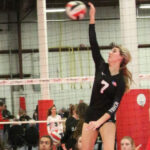 Maddie MacTaggart 5'10" | OH Millard South | 2022 State NE | OH/RS | Millard West | Premier 17 Gold
Maddie is talking to 5 or 6 schools on a weekly basis with an offer on the table.  She's taking her time with the process to find the right fit athletically and academically.
 I'm looking for something with a good Pre Med program and coaches that will be accepting of my major.  My dream school would include that pre-med major and a great volleyball program.  Covid has made the recruiting process harder because coaches have not been able to watch me play (only on live stream) and I haven't been able to do visits on my own to see the athletic facilities and team practices.  I am open to playing anywhere and have looked at schools close and far away.  I am super excited that the club season has started and hoping we get a full season of play in.  We have a great team this year!

---
Tyrah Woods Tyrah Woods 5'10" | MB Lincoln High | 2022 State NE | MB/RS | Lincoln High | VCNebraska
Woods is an often overlooked 6-rotation middle.  She contributed 240 kills, 31 blocks and 152 digs for her Lincoln High School her junior year.  She's now filling in with VCNebraska 18 Elite for an injured player.  She's wanting to play volleyball in college and just getting started with her recruiting.  Let's find out what she's looking for.
What are you looking for in a college?  Diversity, safe campus, good academics, and good weather
What would your dream school include?   Apartment style dorms, small size classrooms, and helps with career opportunities upon graduation
Are you looking to stay close to home? or open to any area?  I am open to attending college in any area.
Anything else?  I like to cook and being with my family and friends

---
Hannah Allick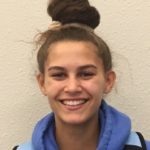 Hannah

Allick

5'6" | S

Waverly | 2022

State

NE

| S/RS | Waverly High School | VCNebraska
Hannah and her family moved to Waverly so she played with a new team this last high school season.  Her team made it to the state tournament which was a great experience for her.  She's got good hands and moves well on the court. 
What are you looking for in a college?
A place to grow in my independence, considering that I've lived in a busy house with 5 siblings my whole life. I am also looking for an education that can prepare me for the workplace, and put me on a path to financial success in my career.
What does your dream school look like? My dream school looks like a campus that is combined with the city of the region. I love it when fans are able to celebrate in the streets after a big win, which can't happen if the campus is far from the action of the urban area.
Do you want to stay close to home or willing to attend college further away?
I am willing to attend college further away from home for the sole purpose of travel and all the new experiences and possibilities that comes with moving. Although it would be very convenient to stay close to home with family and friends.
How has covid affected your recruiting?
  Covid has been very helpful and very hurtful at times during my recruiting process. There were times during lockdown or quarantine that allowed me "catch up" on film editing, emails, calls, account updates, etc. that simply would not have happened if I had a regular school and practice schedule. Although there were plenty of times that tournaments, practices, and individual lessons were delayed or canceled due to the spread, which was very frustrating at times considering that all I wanted to do was get back in the gym.
What are your strengths? I hold myself and my teammates to very high standards in order to build great habits that can help us perform, and I can be very bold on the court with decision making.