The cancellation of the MLK Tournament and 18 Qualifier in Kansas City was a disappointment for many teams looking to get a weekend of matches under their belts early in the season. After approving a license, the Kansas City Health Department reversed course per Heart of America officials a week later and pulled the permit. This caused many teams to lose an opportunity to compete over the weekend. 
In to the rescue was Nebraska Elite and Premier Volleyball who decided to host an MLK Classic "scrimmage" of teams from Kansas, Missouri, Iowa, Nebraska, and Colorado. What a weekend of "scrimmaging" it was with many of the top teams and players in the country on hand. We will do our best to highlight some of what stood out over the weekend. This writer spent Saturday and Sunday roaming around and caught more action on Monday via online. We will focus our report on teams from our coverage area.
An absolutely loaded field of talent and teams on display. If our count is right there were 13 AVCA Under Armour All-Americans in the gym ranging from 1st team to Honorable Mention. Saturday's action didn't include Premier Nebraska and Nebraska pledge Lindsey Krause, as she was off taking care of basketball duties. Here are our thoughts on the regional teams and athletes in action.
Standouts
Mavs KC and KU signee Caroline Bien Caroline Bien 6'0" | OH St. Thomas Aquinas | 2021 State KS was the best player in the gym on Saturday in my opinion, not far behind her was teammate Kendra Wait Kendra Wait 5'10" | S Gardner Edgerton | 2021 State KS (Creighton). These two have been staples with the Mavs program and have always played up in age divisions for years. Bien can score all over the court with a variety of shots and is a standout defender in the back row. Wait makes everything look so easy and has an absolute motor. This was my first time seeing them in live-action and easy to see why they are first-team All-Americans. 
Mavs KC 18-1 is really really good…and played down two players. One thing I walked away with from Saturday is this team is solid. They opened up play against a local opponent in KC Power. Many feel these two are the top teams among the division in the HOA region.  Mavs were down the Lovett twins, DS Ashlyn (Georgia Southern) and pin Olivia (Loyola-Chicago). We made note in our 18s previews, Mavs OH Kristen Birmingham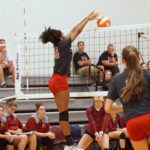 Kristen Birmingham 6'1" | OH Park Hill | 2021 State MO (Oklahoma) made the move from KC Power. You can tell she was fired up early on facing her former team as the Mavs jumped out to a 16-5 lead in the first set, with Birmingham and Bien leading the way with 11 kills combined in the set. Power, behind the play of Sarah Bingham Sarah Bingham 6'3" | MB Shawnee Mission East | 2021 State KS (Illinois), made a late push to close the gap but would lose the set and eventually the second as well. Mavs would later face Premier minus Krause but still with Norah Sis (Creighton) and Phyona Schrader (Notre Dame). The Mavs would dominate the first set 25-14. Justine Bichelmeyer Justine Bichelmeyer 6'2" | MB St. James Academy | 2021 State KS (Central Missouri) looked strong in the middle and scored at high rates on the slide. Libero Courtney Jackson Courtney Jackson 5'9" | S Olathe Northwest | 2021 State KS (Arkansas)  was stellar along the back row. This team looked strong and will only be better with the return of their twins. They went 6-0 on sets Saturday. They didn't play Sunday and will play again at Northern Lights in the 18 Open division. 
KC Power toyed with some different lineups over the course of the weekend. They were competitive Saturday and Sunday and showed some fight, climbing back into the first Mavs set to make it respectful. They also looked good in a 2 point set defeat to Premier. Bingham, who we mentioned previously looked really good throughout the entire weekend. She was a consistent offensive threat from the middle. Rightside/Setter Camryn Turner Camryn Turner 5'7" | S Seaman | 2021 State KS (Kansas)  also provided points from the pin. She may be undersized but the southpaw provides a powerful ball and brings athleticism to this team. In pool play Sunday they were matched up with Premier again along with Colorado Juniors 18-Kevin. They dropped both matches but never lost a set by more than 4 points. Brooke Stonestreet Brooke Stonestreet 5'10" | OH De Soto | 2021 State KS (Iowa State) played well from the pin and Andi Kreiling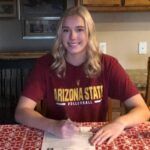 Andi Kreiling 6'3" | MB Kearney | 2021 State MO (Arizona State) provided timely kills and blocks from the middle. Power would close their weekend in the Bronze Playoff Bracket knocking off VCN 18 Black and VCN 18 Elite. Turner showed the ability to run the show and the offense seemed to flow well with her as the primary setter. Power was down one of their players in OH Keyana Cruse Keyana Cruse 6'1" | MB Bonner Springs | 2021 State KS (UNLV). The return of Cruse will pay dividends for the team on the left pin. Their next action will be back in Omaha for Northern Lights. 
Dynasty 18 Black was a team that caught my eye. They are an undersized team but have the athletes and the fight to turn heads this season. We watched them battle a much larger Colorado Juniors team in a first set 25-19 loss. One thing you love about their hitters is they are not afraid to go right at you. Aleisha Jones, at 5'7″,  showed some bounce and aggressiveness on the pin. Seville Gates Seville Gates 5'8" | OH Shawnee Mission North | 2024 KS (Bellarmine) was finding the floor with balls from the right side. Libero Kayla Smocks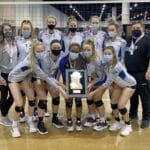 Kayla Smocks 5'3" | DS/L St. Teresa's Academy | 2021 State MO (Ottawa) was all over the place getting balls up. Setter Lily Letchworth Lily Letchworth 5'10" | S Blue Springs | 2021 State MO looked good running the offense. They finished day 1 with a split with VCN 18 Elite. Day 2 they would win their pool going 3-1 in sets. They again split with VCN 18 Elite and would sweep VCN 18 Black. They would take one on the chin against Premier 18 Gold in the Gold Playoff bracket. They should leave Omaha with an added boost of confidence after playing extremely well against some of the top teams in the country and it should carry them over to the Northern Lights Qualifier, where they are scheduled to play in the USA division. They should definitely be favored to walk away with one of the bids. 
We didn't get to catch them live but Mavs 816 18-1 went 2-2 in sets on day one sweeping local foe Dynasty 18 Blue convincingly to win match 1. They dropped two close sets (28-26, 26-24) against VCN 18 Black. On the day 1 Silver Playoffs, they handled business downing Colorado Juniors 18-Doug. On day 2, they started with a 2 point loss, then a 2 point win over CIS 18 Blue before taking down Colorado for the second time in two days. They faced Iowa PowerPlex 18 Black in the Open2 Gold Playoffs and lost in straight sets -23, -22. After watching a little video they are a scrappy bunch. They had good pin play over the weekend and put up a strong block in the middle. They are another team who we think builds off of this weekend leading up to their first qualifier. 
Dynasty 18 Blue had a tough going this weekend. They went 0-4 on day one of pool play being outscored 61-100. They could have stayed down but they regrouped and came back to sweep Momentum 18 James in the Bronze Playoff to salvage the day. They split with the same Momentum team on day two before losing to Iowa PowerPlex 25-11, 25-9. In the day 2 Silver Playoffs, they were defeated in two sets by CIS 18 Blue. This was the perfect opportunity this weekend to evaluate their team against quality competition across the midwest. They will definitely use this as a stepping stone to qualifier season.