Throughout the weekend of the Quad Cities Classic I was captivated by the setting performances of so many athletes where many were in their first live action in quite some time.  From Illinois, Iowa, and Wisconsin, these athletes were able to show their skill and savvy in what will be a promising season for them.  Some are wrapping up their careers, they are committed to their colleges at the next level where others are just getting their recruiting journey started.  Here are the setters who stole the show.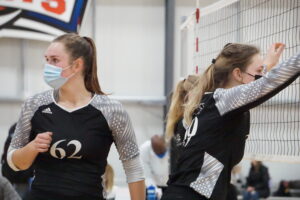 Lauren Passaglia – Balance 18 White
Committed to Hillsdale (MI) 
What an athlete.  Passaglia is so strong and athletic, she can do some really special things on the court.  She commands it from a leadership standpoint where there is an intensity about her that brings out the best in her teammates.  From a skill standpoint, she is such a threat when she jumps.  She can push it to the pin with tempo and then take it herself with a big swing.  Her physicality at the net is something to recognize offensively and defensively.  A definite gamechanger that has so many intangibles in her favor. 
@iowarockets Kora Ruff Kora Ruff 5'9" | S Pleasant Valley | 2022 State #86 Nation IA and her ability to hold the middles while shooting it to the outside for a one on one to Macy Daufeldt Macy Daufeldt 5'10" | OH West Liberty | 2022 State #74 Nation IA is so money…they've only been doing this since middle school 😂😂

— Chris Fitzgerald (@PrepDigChris) January 17, 2021
Kora Ruff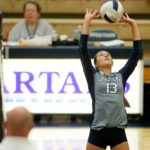 Kora Ruff 5'9" | S Pleasant Valley | 2022 State #86 Nation IA – Iowa Rockets 17R 
Committed to Evansville
An opposing coach yelled at their team "How many times are we going to let her score!" Ruff is not the 6'2 left handed setter that would be more likely to be offensively.  Ruff was picking apart the opposing defense where she saw openings at just the right times.  It's almost as if she is playing a game of chess.  Everything is intentional.  With her sprinkling in some offensive attacks to score, she is spreading the offense out with a slide to Loyola-Chicago recruit Ella Ramsay Ella Ramsay 6'1" | MB Moline (IL) | 2022 State IA on a slide (which was money) or she's shooting it out to Drake commit, Macy Daufeldt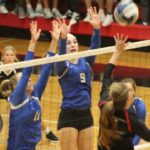 Macy Daufeldt 5'10" | OH West Liberty | 2022 State #74 Nation IA for a one on one attack which is automatic.  Seeing an offense like this never gets old. It's a craft. 
Bree Borum – Fusion 18 Red 
Committed to Florida Gulf Coast
It has been so fun to follow the career of the Borum twins of Brooklyn and Breelyn where they have won national titles at Sports Performance and state titles at Sterling.  Bree is another one of those left handed setters who puts so much pressure on the defense whenever she jumps and can swing with her left hand.  However, what impresses me the most about her game is her defense and IQ.  She can adjust so well when she is on the scramble and makes something out of nothing for her team. 
Winding down on set two for the first match. More names to know!

Madison Geise Madison Geise 6'0" | S Roland-Story | 2022 State IA continues to impress as a setter and attacker for @iowapowervb
Grace Michalske – @WisconsinIce
Anna Loberg Anna Loberg 6'0" | S Geneva | 2021 IL – @ClubFusionVB
Grace Holian – @SkyHighVB

— Chris Fitzgerald (@PrepDigChris) January 17, 2021
Anna Loberg Anna Loberg 6'0" | S Geneva | 2021 IL – Fusion 18 Red
Uncommitted – Class of 2021
Loberg could play any position, but I'm grouping her in with setters.  She can put up a clean ball, but is also so steady defensively.  She is currently uncommitted, but I can see where she would be utilized in so many ways at the next level. A high caliber player, with a big volleyball IQ to go with and she is a steal for plenty of programs.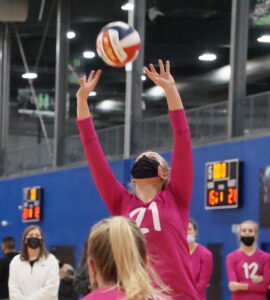 Avery Van Hook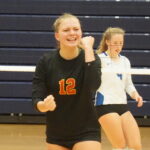 Avery Van Hook 5'9" | S Marion | 2023 State IA – Iowa Rockets 16R 
Uncommitted – Class of 2023
I've seen VanHook at the high school level where she sets and plays right side.  She does it all, but seeing her set full time this weekend was a treat.  She is intense, a true competitor, one others on the court look to for leadership, and she is going to find a way to win for her team.  She has great footwork, a smooth release, and even with her ability to attack she is efficient in knowing when the best chance to score points is when the defense is out of position.  The Iowa Rockets 16R squad is going to be really dangerous heading into Iowa Regionals and other qualifiers this season.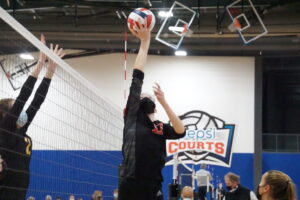 Rian Baker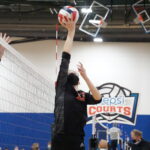 Rian Baker 5'11" | S Fremd | 2022 State #143 Nation IL – Sky High 17 Adidas Black 
Committed to Wake Forest 
Super smooth.  Baker is long, athletic, and efficient.  She is able to receive the ball high and creates so many opportunities for her athletes where she is tough to read for the opposing side of the net.  With her hands high she is able to set any spot with any tempo or take it herself.  She will head to Wake Forest in a couple years and it was evident this weekend that she will make contributions to a up and coming program in the ACC.  
@geise_madison showing she can do it all hitting from this crazy angle. @iowapowervb heading into a decisive third set against Sky High 17 Black pic.twitter.com/7jHjYNjY7T

— Chris Fitzgerald (@PrepDigChris) January 17, 2021
Madison Geise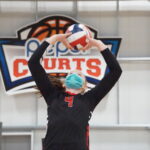 Madison Geise 6'0" | S Roland-Story | 2022 State IA – IPVA 17 Black 
Uncommitted – Class of 2022
Geise showed that her stock is rising at a rapid rate in the Class of 2022 for setters in Iowa and even throughout the region.  She is a dynamic all around athlete where she can swing on the rightside as well.  Each time I see Geise compete, she improves which is attributed to her overall athleticism and dedication to the game.  This IPVA squad is going to be sneaky good this upcoming season because they have solid all around defense, led by libero Lexi Stephens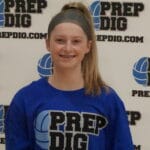 Lexi Stephens 5'4" | DS/L Ankeny | 2022 State IA and with an athlete like Geise leading the way, she can do so many positive things for her side of the net. 
More Setters To Have On Your Radar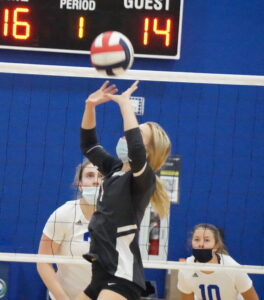 Class of 2022
Maddy Fortune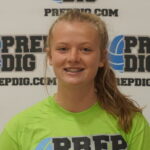 Maddy Fortune 5'8" | S McFarland | 2022 State WI – Balance 17 (WI) 
Elise Mehaffy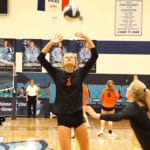 Elise Mehaffy 5'8" | S Marion | 2022 State IA – Iowa Rockets 17-1 
Makayla Rubble – Iowa Rockets 18R 
Jenna Pistono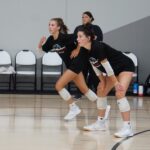 Jenna Pistono 5'7" | S Sauk Prairie | 2023 State WI – Sting United 16 Red 
Reese Johnson Reese Johnson 5'9" | S Denver | 2022 State IA – Flight 17U 
Carly Rolf Carly Rolf 5'8" | S Assumption | 2022 State IA – Platform Elite 17 Adidas 
Julianne Kielion – Eastside Ninjas 18U Elite
Class of 2023
Allie Barlow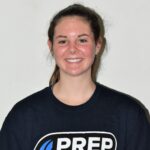 Allie Barlow 5'9" | S Cedar Rapids Jefferson | 2023 State IA – Iowa Rockets 17-1 
Maggie Duyos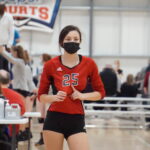 Maggie Duyos S Huntley | 2023 IL – Sky High 16 Adidas 
Class of 2024 
Madison Wojdylla – Sky High 15-1 NS