I had the amazing opportunity to be in attendance at the Early Bird Shootout, and specifically at the four main courts covering the best of the best all day yesterday at Capitol Sports Center, the home of Circle City VBC. There was a ton of talent, far too much for me to list them all in one article. But there were a few that showed improvement from (1) the last time I saw them play in the fall, and (2) as the tournament progressed. I wanted to feature all classes, but that's just too much for this medium. Here's the nine players that made the biggest strides yesterday.
'23, Mya Ayro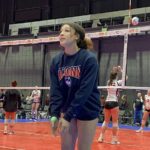 Mya Ayro 6'0" | OH Greenwood | 2023 State IN , OH, Academy 16 Yeti
The last time I saw Mya, she was a middle on a team that couldn't pass with an inexperienced setter that couldn't set her where she needed the ball. Not only has Mya completely changed positions, but her mentality as well—something I couldn't say while watching her play frustrated back in October. To know that in her first tournament playing on the pin, she was positive, put balls away, blocked a few more, and show positive progress all day shows that she's more than just a one-trick attacker. Yes, there were (and will be) growing pains. But to know that she'll get better than what I saw Sunday is promising. With her size, she should pan out to be a right side at the next level.
'24, Macy Hinshaw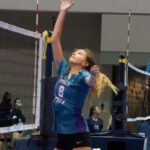 Macy Hinshaw 5'9" | S Hamilton Southeastern | 2024 State #54 Nation IN , S, Circle City 16 Purple
Yes, this is a freshman playing up a year for the second-straight year. Yes, this setter belongs at this level. And yes, she is more than capable of running a 5-1 with a relentless attitude and work ethic that is unmatched in her graduating class in Indiana. She runs a great offense, plays exceptional defense (a rare trait here), blocks well and runs the show by example. This is a can't-miss kid that should be on someone's radar by now, and, between CC and HSE, will be on winning programs for years to come.
'23, Alexandra Kraft Alexandra Kraft 5'2" | DS/L Providence | 2023 IN , L, Union UA 16-1
In my last in-person view of Alex play, she was a three-rotation DS for Union's 15-1 squad in the finals of the President's Day Classic in Saint Louis last year. She was good THEN, and she's even better now. In their two-libero system, she's in on defense and sees far more playing time that last spring, and held her own against the best of the best yesterday. Her reading ability and foot speed got her to a ton of balls that she might not have been able to get to last year, meaning her maturity and experience are paying dividends. 
'24, Allie Shondell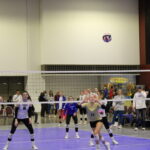 Allie Shondell 5'9" | S McCutcheon | 2024 State #69 Nation IN , S, Boiler Juniors 15 Gold
Last fall, I had a chance to watch Allie a few times running a 5-1. She was good, but nervous and still a bit shaky on defense. Fast-forward to yesterday, and I don't even recognize her. Smooth, strong and confident, she brought her team to the finals of the top division in the 15/16 age group. No, the outcome wasn't the best for her team, as they lost in the finals to a well-oiled machine in Circle's 16-1, but she carried a much better demeanor than I was expecting. 
'23, Alexis Thatcher, S, Academy 16 Yeti
Full disclosure; it is impossible for me to see everyone in the fall. That being said, how did no one tell me about Alexis?!? Tall, lean, strong and quick handed, Alexis ran a 5-1 with ease for Academy's top 16s team, and nearly pulled off an upset of eventual tourney champ Circle City 16-1 in the opening match of the club season. She defends well, both at the net and on the floor, serves tough, and leads with a quiet confidence that makes me believe this is her team, and success goes as she goes. I'm looking forward to her progress, and can't wait for her growth.
'22, Cadence Gilley Cadence Gilley 5'4" | DS/L Columbus East | 2022 State IN , L, Circle City 17 Purple
To begin the afternoon wave of this tournament, Cadence and her "mafia" punched eventual champ Academy 18 Rage in the mouth (25-13 in set 1!) en route to almost upsetting them. Cadence was at the center of everything; serve receive, defense, tough serving, block coverage, the works. I knew she was good. I didn't know that she was capable of this. And she's only going to get better from here. Well done, Cadence.
'21, Ellary Detamore, L, Academy 18 Rage
Can someone—anyone—explain to me why Ellary is unsigned? Absolute nails all day long, bombing away from behind the base line, passes everything, and has to cover for some moderate serve receive struggles of her pin hitters. All while being super positive and easy to coach. What's not to like? It's great to see her do as well as she's doing, and I hope she finds a home soon.
'21, Miranda Wilson, OH, Circle City 18 Purple
Chris Due, coach for Circle's 18-1, imparted some knowledge to me before they played in the finals. Due to injuries and quarantining, they were missing multiple players for the entire tournament. That meant Miranda was forced into the middle, even though she's an outside. No matter; she still held her own against the high-flying  Raven Colvin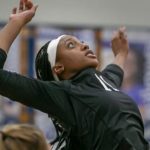 Raven Colvin 6'0" | MB Heritage Christian | 2021 State IN , Grace Boggess Grace Boggess 6'3" | MB Center Grove | 2021 State IN  and  Delaney Garner Delaney Garner 6'1" | MB Hamilton Southeastern | 2021 State IN , all high-level full-time middles in the championship match. The difference here, however, is that Miss Wilson still played hard and gave everything, despite the lack of experience. And did I mention her team made the final? For me, watching her still putting balls away and blocking balls to the floor while out of position most of the day tells me all you need to know about her character, let alone the skill and work ethic. 
'22, Cecilia Bulmahn Cecilia Bulmahn 5'8" | OH Mount Vernon (Fortville) | 2022 State IN , OH, Academy 18 Rage
Playing up a year and being coached by your dad (a former Ball State player) since forever ago is pressure enough. Try being the youngest and shortest attacker on a team that has players committed to Butler, Purdue and Villanova, and you might understand an error or two. FALSE. Cecilia brought it yesterday, and made some key defensive and offensive plays that you expect out of a six-rotation outside. She doesn't look the part, but that young lady is relentless in the attack and can hit all of the shots. She plays significantly bigger and stronger than her frame, and is a definite x-factor for the Rage. Miss Bulmahn has made impressive improvements from the last time I saw her play, with most of these same players, last spring in club.