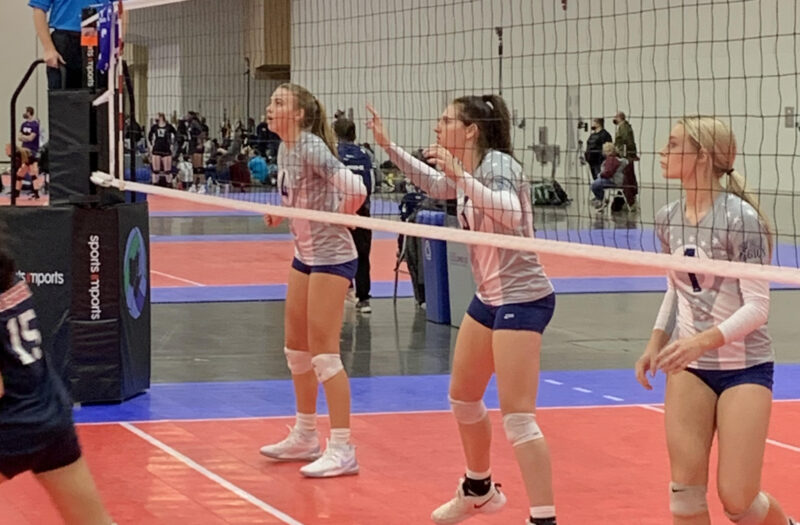 Posted On: 02/17/21 8:50 AM
Madison Cugino – 5'9 | L | Mintonette M.51 National
Cugino has great length as a libero and uses her size well in her ball control and defense. She starts with good patience and vision to pursue the ball serve received. She also has good balance and preparation on the defensive side and is effective at creating good range to play the ball in all directions. This creates a lot of opportunities for a deep and potent offense. As a freshman for her Oletangy Orange high school team she contributed over eight digs per match.
Kerrigan Habing Kerrigan Habing 5'10" | OH St. Francis DeSales | 2024 State OH – 5'9 | OH | Mintonette M.51 National
Habing has made big gains from a year ago with increased physicality as a pin attacker. Her arm speed has increased and she gets to the ball through a dynamic approach pattern that allows her to swing with pace and range well. She scored a bunch of points this past weekend in helping her team win 15 Open in Columbus and is part of an offensive corps that should compete well on the national stage all club season.
Kaylee Musick – 6'0 | Setter | Mintonette M.51 National
Musick has great size as a setter and shows a lot of poise in her leadership and floor direction of her team's offense. She moves well and has consistent balance and hand position that can make her a tough read. She is establishing herself as one of the best young setters in Ohio and among the elite for this class of 2024. 
Lauren Tyrpak – 5'10 | OH | AVC CLE Rox 15 Blue
Tyrpak shows a complete skill set as a six-rotation pin attacker. She has good movement and platform skills as a passer and reads the floor well defensively. Her approach patterns are aggressive. She can generate good pace and can also score with arm control and placement off speed. Tyrpak made good contributions for her Hathaway Brown varsity squad this past fall and should increase her impact a she advances through her prep career.