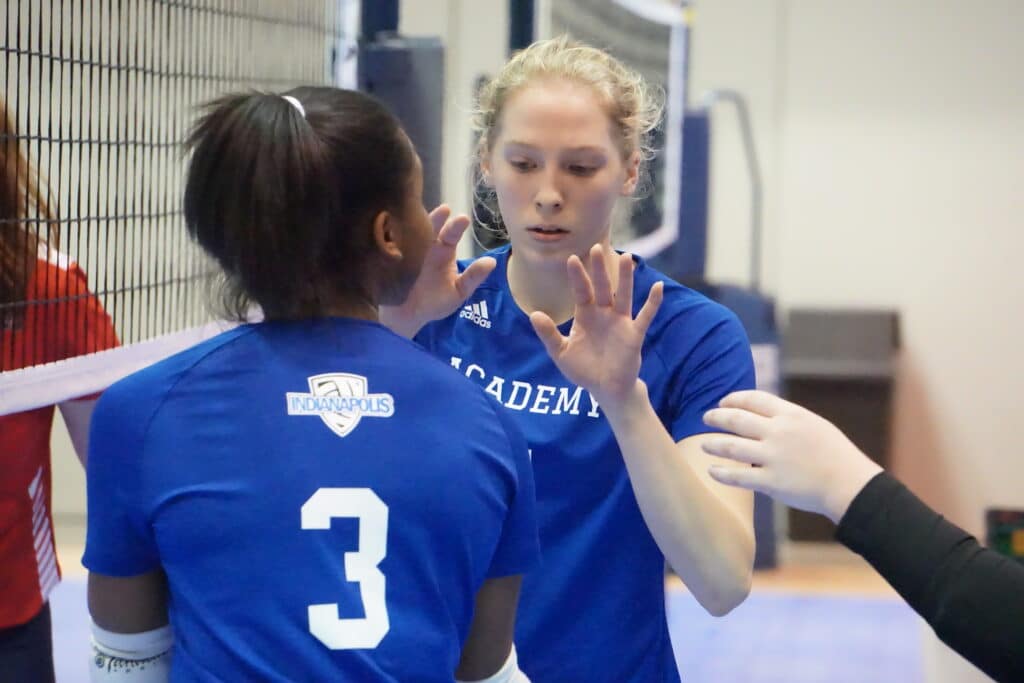 Posted On: 02/3/21 12:48 PM
There are some athletes you see over and over again, where you know if they are having a great game, if they're off, or if they are just really consistent in what they are able to do.  Being from Wisconsin, I have seen a lot of the athletes from the likes of Milwaukee Sting at Central Zone.  I covered Legacy's 16s when they won the 15s division of Triple Crown last year.  I love seeing the progress and improvement they make each time they step on the court.  However I haven't seen any of Indiana, Ohio, Kentucky, or most of the Mideast play and Central Zone was the perfect chance to see some top notch athletes for the first time or I had seen them play maybe once in the past and they have greatly improved leaving a lasting impression.  Here are some names to know based off a live eye (meaning, I was there in person) from Central Zone. 
Nya Bunton Nya Bunton MB DuPont Manual | 2023 State KY again for @KIVAVB – this team is deep! pic.twitter.com/zAZF5uQw9W

— Chris Fitzgerald (@PrepDigChris) January 30, 2021
Nya Bunton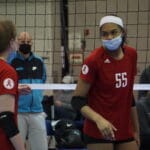 Nya Bunton MB DuPont Manual | 2023 State KY – KiVA 16 Red 
Class of 2023 – Middle
This KiVA 16 Red squad has the size that will compete with anyone in the country.  Bunton is 6'5 and its an athletic 6'5 where she moves extremely well laterally and has a fast arm that can terminate off a quick tempo set.  KiVA has two others who are near 6'5 and with their combo of ball control, size, and power they will be a really dangerous team to compete against this season. 
Elle Boersema – Team Pineapple 15O Black 
Pin Hitter
I really liked this Team Pineapple team from the Fort Wayne area.  They are scrappy, fundamentally sound and have a spark while they play.  Boersema is a long, athletic pin where she could be on either pin and be a major force offensively and defensively.  She has the makings to be a big time player where I bet she might be around 6'2, jumpy, and can play well above the net.  An exciting player to watch. 
Some names to know between a couple courts of 15 Gold Quarterfinals
Alaleh Tolliver Alaleh Tolliver 5'8" | OH North Central | 2024 State IN – @TheAcademyVB
Riley Resmer – @BoilerJuniorsVB
Ava Utterback Ava Utterback 5'10" | OH Plainfield | 2024 State IN – @circlecityvbc
Emery Moore Emery Moore 5'9" | S North Central | 2024 State IN – @circlecityvbc
Claire Luoma Claire Luoma 5'8" | DS/L Franklin | 2024 State WI – @stingvb1988 pic.twitter.com/j64IWubZXU

— Chris Fitzgerald (@PrepDigChris) January 31, 2021
Ava Utterback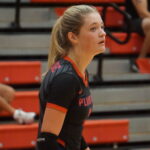 Ava Utterback 5'10" | OH Plainfield | 2024 State IN – Circle City 15 Purple 
2024 – Pin 
Utterback packs a punch when she swings.  The athletes who play aggressive, go for the shot, and take a chance are going to be the ones who have the biggest impact.  There might be a time where Utterback blasts it off the back wall, but she is going to score a lot of points no matter where she is.  She also celebrates with a ton of passion and fire for her teammates which is always exciting.  When she has a big kill, it is an automatic spark where her team gets fired up from her energy. 
Kill by Haley Koch Haley Koch MB Oconomowoc | 2022 State WI of @stingvb1988 seals the deal in set three pic.twitter.com/ydHFBwXoAu

— Chris Fitzgerald (@PrepDigChris) January 30, 2021
Haley Koch Haley Koch MB Oconomowoc | 2022 State WI – Milwaukee Sting 17 Gold 
2022 – Right Side/Pin 
I have watched Koch play out of the middle the past two years and she was always solid.  She could hit all the tempos, she was long and could get from pin to pin to close a block, but she has since switched to the pin and I was extremely impressed with what she could do on the right side as a blocker and attacker.  This 17 Gold team has some new parts to their puzzle and for their first time out this season, showed some great potential.  Koch is committed to Cedarville in Ohio. 
Sasha Stotler and Molly Shomock – Elite VBTC 17 Black 
Stotler was one who has a ton of strength and physicality and provided plenty of swings that are for sure going on a highlight video.  Shomock is the same way where she was able to score points from the pin with a really athletic Elite squad. This was my first time seeing this club live and through all of their teams at various age levels they have strength and athleticism. 
Emma Halter Emma Halter 5'5" | DS/L Roncalli | 2022 State IN and Olivia Murphy Olivia Murphy 6'0" | OH Roncalli | 2022 State IN -Team Indiana 
TI finished in the elite eight of a really loaded 17s field.  Halter is a scrappy libero who can cover quite a range and can provide a solid first contact to keep their offense in system.  Murphy is out on the pin where she is extremely athletic with a loose arm to really get a snap on the ball. The 17s in Indiana are loaded with talent and the competition they will see week in and out within their home state is unreal. 
Audrey Brown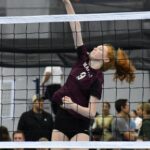 Audrey Brown 5'11" | OH Seaholm | 2022 State MI – Legacy 17-1 Adidas
I remember seeing Brown and Legacy play last year at Triple Crown for a match, but seeing her swing on the right side this weekend she really was showing how powerful she was and how she was a force to be reckoned with on her block.  This Legacy team has a lot of size and physicality and will be a tough out when it comes to a qualifier. 
Notables this morning (now I know my courts)
Kaitlin Fasbender Kaitlin Fasbender 5'10" | MB Lawrence North | 2022 State IN – @TheAcademyVB
Caroline Harris Caroline Harris 6'0" | OH DSHA | 2024 State WI – @sting_gold
Brooklyne Darby – @NKYVC
Abigail Schaefer – @NKYVC pic.twitter.com/M4baBeis57

— Chris Fitzgerald (@PrepDigChris) January 30, 2021
Kaitlin Fasbender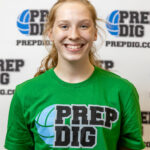 Kaitlin Fasbender 5'10" | MB Lawrence North | 2022 State IN – Academy 17E Tsunami
It only took me one play to see what Fasbender could do in her first match when she chased down a slide to score a point.  When the ball was released from the setter I thought there was no way she was getting to it, but she did, and she scored.  Throughout the morning she showed how quickly she could move along the net as a middle, extremely dynamic.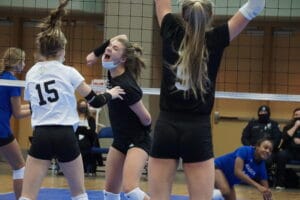 Brooklyn Edmonds Brooklyn Edmonds 5'9" | OH Rossville | 2024 State IN and Riley Resmer – Boiler Juniors 15 Gold 
This is a fun middle blocking duo for Boilers who had a really successful weekend finishing second to A5 and had plenty of tight matches to get to that point.  This a team where their chemistry is already apparent.  They execute the middle so well with Edmonds and Resmer who know how to use the angles and find the open spots whether its a dip corner shot or a zone four tip out.  Teams who can ball control like this squad and can spread the defense out can really score plenty of points and win close matches. 
Due to an injury, @TexasTechVB Libero commit Grave Betke (#20) has filled in as an outside for @wearevcunited 171 Elite. She is tearing it up! Learn to play everywhere. You never know when it's time to audible. Very impressive at the 17 Open level here. pic.twitter.com/LtBXzQpiVf

— Chris Fitzgerald (@PrepDigChris) January 31, 2021
Grace Betke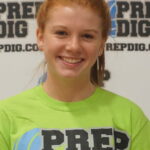 Grace Betke DS/L Belvidere North | 2022 IL – VC United 171 Elite
I have seen Betke defend because she is one of the top liberos in Illinois and is committed to Texas Tech, but this weekend she had to step in and play outside hitter (she's 5'5).  Her all around ability allows her to contribute in multiple ways and she was able to swing away and score in multiple ways.  Teams who are versatile at this level have such an advantage where it's the next person in when it comes to an injury or illness. 
Starting off championship Sunday at Central Zone with plenty of power! @LegacyLvc taking on @circlecityvbc 17 Black. Lot of 2022 talent on both sides! pic.twitter.com/S5aMz1QGsJ

— Chris Fitzgerald (@PrepDigChris) January 31, 2021
Corrina Porch- Maxey – Circle City 17 Black 
This outside hitter packs a major punch on the outside with an explosive approach and swing.  She started their Gold Bracket matchup with a heavily favored Legacy 17-1 squad with plenty of points.  She is a fun athlete to watch as she is everywhere on the court and knows how to put the ball away.  She is extremely terminal for a Circle City 17 Black squad who had a really solid weekend.