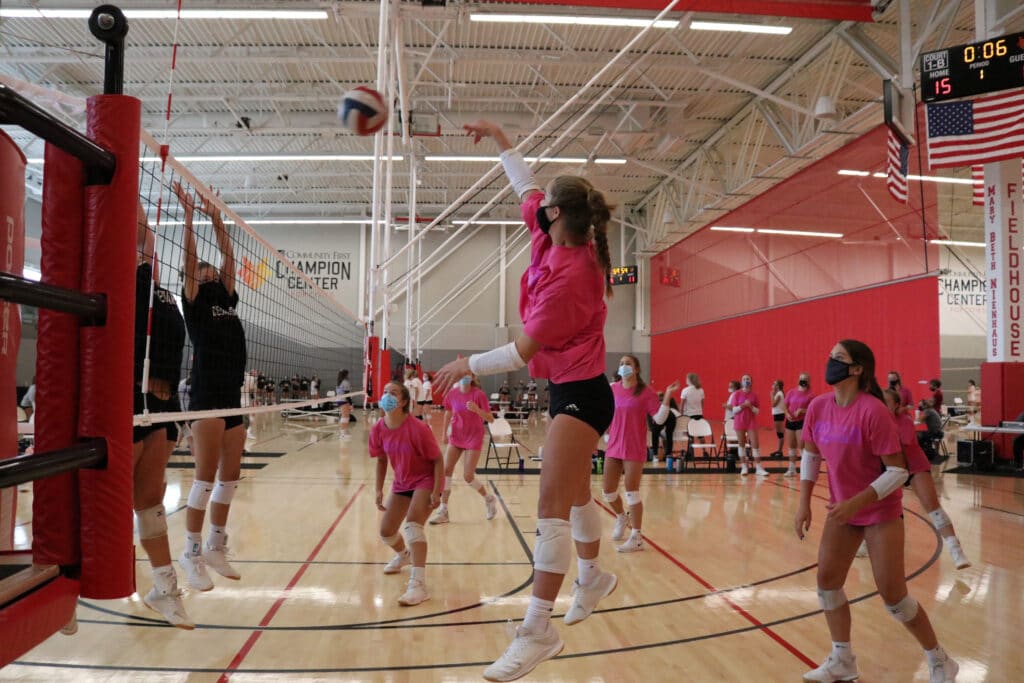 Posted On: 02/17/21 2:24 PM
St. Louis saw hundreds of different athletes come to compete from all over the nation. Taking place during President's Day weekend, standout players and club teams alike, battled for that finishing spot on the podium. Although the format and guidelines in the downtown convention center were a bit different this year, that didn't stop these up stand-out outside hitters to show off their talent on the court.
Overall Milwaukee Sting's 16 Black finished first, beating RVC National in two sets during the championship game. The competition in the 16 Premier division was tough, with over 40+ teams trying to move their way through the gold bracket. I was able to see a lot of these talented players live and this is who you should be keeping an eye on for the rest of the club season.
Katherine Lockwood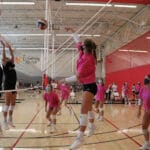 Katherine Lockwood 5'10" | OH Menomonee Falls | 2023 State WI – Milwaukee Sting 16 Black
This 5'10 outside hitter from Menomonee Falls, Wisconsin was instrumental in helping MKE Sting clinch their impressive 10-0 record this weekend. Lockwood helped her team in all facets of the game, especially when they needed a vital side-out. This versatile, six-rotation player has all the shots in her toolkit. She's not only able to find the floor when she's in the front row, but she also plays a killer middle-back defense. A strong server as well, she provides the perfect all-around skills that every great outside hitter needs to have.
Carly Christy Carly Christy 5'8" | OH Carmel | 2023 State IN – Circle City Elite 16 Black
Carly's a competitor. While not being the tallest outside hitter out there, this player has fast footwork and good jumping ability. Christy plays for Carmel high school in Indiana and is a rising talent at Circle City Elite. I have the privilege of being Christy's coach and this athlete is special. This quick and aggressive pin hitter has smart decision-making and a wicked arm. When going up to swing she has a wide variety of shots to choose from and is great at reading what the defense is giving her. Carly is the go-to hitter when her team needs to score a point and is learning every day how to become a better offensive threat.
Emma Haddix – Memphis Volleyball Academy 16 Red
Haddix is a high-flier when it comes to her athleticism. A 5'9 all-around hitter from Memphis, Tennessee, she is able to put the ball away in clutch situations. She caught my eye this weekend when she was able to take some mean cracks at the ball when her team was out-of-system. You can tell by watching her that Haddix doesn't just rely on her power, but is able to move the ball around on the pin. She can play outside and opposite, and is always a reliable hitting option anywhere on the court. 
Rachel Williams Rachel Williams 5'7" | OH West Lafayette | 2023 State IN – Circle City Elite 16 Black
Williams knows the game of volleyball. This 5'7 hitter from West Lafayette, Indiana has great court awareness and a high volleyball IQ. An especially strong server, she is able to go on long strings of points on her serve and is able to get teams out of their normal passing rhythm. While providing a little bit of everything for her team, she is able to find the open areas of the court and make smart decisions during crunch time. Williams is a dynamic athlete and proves to be a leader that her team can rely on. 
Alexis Caldwell Alexis Caldwell 6'0" | OH New Albany | 2023 State IN – Adidas KIVA 16 White
When you think of a hitter with a heavy arm, Caldwell hits the nail on the head. This 6'1 outside hitter from New Albany, Indiana has a cannon for an arm. This primary offense threat is able to set up a solid block on the left side and is able to shut down other team's hitters. Caldwell also the ability to mix up her shots, with a great high line swing and sharp cross thumbs-down killer. 
Emily Goodpaster – Iowa Select 16 Mizuno
Goodpaster is a 5'8 OH from Iowa. This hitter and six rotation player helped lead her team to a 4th overall finish in the 16 Premier division. Goodpaster brings athletic and positive energy to the court. She is able to better every ball that she touches and is able to move the ball around when the defense is camped up. Her defense is apparent in the back row but is also able to set up a solid block when fronting her hitter.
Rylee Duessler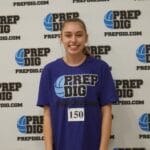 Rylee Duessler 5'9" | OH Waterloo | 2023 State WI – Milwaukee Sting 16 Black
Duessler might just be one of the quickest and most powerful outside hitters on this list. She was a big reason why Milwaukee Sting was able to go so far in the Premier division, due to her smart decision-making and variety of shot choices. Her approach is quick, dynamic, and can jump out of the gym. While only standing 5'8, she has an elite arm swing that allows her to thread the needle down the line, but also find the deep corners as well.