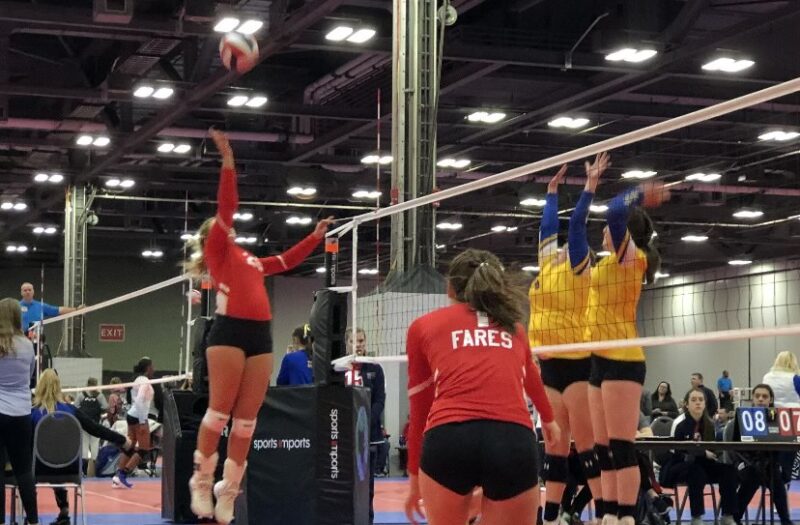 Posted On: 02/16/21 9:22 AM
Several Ohio teams competed in Columbus over the President's Day weekend. The 16 American gold bracket featured four good teams and some solid talent from around the state. Buckeyefire 16 Crossfire defeated Borderline 16 Hawks to claim the title. NOVA 16 Gold earned third place. Here are five athletes that showcased their skills well and are establishing themselves as reliable prospects in the class of 2023.
Allana Appleby – 6'0 | MH | Buckeyefire 16 Crossfire
Appleby has elite level skills in the middle. She is athletic, physical, and uses her tools with good efficiency in all areas of the game. She elevates well at the net to get on the ball fast with her arm or to put a ton of pressure on opposing attackers from pin to pin when blocking. She has good control and platform skills when used in the back row and her length allows her to create good range in pursuit of the ball. The Shaker Heights product helped her team to an undefeated league season in 2020 and was named to the Lake Erie League 1st-team. She is one to keep an eye on as she progresses through her prep career.
Olivia Baumann – 5'9 | OH | Borderline 16 Hawks
Baumann is a rock of an athlete as she simply just plays the game with composure and focus to fill her role well as a six-rotation pin attacker that can score points with her arm. She can pass and defend well in the back row and shows good momentum build in her approach work that leads to power and arm control at the peak of her jump. She has ability to bring it offensively. The sophomore led her Eaton high school team offensively with 3.9 kills per set while hitting at .293, earning her Player of the Year recognition in the Southwestern division of the Southwestern Buckeye league as well as for Division II in District 15, while also being named to the DII all-Ohio third team.
Harlee Howard – 5'9 | OH | Borderline 16 Hawks
Howard (feature image) is a gamer of an athlete on the volleyball court. She has great all-around skills and can contribute wherever her team needs her. The six-rotation attacker has great arm control at the net to swing through the full range of the opponents court and with a good combination of power and finesse. She also provides great floor leadership with her competitive play and communication to match her very reliable ball control and defense. The Preble Shawnee product made huge contributions for her high school team in 2020 with 3.1 kills per set and 16.3 digs per match, top-10 in both categories in the Southwestern Buckeye league. She was a Buckeye division all-league 1st team selection as well as a District 15 Division III 1st-team selection.
Megan Scavuzzo – 5'1 | S/DS | NOVA 16 Gold
Although among the shorter athletes on this team, Scavuzzo's presence makes a big impact. Her versatility allows her to contribute in a variety of facets of the game. She has great court presence and awareness both in distributing the offense and defensively, and is a floor leader that brings composure and direction to a squad that has good depth and balance of arms across the net. She has good hands and does a good job of involving all of her hitters through a varied attack from pin to pin. Defensively, she benefits from seeing point flow well and has good quickness to pursue the ball.
Linnea Winkler – 5'7 | OH | NKYVC 16 Thunder
Winkler has good all-around skills as an undersized outside hitter. She has good court sense and makes up for lacking in size and elevation with an aggressive swing, good arm control, and making decisions and plays that can disrupt opponents when out of system or simply to keep them off balance. The Batavia product contributes in a lot of ways including with great court energy, good ball control and defense, and with good control and location at the service line.