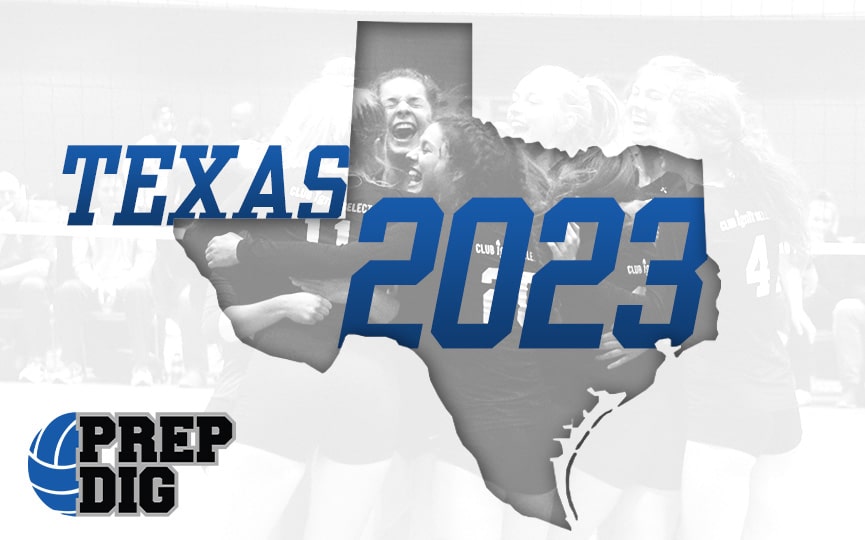 Posted On: 03/11/21 12:14 PM
We have written about all athletes on our ranking list at least once from the 2023 class and up. We are going back and giving more updates on each of the athletes on our State Rankings list from the past high school season and current club season.  This next installment of our series on the 2023 class has a little bit of everything.  I tried to balance it out across the entire state.  So without further ado, here are the updates of a few of the standouts from the 2023 class. 
Karley Sledge Karley Sledge 5'9" | OH Dripping Springs | 2023 State TX [2023] 5-9 Outside (HS: Dripping Springs/Club: Austin Performance: Verbal: Uncommitted)
Karley is currently ranked as the #15 best prospect in the 2023 class according to our Prep Dig State Rankings.  In our previous article we wrote the following, "She is a six rotation outside hitter from the Central Texas area.  She has a good frame for the position and contacts the ball very high.  She plays exceptional defense in the back row.  I love the way she is very calm on the court.  I think she still has a lot of room to grow as a player but I like the base that she is starting out her young career with.  She has control in every aspect.  She is able to serve really tough and has phenomenal ball control on serve receive.  With a very strong upper body, she will only get better as the years progress.  Looking forward to watching this one grow.  She plays for a great program in Austin Performance."  This past season Karley really stepped it up from her awesome freshman campaign, which saw her burst onto the scene with 104 kills on the pins.  Her sophomore campaign saw a huge rise in offensive output for Dripping Springs.  She had 163 kills and hit a .244 hitting percentage.  She also stepped it up on the defensive side of the ball and had 41 digs to keep her team alive on rallies.  She was a big reason why they went 23-6 overall and 12-4 in district. She will be back next season ready to lead this program to more wins.  Meanwhile, we get to watch her grow with her awesome Austin Performance squad during the club season.  Stay tuned for more updates.
Leah Oyewole Leah Oyewole 5'10" | OH Bishop Lynch | 2023 State TX [2023] 5-10 Outside (HS: Bishop Lynch/Club: Madfrog/Verbal: Uncommitted)
Miss Olewole comes in ranked as the 34th ranked prospect in the 2023 class according to our Prep Dig State Rankings.  In our previous article we wrote the following, "Leah is a very gifted athlete that is able to play on the pins.  She has the ability to move up those rankings quickly with her skills.  Even though she is only a freshman for Bishop Lynch, she hits on the left like a seasoned upperclassman.  I absolutely love the way this young lady celebrates each of her kills like she just won the national championship.  Her energy is electric and her teammates feed off of it.  She is one of my favorite players to watch because of that enthusiasm she has on the volleyball court.  It is infectious to watch.  Look out for this one as she has such a high ceiling to continue to grow."  Her Bishop Lynch high school program has been one to watch for as long as I can remember when it comes to TAPPS.  Her sophomore season at BLHS saw her accumulate 72 kills and 26 digs on their way to an 11-8 overall record and a 5-3 district record.  Now we get to watch her outstanding Madfrog team compete for a national championship in the club season.  She is definitely one to watch as she continues to grow as a phenomenal volleyball player. 
Kirby Kliafas Kirby Kliafas 5'10" | S Langham Creek | 2023 State TX [2023] 5-10 Setter/Outside (HS: Langham Creek/Club: Texas Tornados/Verbal: Uncommitted)
Kirby is listed as the 43rd ranked prospect in the 2023 class according to our Prep Dig State rankings.  In our previous article we wrote, "I think she can move up the list also with continued training.  This stud of a player has been jump-serving bombs since she was 12 years old.  The daughter of a club director also has a super high volleyball IQ.  She brings all of her knowledge together to lead her team as a setter.  But hold the phone, she can bang on the pins also.  She is a fearless player who loves to competition.  Her mom and awesome club director, JoEllen Saulsberry has groomed her for success in her wonderful and nationally known club out of the Houston area, Texas Tornados.  She can score in a variety of ways as an Outside hitter as she swings hard on splits in the block, tools blockers at will, and has a great off-speed game also that she uses to keep the defense off-balance.  The sky is the limit with this youngster.  I'm very excited to watch her grow into the player that I think she can ultimately be."  She showed her versatility this past two seasons on varsity for Langham Creek. She has 801 assists, 69 aces, 312 digs, and 217 kills.  She can literally do it all on the court and has proven it amongst upperclassmen time and time again.  She will keep shooting up our rankings as she continues to grow in the game.  This young lady plays the game hard and we have watched her grow from a 12's player til now.  She is a great athlete and shows it while jumps setting all locations and also while hitting/digging everything that comes her way.  She is the real deal.
Ana Garza Ana Garza 5'11" | OH Alvin | 2023 State TX [2023] 6-0 Middle (HS: Alvin/Club: Absolute Volleyball Academy/Verbal: Uncommitted)
Ana is currently ranked as the 46th best prospect in the 2023 class according to our Prep Dig State Rankings.  In our previous article we said the following, "She stars for a very talented AVA program on the outskirts of the southeast side of the Houston area.  AVA is a very talented program who routinely pumps out high level talent to colleges across the country.  Ana is one of their stud 15's players on a roster littered with talent.  Miss Garza has exceptional power in her swing.  She drives her legs hard into the ground, which is a staple of the Katy Garza, club director of AVA, training in the middle. This allows Ana to be on time for such a quick tempo set from her teammates.  It is a very difficult thing to teach a young player.  Ana is blessed to be able to buy into the speed of approach at such a young age.  It will only help her as she continues to grow into the position as the years go by." She was a big reason why her Alvin HS squad went 18-9 overall and 9-5 in district.  Her sophomore season saw major improvements in every category.  Overall in two years she has had 240 kills, a .281 hitting percentage, 119 blocks and 18 aces.  After watching her grow into the middle position against varsity competition, it is my firm belief that this young lady can easily move up the rankings over the next few years.  She has a super high motor and her frame is built for high level volleyball.  She will absolutely be a force to be reckoned with in any position she plays as she is able to hit on the pins and also has great ball control in serve receive and defense.  This young lady is one to keep an eye on as a college prospect.  Stay tuned to see what she does with her awesome AVA club program. 
There are many more articles to come about this particular age group and this club.  Stay tuned for the next installment, as there are many players to watch out for in this star-studded class.  If you know of any other players or clubs that we need to cover, please email me at nov8vb@yahoo.com. We would also love if you can spread the word about our program here at Prep Dig Texas.  We love what we do and if you like our articles, please share them with your friends. Help us help the players get recruited by sharing these highlight stories with the world.  Thanks so much for following us!