Posted On: 03/10/21 10:58 AM
The Class of 2021 has plenty of talent across the state and these ladies deserve every ounce of recognition. It's time to look at the best passers across the state.  So let's continue our list of the position breakdown by taking a look at the top Setters in the Class of 2021. 
Katie Butler Katie Butler 5'9" | S Old Tappan | 2021 State NJ (Old Tappan; USA NY)
Butler is a part of the two-headed monster that Old Tappan has at the setter position along with Chrissy Chu Chrissy Chu 5'9" | S Old Tappan | 2021 State NJ (see below). Butler showcases her versatility for Old Tappan by lining up multiple positions like opposite, setter and even middle blocker. Butler has masterful ball deception as a setter especially on USA NY. She's one who can do it all. 
Olivia Coughlin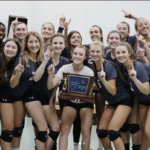 Olivia Coughlin 5'10" | S Immaculate Heart | 2021 State NJ (Immaculate Heart; Digs)
Coughlin is a 5'10" setter/right side and a tight all-around player. Her impressive numbers from last season are her 440 assists, 296 service points, and 21 aces for the season. Coughlin's court awareness is off the charts knowing exactly where her teammates and opponents are for her to decipher where to go with the set to ensure an optimal scoring opportunity. 
Chrissy Chu Chrissy Chu 5'9" | S Old Tappan | 2021 State NJ (Old Tappan; Pinnacle)
Chu will be