Posted On: 03/11/21 8:15 AM
Our next five series finally gets to the middle of the conversation. These five bigs are on the cusp of something epic, and with a little more work, and in front of the right eyes, should garner increased attention now that qualifier season has begun.
Cadence Ast Cadence Ast 6'2" | MB Bloomington South | 2023 State IN , 6-2, Circle City 16 Purple
Already jumping past 9-6, Cadence can play either middle position. Just as effective off of one foot as two, she's also adept on the defensive side of things, as her length and size are key to the 16-1s success. She's only going to get faster and stronger, and I wouldn't doubt if she passes the ten foot mark before the end of next year.
Jessica Pickett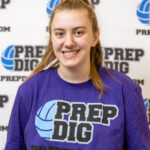 Jessica Pickett 6'4" | MB Carmel | 2023 State IN , 6-4, Academy 16 Elite Yeti
Speaking of ten feet, how about a kid that's already there? Jessica is proof that you can't teach size, and her feet are catching up with her height quickly. She's also quite strong, and is learning how to be up quickly under Travis Fuller's tutelage. Between this spring and next fall, I would not be surprised if she starts getting offers.
Libby Dippold Libby Dippold 5'11" | MB Columbus East | 2023 State IN , 5-11, Union UA 16-1
If you're in need