Our next five series finally gets to the middle of the conversation. These five bigs are on the cusp of something epic, and with a little more work, and in front of the right eyes, should garner increased attention now that qualifier season has begun.
Cadence Ast Cadence Ast 6'2" | MB Bloomington South | 2023 State IN , 6-2, Circle City 16 Purple
Already jumping past 9-6, Cadence can play either middle position. Just as effective off of one foot as two, she's also adept on the defensive side of things, as her length and size are key to the 16-1s success. She's only going to get faster and stronger, and I wouldn't doubt if she passes the ten foot mark before the end of next year.
Jessica Pickett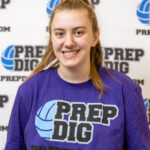 Jessica Pickett 6'5" | MB Carmel | 2023 State IN , 6-4, Academy 16 Elite Yeti
Speaking of ten feet, how about a kid that's already there? Jessica is proof that you can't teach size, and her feet are catching up with her height quickly. She's also quite strong, and is learning how to be up quickly under Travis Fuller's tutelage. Between this spring and next fall, I would not be surprised if she starts getting offers.
Libby Dippold Libby Dippold 5'11" | MB Columbus East | 2023 State IN , 5-11, Union UA 16-1
If you're in need of a solid M2 who attacks with a heavy ball to all angles and is exceptional off of two feet, Libby is your girl. Transferring from Team Indiana to Union makes her drive about the same, but her training that much more complete. And—if I've said it once, I've said it a million times—you don't get on a 1s team at Union without a very high volleyball IQ.
Reagan Kleiman Reagan Kleiman 5'11" | MB New Palestine | 2023 State IN , 5-11, Munciana Indy 16O Moana
Fast and terminal, Reagan has the length of a middle three inches taller than she. I like her length and her ability to transition quickly. As of this writing, she's probably going to be an M2 at the next level, as the great majority of her attacks come off of two feet. She also blocks wider than her frame suggests.
JaNyah Henderson JaNyah Henderson 5'11" | MB Fishers | 2023 State IN , 5-11, Rev 16-1
The upstart club Rev, located east of the 465 circle, has done one thing well thus far; finding athletes from everywhere and all walks of life and making them fit the team they're on. JaNyah is no exception, as her athleticism and bounce beat most middles much bigger than she. Watching her get her chin over the net on her attacks leads me to believe that she's inching her way towards jumping at ten feet. Miss Henderson is probably an M2 at the next level, but I haven't seen much off of one foot from her, so stay tuned.