This is a favorite for many athletes with top teams across the country coming to Louisville to take on the Adidas Bluegrass Tournament.  For some, it will be a little bit of a "Deja Vu" moment with this being the final tournament most teams played in 2020 before the pandemic shut down the season.  Athletes are back on the court, still playing, and fired up to take on top competition.  Here are some top athletes to watch heading into weekend, starting with 16 Open. 
Ivey Stocks – Tri State Elite 16 Blue
Stocks is springy.  That's an understatement.  The middle blocker has quick hops and can really get up quick and snap.  Her athletic ability allows her to get from pin to pin as well as transition to be available to attack.  She will be key if Tri-State can remain in system to score points.  This is a dangerous team who is always a threat come Sunday.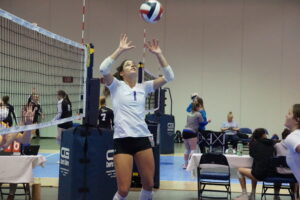 Grace Purichia – Union 16-1 UA
I've written about Purichia before where I watched her without much background knowledge of her game.  Right away I noticed her presence on the court with her ability to connect with all of her teammates, positive body language, and how she commands the court.  She's a competitor where she can really get crafty with her IQ that will allow her to find a way to win, she elevates the game on her side of the net.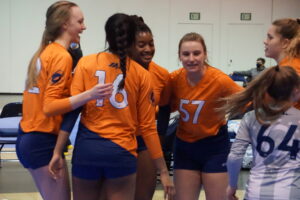 Surabhi Srinivasan – Mintonette m.61
When Mintonette enters the field, they will always be ones to watch as well as a program who produces championship caliber teams.  I was able to see this m.61 team at Central Zone where they have the makings to be a tough matchup.  Srinivasan is an outside hitter who isn't afraid to take a big swing.  She's aggressive and with that mentality, she will be able to take those big things in order to make things happen and score points. 
Maddy McGath – Milwaukee Sting 16 Gold 
Sting 16 Gold will be in the hunt to breakthrough after running into Legacy during bracket play of Central Zone and St. Louis Presidents Day.  They are coming off a Badger Region Qualifier title and have punched their ticket to Vegas in the National Division.  This team is long and strong in the front line and middle blocker Maddy McGath is definitely one to have on the radar.  McGath is 6'3 and strong, she can hold her block and brings a heavy swing that can split the block or find a deep corner to score.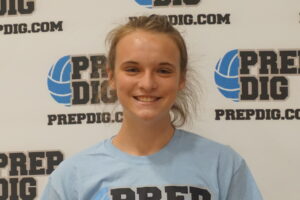 Sylvie Zgonc – Milwaukee Sting 16 Gold 
The combination of pin hitters at Sting is tough to top with their depth that includes Lily Wagner, Kindyl Kilar, and Karissa Fortune.  Pick your poison with these athletes.  Zgonc brings a cannon of an arm to the pin and where she can hammer any angle.  A fun athlete to watch who is always a threat to score, she can be the "X Factor" who can score in bunches. 
Molly Urban – Circle City 16 Purple 
Urban is scrappy and provides a spark as a libero to this 16 Purple squad who continues to hold the high standard that is Circle City.  A relaxed platform and the ability to get that first contact cleanly to standout setter Macy Hinshaw allows this team to attack from all positions.  This team is just solid and consistent which carries them over high level competition.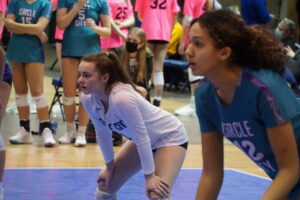 Quinci Thomas – Circle City 16 Purple 
Crazy upside!  Thomas is a pin hitter for Circle City 16 Purple where she can contact high and go down the line or hard cross.  She's nearly touching ten feet and with her raw athleticism, she will be one to soar in the Class of 2023 with her range.  As Thomas continues to develop her backcourt game and can become a threat to score from the backrow – watch out!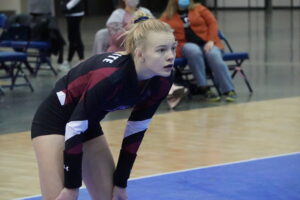 Lily Barry – Illini Elite 16 Cardinal 
I saw Barry play as an 8th grader up on the Illini Elite 15s team.  Now, she is playing at her age level on the outside and she definitely has an electric style to her game.  She's 5'7 on the pin, but she just skys when she approaches and puts such a big swing on the ball.  Her future at the next level might be as a libero/ds, but what she can do right now is be a big time leader and scorer for Illini Elite. 
Nyla Gaines – Lexington United 16 Adidas
Gaines is a versatile pin hitter for Lexington United where she can swing away from the left side or right side.  Strong fundamentally, athletic, springy, and knows where the open spots are whether its a major cut shot or something deep to the corner.  She has a great connection with setter Jamison Gordon who brings a ton of energy to the court. 
Kenna Wollard – Illini Elite 16 Cardinal 
Wollard is an extremely physical attacker.  At 6'1 and a pin who is a legit threat to score anywhere on the court, she is a solid six rotation athlete who can contribute in a variety of ways.  An explosive approach and a violent arm swing, Wollard puts on a heavy swing making it extremely tough for the other side of the net to get a clean pass back to their setter.  The combo of Wollard and Barry for Illini Elite always have them in position to compete. 
All starts with a first contact and finishes for an @TheAcademyVB kill by Mya Ayro pic.twitter.com/FZhOjkAgal

— Chris Fitzgerald (@PrepDigChris) January 30, 2021
Mya Ayro – The Academy 16 Yeti 
Ayro brings a lot of power from the outside for Academy.  She is quick to the ball and knows how to see the block to go cross or line.  This is a well rounded team with Alexis Thatcher as their setter who can run the show and there's always a clean and consistent first contact from libero Reagan Burns. 
Sydney Helmers – KiVA 16 Red 
Helmers is another who has a scary upside to her game.  Her physical presence speaks for itself as a 6'4 outside hitter, but she is athletic and dynamic with what she can do on the pin.  This team brings plenty of size and athleticism and will be a threat to win some big matches come Sunday.  As Helmers continues to develop her backcourt game she will be someone who can score everywhere and can become one of the top 2023 attackers in the country.