Defense is such an amazing aspect of the game of volleyball. Defenders need to be controlled on serve receive, fast on defense, and scrappy across the board. They need to be able to see across the court and anticipate the ball. Great, all around defenders can be hard to come by, but there are some seriously impressive players out there competing this season. Check out these defensive dynamos in this mid-season check-in. 
Rachel O'Brien – Heat 16 Black 
Rachel has a great platform. She is solid in serve receive but truly excels at running down balls. She sees the court well and gets great touches on nearly every ball that comes over the net. Rachel stays on her feet and uses her speed and platform to her advantage. 
Ameilia is a great talker on the court. She brings huge energy to her team. Amelia has clean and simple movements to the ball on serve receive and reacts early to where the ball is going. On defense, she reads incredibly well and picks up a lot of great passes. She is quite controlled on the court also has the ability to play very scrappy in order to set her team up for success. 
Natalie Harris – Wisconsin Juniors 16-1 
Natalie has very natural movement on the court, especially on serve receive. Her serve receive passing is insanely precise and consistent, something that is very hard to achieve. Natalie sets herself up very well on defense as well and has a great eye for reading hitters. She passes some very tough balls and provides a lot of opportunities for her team to earn points.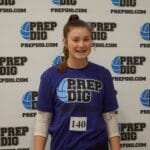 This team really struck defensive gold with these two defenders. Both are huge energizers and willing to throw themselves across the court to put a ball up. Elise has a lot of experience in the backcourt and reads the ball very well. She has a book-perfect platform that combined with her speed allows her to pick up an insane number of balls on serve receive and defense. 
Elayna brings a spark of energy every time she steps on the court. Her confidence and love of the game is very apparent when she plays. She excels on defense and makes big, momentum-changing plays. When Elise and Elayna are on the court together it can be extremely frustrating for opposing servers and hitters. 
Nora sets herself apart from the pack when she is in serve receive. It is honestly impressive how well she angles and holds her platform when she is passing on serve receive. Nora is also very talented on defense but her composure and control on serve receive is a huge aspect of her appeal as a libero. 
Paige is the definition of a defensive dynamo. Her communication is top-notch, she is fast on defense, controlled on offense, and has a powerhouse serve. Paige is an absolute leader on this talented FC Elite team and is a huge motivator for her teammates. She covers huge portions of the court and can be very frustrating to play against because nothing ever drops! Paige is a very talented athlete who really is the full package as a libero. 
Allyson Eckel – Motion 17 Blue 
Allyson is one of the scrappiest defenders I have seen. In one play I saw her dive into the bench then save another ball in the opposite corner of the court. She is very fast and has really solid court awareness. For a scrappy libero like Allyson, knowing where you are and how much force to put on the ball is key and she has mastered it.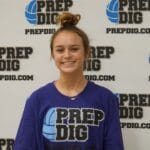 Katie is also a very scrappy defender. She has a lot of speed and balances that well with impeccable ball control. Katie excels in all aspects of being a libero including great communication and good serve receive. She is very dependable in the back row and her teammates trust her to put up great balls, which she very much delivers on.