Prep Dig Gauntlet is just a sleep away!  I have loved the talented young athletes we get to see at our Prep Dig events and getting to watch them develop their skillset while also seeing their personalities come to life as they move up the ranks as prospects.  I am looking forward to seeing 3 days of great volleyball.  Here is a sneak peek of some 2023s to watch out for this weekend.
Capital 16 Adidas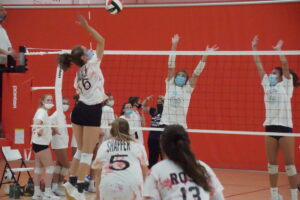 Jordan LaScala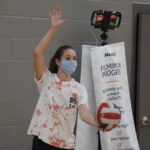 Jordan LaScala 6'0" | OH Middleton | 2023 State WI – 2023 – 5'11 – Outside Hitter – Middleton
LaScala is a six-rotation outside hitter from Middleton High School who gets to work during the club season with fellow Cardinal,  Evinae Jordee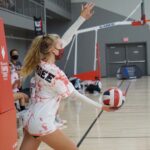 Evinae Jordee 5'9" | S Middleton | 2023 State WI , and Sierra Pertzborn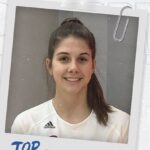 Sierra Pertzborn 6'3" | MB Middleton | 2023 State WI .  Her stats during the alternate fall included .256 hitting efficiency with 143 kills and 118 digs.  LaScala is a real threat that should not be taken lightly, and I hope to see her really open up and go all out this weekend.
FC Elite 16 Navy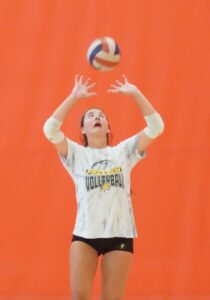 Rachel Koss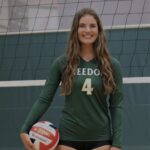 Rachel Koss 5'11" | S Freedom | 2023 State WI – 2023 – 5'10 – Setter – Freedom
Koss is a setter from Freedom, and she collected 311 assists, 106 digs, and 43 aces this past season.  She is valuable in all six rotations and can run the offense with the best of them.   
Sydney Bartels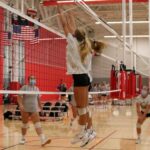 Sydney Bartels 5'11" | MB Freedom | 2023 State WI – 2023 – 5'9 – Middle Blocker – Freedom
Bartels is a sophomore middle blocker from Freedom High School who started all 64 sets during their shortened season.  She is a force at the net for her club team and you really need to watch out for her.  Bartels moves quickly along the net and has been running a smooth slide attack route since her 14's year.
Paige Miller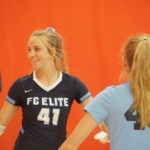 Paige Miller 5'10" | DS/L Kaukauna | 2023 State WI – 2023 – 5'8 – Libero – Kaukauna
Miller is a Libero from Kaukauna High School whose stats during the shortened fall 277 digs and 23 aces.  She averaged an impressive 5.4 digs per set which is no surprise because she is amazingly fast and just doesn't give up on the ball.  
Milwaukee Sting 16 Black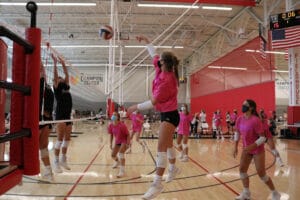 Katherine Lockwood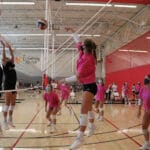 Katherine Lockwood 5'10" | OH Menomonee Falls | 2023 State WI – 2023 – 5'10 – Outside Hitter – Menomonee Falls
Lockwood is a six-rotation outside hitter from Menomonee Falls who I first saw in action at a Prep Dig Event, and I am excited to see how she has developed.  Last season she led the Indians with 137 kills as well as collected 146 digs and 11 blocks.  Lockwood is a legitimate threat, and I can't wait to see her in top form this weekend!  
Kyra Klumb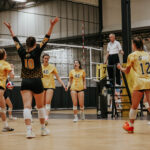 Kyra Klumb 5'10" | MB Whitnall | 2023 State WI – 2023 – 5'10 – Middle Blocker – Whitnall
Klumb is a sophomore at Whitnall High School and was instrumental for her team.  As a sophomore, she is getting a lot of sets and she should.  She is quick off the ground, and this helps her get several blocks as well.  Klumb is solid as a middle blocker and I'm sure she has developed a ton with Sting. 
Naomi Shepherd – 2023 – 5'10 – Right Side Hitter – Arrowhead
Shepherd is a tough right side hitter from Arrowhead who tallied over 100 kills this last season. She could step up as one of the top attackers for the Warhawks after being an active swing for Arrowhead in her sophomore season.  I first saw Shepherd at one of our Top 250 Expos so I can't wait to see her progress over the club season!
Rylee Duessler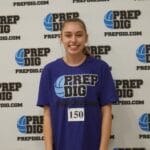 Rylee Duessler 5'9" | OH Waterloo | 2023 State WI – 2023 – 5'9 – Outside Hitter – Waterloo
Duessler was a sophomore outside hitter who was an important part of the run to the state championship match last fall for Waterloo. She managed to record 154 digs, 152 kills, and 41 aces in 2020.  Duessler is tough to defend and I'm excited to see her show off her skills at the Gauntlet.  She is a solid six-rotation player who will be a lot of fun watching the next couple of years.
Sydney Schultz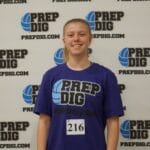 Sydney Schultz 5'7" | S Verona | 2023 State WI – 2023 – 5'7 – Setter – Verona
Schultz is a setter that didn't see varsity court time this past year but if she is making Sting Black you know she is getting trained right. She has a high volleyball IQ and the ability to find the hot hand or know just when to sneak in a well-placed setter dump.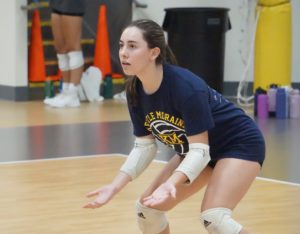 Milwaukee Sting 16 White
Kyleigh Coghlan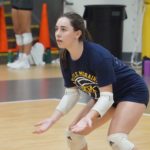 Kyleigh Coghlan 5'6" | DS/L Kettle Moraine | 2023 State WI – 2023 – 5'6 – Defensive Specialist/Libero – Kettle Moraine
Coghlan is the libero for Kettle Moraine.  Her stats last season included 366 digs and 27 aces. Coghlan is another player with a high volleyball IQ and always seems to be in the right place at the right time defensively.  Her intuition along with her ability to read gives her a ton of opportunity to play the ball.