One of the fun things about the pre-national tournaments is seeing all of the improvement made over the past club season. With this, a lot of new names will come out of nowhere.  Some players have found a new club team, taken on a new role, or they are really finding their groove. This demonstrates there is a lot of talent yet to be found!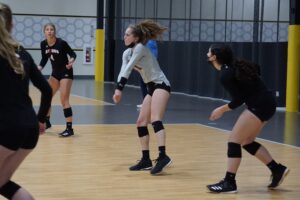 Cara Murdock – 2022 – 5'6 – Libero – New Trier – Sky High 17-1 NS (IL)
Murdock is a determined libero who takes control as a leader in the backcourt. She is super solid and consistent. Murdock stays calm in high-pressure situations and covers a TON of court.
Kaitlin Lauer Kaitlin Lauer 5'10" | MB Franklin | 2022 State WI – 2022 – 5'10 – Middle Blocker – Franklin – Sting Burlington United 17 Orange
I could probably write about most of the Burlington United squad between Chloe Werner Chloe Werner 5'10" | RS Waterford | 2022 State WI , Lily Kading Lily Kading 5'8" | OH Racine Lutheran | 2022 State WI , and Lauer as players I really didn't know anything about.  This team should see plenty of success over the next few weeks in Louisville and Vegas. Lauer runs a number of routes and can score points. She can also run a slide and swing line, which you don't see as much, but Lauer is good at mixing up her placement of the ball to keep opponents guessing.  She is a dynamic middle who can really pack a punch.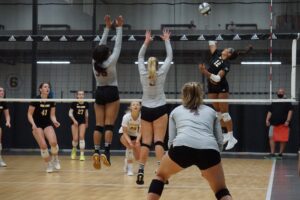 Kayla Wigley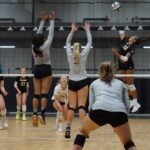 Kayla Wigley 5'10" | OH Wisconsin Lutheran | 2022 State WI – 2022 – 5'10 – Outside Hitter – Wisconsin Lutheran – Milwaukee Sting 17 White
Sting just had their physical and gifted 17 White in the 17/18s division.  They will be one to keep your eye on in Vegas.  Wigley was the team's top attacker in the championship.  She has an assertive and explosive approach and vicious arm swing when she crushes the ball down the line.  She's not afraid to take the high-pressure swing down the line to score points for the Sting.
Abigail Ferriss – 2022 – 5'10 – Outside Hitter – Buffalo Grove – Sky High 17-1 NS (IL)
Ferriss is a really solid athlete. She came up with some big plays in the clutch. In one tight match, she took a huge swing down the line and then immediately went back to the service line and fired in a floater that dropped short for an ace. In a different match, she came out of nowhere and powered the ball thru the split.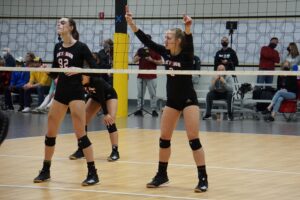 Mackenzie Pitera – 2023 – 5'9 – Outside Hitter – Lake Forest – Sky High Adidas 17 Sophs (IL)
It was fun to see the soon-to-be junior, Pitera.  She can fly and has a really great contact on the ball. When she gets a hold of the ball, it makes a resounding boom along with a downward trajectory. Pitera also puts up a strong block, but what's most impressive is her ability to make a fast swing look so effortless.
Kaitlyn Taylor – 2023 – Setter – Bloomington – Illini Elite 17 White (IL)
Taylor was definitely a game-changer for an extremely powerful and potent Illini lineup.  A setter who can row the show and has a great connection with her hitters is invaluable. Stephanie Hebel is the big point scorer on the outside, but seeing Taylor play, she has a knack for strategy and finds a way to get everyone involved. I had a blast watching her run a gap set with her middles.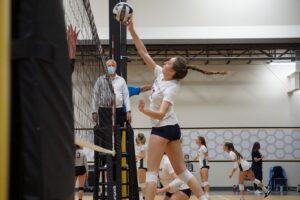 Morgan Neitzel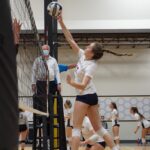 Morgan Neitzel MB Heritage Christian | 2022 State WI – 2022 – Middle Blocker – RVA G17 Navy
This RVA team was really well balanced, and you can tell they just love the game.  They will have a star on them heading into Nationals after they took down a lot of really solid teams at the Gauntlet. Teams just struggled finding an answer to middle combo of Neitzel and Savatski.
Neitzel worked really well off the blockers shoulder and did a great job finding the 1 corner. She plays with a high motor, runs a variety of routes, and makes smart shots. Neitzel hits at a high level and makes her presence known at the net.
Rory Griffin Rory Griffin MB West Bend West | 2022 State WI – 2022 – Middle Blocker – West Bend West – Milwaukee Sting 17 White
Sting has plenty of depth in each position. They have two solid setters in  Katie Gund
Katie Gund 5'11" | S Pewaukee | 2022 State WI and  Tatum Kebisek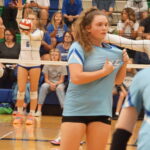 Tatum Kebisek 5'9" | S Brookfield Central | 2022 State WI  along with point scorers  Kara Schmit Kara Schmit 5'8" | OH DSHA | 2022 State WI and Kayla Wigley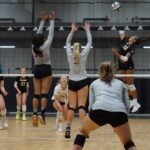 Kayla Wigley 5'10" | OH Wisconsin Lutheran | 2022 State WI .  Griffin will be another smart arm to score points and she can score points because of great court vision and a nasty tip to the 4 corner. Sting 17 White is on a roll and will look forward to take on top competition in Vegas.
Other Notables:
Arianna Knowles 2022 – 6'1 – Middle Blocker – Grayslake North – Sky High Adidas 17-1 NS (IL)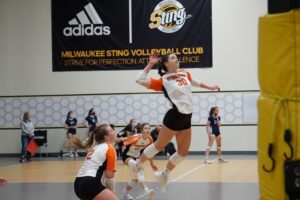 Chloe Werner Chloe Werner 5'10" | RS Waterford | 2022 State WI – 2022 – 5'10 – Right Side Hitter – Waterford – Sting Burlington United 17 Orange
Ellie Connor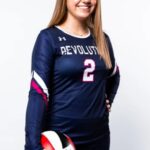 Ellie Connor 5'8" | S DSHA | 2023 State WI – 2023 – Setter – RVA G17 Navy
Grace Comilla – 2022 – 5'8 – Defensive Specialist – Libertyville – Sky High Adidas 17-1 NS (IL)
Grace Minder – 2022 – 6'2 – Middle Blocker – Sacred Hearth-Griffin – Illini Elite 17 White (IL)
Raegan Watts – 2022 – 5'5 – Libero – Maroa-Forsyth – Illini Elite 17 White (IL)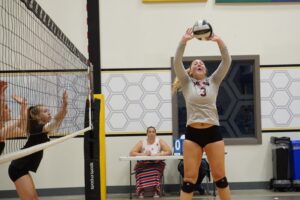 Megan Margolis – 2022 – 5'10 – Setter – Lake Forest – Sky High Adidas 17-1 NS (IL)
Stephanie Hebel – 2022 – 5'10 – Outside Hitter – Central Catholic – Illini Elite 17 White – Committed to Olivet Nazerene (IL)
Sydnie Williams – 2022 – 5'10 – Outside Hitter – Champaign Central – Illini Elite 17 White (IL)
Izzy Stark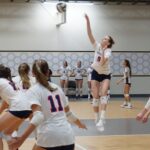 Izzy Stark 5'11" | RS Mukwonago | 2022 State WI – 2022 – 5'11 – Right Side Hitter – Mukwonago – RVA G17 Navy
Lauren Foerster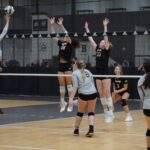 Lauren Foerster 5'10" | OH Westosha Central | 2022 State WI – 2022 – 5'10 – Outside Hitter – Westosha Central – Sky High Adidas 17-1 NS
Lily Kading Lily Kading 5'8" | OH Racine Lutheran | 2022 State WI – 2022 – 5'8 – Outside Hitter – Racine Lutheran – Sting Burlington United 17 Orange