This summer has been flying by!  Spring sports just ended officially a couple weeks ago, but a number of these athletes just got back from Florida or Las Vegas to compete in Nationals.  There are lots of names we say over and over, but what about the players that haven't yet peaked?  Here are some names to take note of because any one of these could be names you hear over and over.  These players are bound for a breakout season!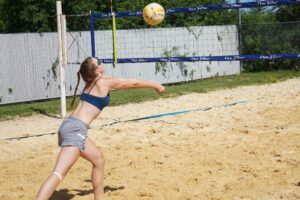 Ava Krueger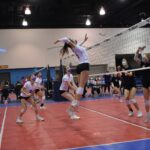 Ava Krueger 5'8" | OH Marathon | 2024 State WI – 2024 – 5'8 – Outside Hitter/Middle Blocker – Marathon – Wisconsin Ice 15 Purple 
Krueger had a big club season for Wisconsin Ice 15 Purple, which won the Prep Dig Battle In the Valley this past May.  She is lively, physical, and a natural athlete with a high ceiling.  Krueger can block, score points, and provide a reliable first contact.  Marathon should be a program to contend with again with a number of returners and falling just short of a state tournament trip. 
Campbell Onell – 2025 – Middle Blocker – FC Elite 14 Navy 
It's not hard to love this kid!  She has great energy, communication, and she is positive and supportive of her teammates.  Onell is a force defensively with her block, but also a key offensive weapon.   She knows where the block is and works the angles to score points.  When her team is in-system, she is impossible to stop. 
Emma Koceja – 2025 – Right Side Hitter – Milwaukee Sting 14 Gold 
Koceja will be one to watch for among Sting program loaded with volleyball talent at the 14s level.  She attacks well from either pin and is consistent in serve-receive and defense. Koceja offers a big block on the right side as well as an aggressive float serve.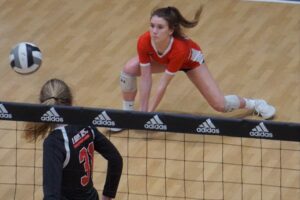 Cailey Eklund – 2023 – Libero – Lions 16-1 
Eklund is quick and consistent in the back court.  She has high energy, solid in serve-receive, and has some real leader potential.  Eklund is defensively sound with a good volleyball IQ.  
Katlyn Tarkowski – 2025 – Pin Hitter – RVA 14 Navy 
Tarkowski was turning heads at the Badger Region High-Performance camp and got a spot as an alternate.  She was taking big explosive swings to score against some of the top defenders in Wisconsin. Tarkowski is a major dark horse who can find a split and expose it with a fast aggressive swing.  
Jackie Yancy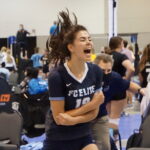 Jackie Yancy 6'1" | OH Howards Grove | 2023 State WI – 2023 – 5'10 – Outside Hitter – Howards Grove – FC Elite 16 White 
Yancy is so explosive that she can jump right out of the gym.  This electrifying attacker will be a junior and building off a strong sophomore year and D3 State Championship.  This could be another big year for HG, and they will be a force with a target on their backs after back-to-back state championships.  They can and should be competing with some top Wisconsin high schools from all divisions.  
Tess Hayes – 2023 – 5'7 – Setter/Right Side Hitter – Mother McAuley – 1st Alliance 16 Black (IL) 
Hayes is on the rise in the Illinois Class of 2023 as a setter out of Chicago.  She has quick hands and a fast release, along with being athletic to make opposing middles really work to keep up with her.  Hayes gained invaluable experience during the club season that will prepare her to run the show for Mother McAuley.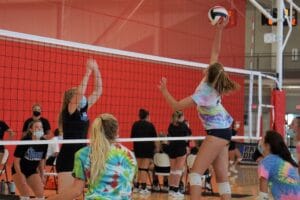 Molly Rohde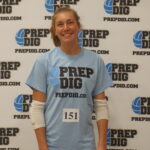 Molly Rohde 5'11" | MB Hortonville | 2023 State WI – 2023 – 6'0 – Middle Blocker – Hortonville – FC Elite 16 White 
Rohde has a really great seal and press on her block.  I also really like the swing and firepower that she provides when her team is in-system.  Rohde did a great job for FC Elite 16 White and will step into a bigger leadership role for Hortonville this year where she will partner with  Emma Mullins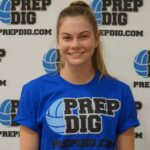 Emma Mullins 5'8" | OH Hortonville | 2022 State WI  (2022 – 5'8 – Outside Hitter) who is dangerous from the pins.   
Myla Unterweger – 2025 – Pin Hitter – Milwaukee Sting 14 Gold 
Wisconsin is never low on talent, especially in the Milwaukee area.  Milwaukee Sting is always in the mix to compete with big clubs across the country.  Unterweger has solid platform angles in serve-receive and is aggressive on offense.  High pressure situations don't seem to phase her.  Unterweger has a lot of oomph behind her swing, as well as the physicality to force the ball through the block in the split or off the outside hand.   
Olivia Neumann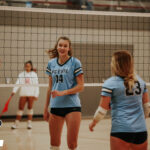 Olivia Neumann 6'2" | MB Xavier | 2024 State WI – 2024 – 6'2 – Middle Blocker – Xavier – FC Elite 15 White 
While Xavier may be graduating some key players, they've also got a lot of young talent with experience.  Neumann puts up a big block and isn't the only youngin' that will be filling big shoes this year.  She is active and can transition in order to be available to attack.  Neumann is part of a trio of '24 attackers for the Hawks, including  Halle Vande Hey Halle Vande Hey 5'11" | OH Xavier | 2024 State WI  (5'11 – Outside Hitter) and Mattea Kiepert (5'9 – Outside Hitter). 
Rebecca Ring – 2025 – Pin Hitter – Edgewood – Capital 15 Adidas 
Ring is poised for a big first high school season where she could be utilized as a swing from the pin and a primary passer in the back row.  She is dynamic and a well-rounded player who does a great job sealing the net and pressing back into the court on the block.  Ring is defensively sound, a positive teammate, and very coachable.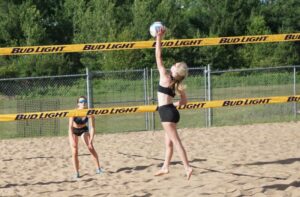 Other Notables: 
Alexis Jonas – 2023 – 5'6 – Setter/Right Side Hitter – Mosinee – One Wisconsin Point 16s  
Madison Hoppe – 2025 – Pin Hitter – Milwaukee Sting 14 Gold 
Natalie Cipriano – 2023 – 5'7 – Outside Hitter – Willowbrook – Lions 16-1s