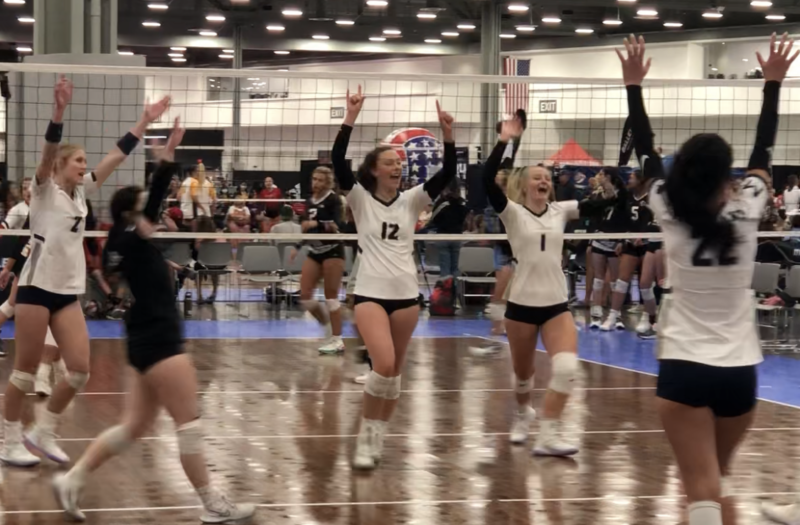 Posted On: 07/13/21 1:00 PM
The USA Volleyball Girls Junior National Championship took place at the Las Vegas Convention Center from June 26-July 5.  In order to play at this prestigious tournament in one of the four main divisions, a club team must win their bid by placing at a USAV national qualifier. 
184 teams have earned their right to represent their club and compete to be one of the best teams in the nation in four different 17's divisions.  The National division is made up of 48 teams that won their bid at their team's respective regional championships.  The state of Texas was heavily represented in the 17's National Division with 5 teams making the trip to Nevada.
Muscle 17 Elite
The team led by head coach Brett Braziel has had a fantastic season as they were able to Qualify for USA Junior Nationals.  So far in the regular season they had 25 wins and only 23 losses against some stellar competition. They earned their bid to Nationals from the North Texas Regionals. They also had great showings at the Northeast Qualifier in the Open Division placing 7th overall and also in the Sunshine Volleyball Classic placing 9th overall in the Open Divison. 
Day one and two consists of pool play.  There are six pools of eight teams that are seeded by USA Volleyball.  Many factors go into the seeding such as win/loss record versus the rest of the teams in the field.  Muscle 17 Elite came in to the tournament ranked as the 4th best team in the 17 National Division. 
They went undefeated in the first pool of the tournament that is played over the first two days.  This team was on fire with no team truly giving them a super tough matchup.  They were riding a high going into the third day with stellar play coming from everyone on the roster.  This team only has 8 players on its roster compared to most teams with 10-12.  Every single player has a definite role and they work very well together.  This was showcased against some of the best competition in the nation all weekend long. 
Day three at Nationals bottle-necks into eight pools of three.  The tournament is now divided in half with the top 24 teams battling it out for a chance at the title.  Muscle ran into a tough battle in their first match of this pool and gutted out a three set win against Paramount VBC (25-21, 23-25, 15-9).  The blocking of London Hunt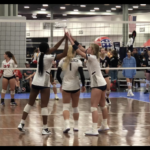 London Hunt 5'10" | MB Guyer | 2022 State TX and Kate Croshaw came up huge in this match.  The next match was won easily by Muscle against Iowa Select 17 Mizuno (25-18, 25-17). I watched this match personally and the dou of University of Texas commit Kenna Miller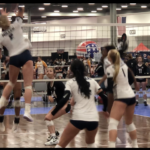 Kenna Miller 6'0" | OH Northwest | 2022 State #122 Nation TX and SMU Commit Jentry Lamirand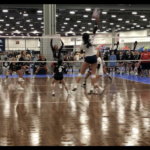 Jentry Lamirand 5'11" | OH Decatur | 2022 State TX were phenomenal/unstoppable on the pins.   Libero Keegan O'Connor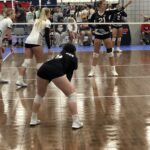 Keegan O'Connor 5'2" | DS/L Weatherford | 2022 State TX didn't let anything fall and her serve receive was on point in order to have Halle Sherlock run a great offense.   
They were still alive in the chase for the championship and it pitted them against the 13th ranked Kansas City Power 17-1 team from the Heart of America Region for the right to go to the Gold Bracket.  They fought extremely hard but fell to KC Power (17-25, 23-25).  Their lone loss put them into the silver bracket of the USA Junior National Championship.  The best they could do is finish 9thoverall in the nation.   
Their first match was against the very tough Milwaukee Sting 17 Gold.  They battled them early at 9am and took the match in straight sets (25-17, 25-20).  The finals of the Silver Bracket came against 16th ranked Dynasty 17 Black. This club is very decorated and always shows well in every age group.  FH Muscle was tested very well by Dynasty and they pulled off the nail biting third set to finish 9th in the National Division.  The scores of each set were (25-17, 21-25, 15-13).
I was able to interview Kenna going into the tournament and she gave me quite a bit of info on each player. It was fun to hear her answers about her teammates.  This team is very special and they have a bond that is more like family than any team I have seen in a while.  I loved how she mentioned that they hold each other very accountable to not only attend practice but give their all while they are there.  This has definitely helped them to get to where they are.  Let's meet a few of them and get to know them better. We will be profiling all of them soon.
Kenna Miller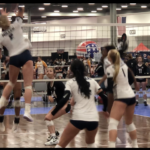 Kenna Miller 6'0" | OH Northwest | 2022 State #122 Nation TX [2022] 6-0 Outside (HS: Northwest/Club: Muscle/ Verbal: University of Texas)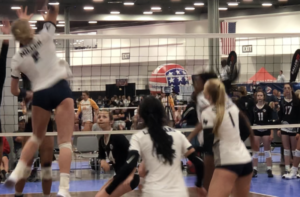 Kenna Miller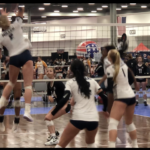 Kenna Miller 6'0" | OH Northwest | 2022 State #122 Nation TX has made some serious waves in the 2022 Prep Dig State Rankings again.  We currently have her listed as the 34th top overall prospect and the 12thbest outside based on her awesome stats this past year.   We have written about her a few times this past year and here is a little of what we said, "This North Texas outside is a true six rotation outside who has the size and power to play at the next level.  Her offensive skill-set is already next level as she is able to score from every position on the court both front row and back row with power and finesse.  A true six rotation outside hitter should be one who has excellent ball control in serving, serve receive passing, and in digging while in the back row.  Miss Miller is blessed to have it all.  She is a fantastic player for both her high school and club teams.  There is nothing this young lady can't do on a court.  Her jump serve keeps teams off-balance and she provides so much leadership for her school team also.  Nothing seems to phase her while she is on the court.  Her defensive skills are something that truly stands out.  Most six footers have a hard time getting low or are not fast enough to dig hard driven balls.  Not Miss Miller.  She is the real deal and will be moving up our rankings very quickly as we watch her more closely.  Keep your eye on this young lady as she continues to grow as a player.  College coaches please take her name down as she can help a lot of programs in a few years.  Kenna broke a school record with 34 kills and 23 digs in a five set win this season and that is something we have come to expect with her play.   She is a phenom and we are going to follow her career very closely.  We also believe that she has every tool to keep climbing up the rankings.  Looks like our prediction came to fruition as she made one of the largest jumps in the rankings.  She only got better during her junior season at Northwest.  Take a look at these stats:  317 kills, on a .312 hitting percentage from the left side pin, 24 aces, 35 blocks, 129 digs, and 176 service receptions.  Last year was a breakout year for the stud six rotation left side and I can guarantee some records are going to be broken next season during her senior year."  We are very happy to report that she has just recently verbally committed to the University of Texas.  Coach Elliott is getting one of the best outside hitters in the state.  Seeing her in video is awesome but seeing this young lady in person is even better.  The athleticism that she possesses is phenomenal and she has every shot you would want an outside attacker.  The best part about this young lady is her personality.  I enjoyed our conversation immensely about her and her teammates. She is extremely mature and is ready for the biggest stage one can be at in the next level.  Stay tuned to see where she moves in our next ranking update.
Jentry Lamirand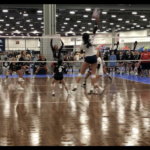 Jentry Lamirand 5'11" | OH Decatur | 2022 State TX [2022] 5-10 Outside (HS: Decatur/Club: Muscle/Verbal: Southern Methodist University)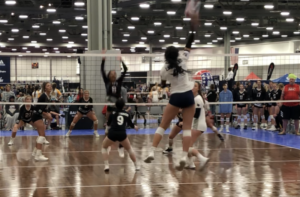 Jentry is currently ranked as the 59th best overall prospect in the 2022 rankings according to our State Rankings.  We previously covered her back in January and here is a little of what we wrote about her then, "She is committed to SMU and we are excited to have her on our radar.  She is a very athletic young lady who can do it all on the court.  Her hands are great and she can jump set from anywhere on the court and deliver amazing sets consistently to the same location over and over.  She has a lot of length in her arms and that allows her to push the ball with ease across the court to her hitters.  As far as her offensive abilities are concerned, this young lady can explode for moments of firepower with the best of them in the middle or right side position. She uses her lightning quick arm swing to unload on her opponents.  I love watching this young lady play in every position she plays on the court.  And as it turns out, she moved up the rankings extremely fast due to her play on the court this season.  She helped Decatur high school finish the season with an overall record of 31-1 and an unblemished district record of 11-0.  She led her team offensively to the UIL 4A State Championship game where she was named MVP and took the title to complete a wonderful season."  She is very explosive on the court and can do it all in the front row and back row. She had a tremendous showing at the GJNC in Vegas.  SMU is getting another fantastic player to add to their roster and she will be an impact player for them once her senior season is complete. 
London Hunt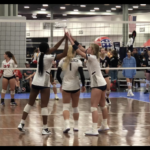 London Hunt 5'10" | MB Guyer | 2022 State TX [2022] 5-11 Middle (HS: Guyer/Club: Muscle/Verbal: Uncommitted)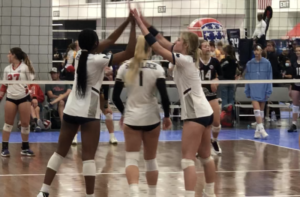 London comes in ranked as the 91st prospect in the 2022 class according to our Prep Dig State Rankings.  We covered London early last season as we wrote about her Guyer HS squad and here is a little of what we said, "She is also a big net contributor for the Guyer program.  She plays out of the middle and is a stopping force there against her opponents.  Her quick footwork allows her to cover a lot of ground while patrolling the net.  She will be a big reason why Guyer is able to be in any game this season because of her defensive abilities.  Every great team needs strong middles to shut hitters down or at least slow them down.  London is one of Guyer's stoppers.  I love how she presses and seals the net to solidify her block.  She also plays at Instinct and they have taught her well. She brings great experience being on varsity last year and helping in their run they had in the playoffs.  Be on the lookout for her stock to rise this season as she has a great setter to help her score at will."  Miss Hunt showcased her athleticism patrolling the net all tournament long.  She had some key stops during big moments and hitters had to attack around her block in every match which made it easier for her teammates to play defense.  She is extremely athletic and she should definitely be looked at by colleges who need a middle who can be explosive on both offense and defense.  
Keegan O'Connor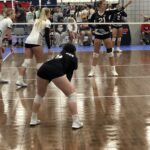 Keegan O'Connor 5'2" | DS/L Weatherford | 2022 State TX [2022] 5-3 Libero (HS: Weatherford/Club: Muscle /Verbal: Uncommitted)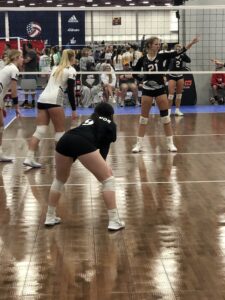 Keegan O'Connor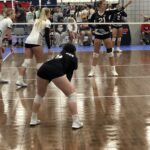 Keegan O'Connor 5'2" | DS/L Weatherford | 2022 State TX  is ranked as the 115th best high school prospect in the 2022 class in the State of Texas.  We have written a few articles on Keegan.  The most recent one said this, "Miss O'Connor is a very quick and athletic libero who was born to play the position. Don't let her size fool you.  She has the fight of a giant inside of her. Originally from the Chicago area, Keegan moved to Texas and has had to fight to earn her respect in the sport of volleyball.  And boy has she earned it.  She is beginning to receive high praise from many sports outlets and it is due.  I love her work ethic and her desire to excel in her position on the court.  She has a phenomenal serve that floats so well and stifles opponents.  What sets her apart from other liberos is her touch on the ball.  She has an uncanny ability to absorb hard driven contact from any angle and it comes off of her platform very well to the setter.  Her emergency technique digs are a sight to see and she will always keep her team in the fight with her on the back row.  She has ball control with both her platform and her hands to receive the ball and it is always at target once she contacts.  I think coaches should keep an eye on this young lady as she continues to progress.  She is able to play at the next level if someone gives her the chance.  This kid continues to amaze everyone.  She has recently surpassed the 1000 dig mark in a very short period of time.  She has also been named Defensive MVP last year for her district and also named to the AVCA phenom watch list.  She is one reason why her Lady Roo volleyball team has been undefeated in district so far at 6-0.  Overall they are 11-2 on the young season and Keegan is a big reason why.  We are expecting some great things from them in the playoffs as well.  With Keegan at the helm of their defense they are poised for a good run.  Well go ahead and add another accolade to this amazingly hard working libero. Keegan has just been named District 3-6A Defensive Player of the Year."  We were very impressed when we watched this young lady fly all over the court in person while in Vegas.  Her serve receive passing was on point all tournament long as she routinely passed nails for her team to stay in system and make it easier for her setters to run great tempo.  I will never get tired of watching her dig and sprawl out for balls well outside her range.  She is one of the reasons why this team is able to play against any competition due to her stellar defense.  She will likely continue to move up the rankings now that I have seen her in person. I suggest all coaches give her a look or two if they need a star libero. 
Katelynn Crowshaw[2022] 6-0 Middle (HS: Byron Nelson/Club: Muscle/Verbal: Uncommitted)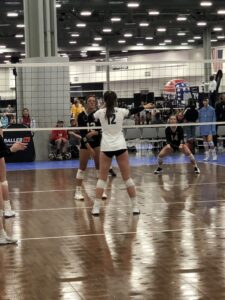 Katelynn is currently unranked in our State Rankings but that will change once I update them in a few weeks.  She is one person that I have had on my watch list and now that I have seen her in person, I am going to add her.  She is a solid middle for Byron Nelson High School and also for Muscle volleyball club. Kate hits a very good ball to either corner very easily and can run all of the routes on the middle route tree rapidly. She understands tempo and her transition game will fit into the college level very easily.  Her size and speed is what showcased very well when I watched in person.  Kate does a fantastic job of penetrating the net during her blocks and seals it very well. What truly stands out is her ability to thread the needle with her attack and she pounds the ball straight down for a kill routinely.  Please give her a look as we think she can play at the next level. We are going to watch her closely during her senior season.  Stay tuned for updates
Stay tuned for more articles on your favorite teams and athletes.  If you have anyone you think we should watch out for, please shoot me an email with some info on them at nov8vb@yahoo.com.  Also don't forget to help these kids get more exposure by sharing our stories with your friends.  Help us help them by simply retweeting on Twitter or sharing on Facebook.  Thanks for following Texas Family!