Clases A,B,C- 1 will take over Kearney Catholic for the Top Ten Team Camp on Thursday July 29th 1:20-8:30 and Friday July 30th from 7:50-3:40. This camp session is oozing with talent as it features a few 2020 State Runner-Up teams looking for more this upcoming fall. 
Kris Conner, the Head Coach at Kearney Catholic runs the high caliber team camp. When visiting with her about how it came to be she said, "I've always ran team camps and enjoyed the format which is 30 minutes on then 30 off so you can get in a lot of matches.  We also wanted great competition so we came up with the idea of inviting the top ranked teams from all the media outlets based on the previous year ratings. This has created a very competitive atmosphere and a "state-like" venue of teams. I also wanted to help athletes be seen by college coaches and we've been able to help several kids and coaches in their recruitment efforts."
Here is a look at some athletes to have on your radar during the camp:
Adams Central: 5'6 OH Jess Babcock (Class of 2022) She is small, but mighty and had 297 kills and 275 digs for the season. They knocked off perennial powerhouse Grand Island Central Catholic to earn a berth into the 2020 State Volleyball Tourney. 
Millard South: 6'0″ OH Emily Hagedorn Emily Hagedorn 5'11" | OH Millard South | 2022 State NE (Class of 2022) had 261 kills on the outside for the Patriots last year. 6'0″ MH Laci Abendroth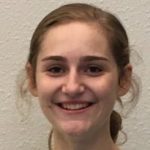 Laci Abendroth 6'1" | MB Millard South | 2022 State NE (Class of 2022) chipped in 246 kills and 45 blocks last season. She has long levers and sees the floor well. She plays with a lot of energy as well. 
St. Paul: 6'0″ S Olivia Poppert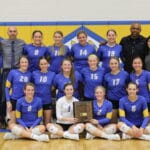 Olivia Poppert 6'0" | S St. Paul | 2022 State NE (Class of 2022) She has long levers and participated in the Prep Dig Expo 250. She is strong and will be a big leader to fill some shoes from last year's State Runner-Up team.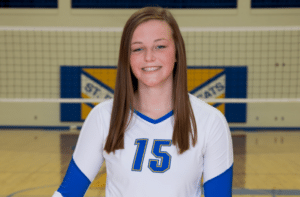 Columbus Lakeview: The ViQueens are coming off a stellar season and return a lot of their offense from a year ago. Katie Korte: MH, OH (Class of 2022) She had 245 kills and 35 blocks last season. She has good finesse on the net and looks for open spots. 5'9″ S Lilly Rowe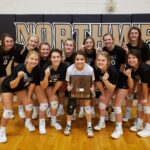 Lilly Rowe 5'9" | OH Columbus Lakeview | 2022 State NE : (Class of 2022) She is a very versatile player as she had 348 kills last season with 40 set assists. Look for them to be contenders in the fall!
Lincoln Lutheran: 5'10″ Abby Wachal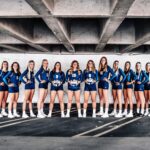 Abby Wachal 5'10" | OH Lincoln Lutheran | 2023 State NE (Class of 2023) hammered 400 kills for the Warriors last fall and chipped in 291 digs in her sophomore campaign. She is strong and can find the floor!
Norris: Nebraska Commit Maisie Boesiger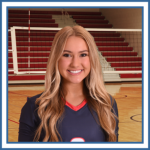 Maisie Boesiger 5'5" | S Norris | 2022 State #198 Nation NE will look to lead the Titans for her senior campaign. The 5'6″ setter had 1013 set assists and 66 ace serves last year as the Titans finished as State Runner-Up. Look for her to have plenty of players around her to swing away. 6'3'' (Class of 2022) OH Ella Waters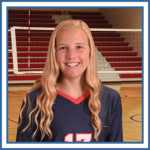 Ella Waters 6'3" | OH Norris | 2022 State NE pounded 400 kills last fall. Also keep an eye on 6'4'' MB Celia Spilker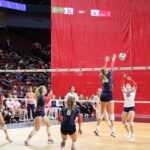 Celia Spilker 6'4" | OH Norris | 2024 State NE (Class of 2024) and 5'4″ DS Alivia Hausman (Class of 2024).
York: 6'0″ OH Masa Scheierman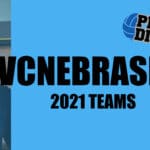 Masa Scheierman 6'0" | OH York | 2022 State NE (Class of 2022) a South Dakota State commit who hammered 516 kills for the Dukes last season. She is so strong at the net and a big time competitor. 5'5″ S Brynn Hirshfield (Class of 2022) comes off a huge track season and will be back setting for the Dukes. Last year she had 445 assists. They have some big shoes to fill from last year's team, but look for those two key players to step up big time! 
This two day session looks to have some great matches and mega talent!