Posted On: 07/26/21 9:13 AM
The final two days of the Top Ten Team Camp at Kearney Catholic will feature Nebraska's two smallest classes in the D-1, D-2 division. Huge talent is all over these smaller classes, making Nebraska high school volleyball so good from Class A to Class D-2. The camp will feature two 2020 State Champions in Pleasanton in Class D-1 and Diller-Odell in Class D-2. Play kicks off for the Tentative Day 1 Schedule on Friday, July 30th from 3:30-8:40 and finishes up on Saturday from 7:50- 5:30. Let's take a look at some players that should be on your radar headed into the fall!
Pleasanton: This roster will have to reload after tons of talent graduated from last year's State Championship team. A returning attacker in 6'2" MB, Chelsea Fisher Chelsea Fisher 6'1" | MB Pleasanton | 2022 NE (Class of 2022) had 231 kills and 61 blocks for the Bulldogs will be a player to keep an eye on and to build around for the fall season. 
Diller-Odell: The D-2 State Champion will have super junior to be 5'11" (Class of 2023) Karli Heidemann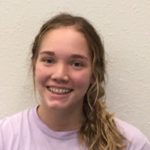 Karli Heidemann 6'1" | OH Diller-Odell | 2023 State NE who pounded an astonishing 534 kills, had 305 digs and 45 ace serves for the