Part of updating the rankings for each class is moving athletes that have made significant strides in their games. While there was lots of fluctuation in the updated 2022 rankings list, there were three athletes that made jumps from where they were to where they are ranked now. Let's take a look at the names!
Olivia Cammalleri Olivia Cammalleri S Demarest | 2022 State NJ , S, Demarest
5 -> 3
Cammalleri was one of the front-runners last season to be player of the year in NJ and she led Demarest to a sectional final. She racked up 274 assists this season with 104 digs and 23 aces. Her deception with her passing along with high volleyball IQ is what makes her special. She is presently one of my frontrunners if not the top choice to be player of the year this season. Expect monster numbers. 
Sabrina Skyers Sabrina Skyers 6'1" | OH Kent Place | 2022 State NJ , OH, Kent Place, USANY
22 -> 9
Skyers is one who opted out of the high school season and decided to play club. What did she do but have a monster season for USANY. Her on the outside with her athleticism and ability to hit on angles is what makes her dominant. She showed versatility to play multiple decisions and will be intriguing to see if she will play this high school season because Kent Place could be special. 
Paige Anania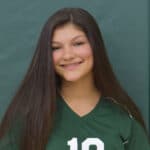 Paige Anania 5'5" | OH East Brunswick | 2022 State NJ , OH, East Brunswick, Princeton VBC
7 -> 5
Lastly, we have Anania. Anania is coming off a monster junior campaign as the focal point of the East Brunswick offense. It's her senior season and East Brunswick will go as far as she can carry them. Her ability to pass from the back sometimes goes unnoticed by how great of an offensive player she is. She is an all-around talent.