There's a lot to talk about regarding the new 2023 rankings in Nebraska. We've previously given a quick rundown of some storylines from the fresh update, as well as pointed toward some of the big movers within this class. Now, it's time to give a nod to the new additions.
This class has a lot of players that have recently emerged in the spotlight after strong performances in high school and/or club competition. Naturally, many athletes take a big step forward after the "newness" of freshman year wears off. 2023 are hitting their stride now.
So, let's give a shoutout to some athletes who stepped up over the past year and thus earned a place on our newest rankings.
Rebecca Baker Rebecca Baker 5'9" | S Bergan | 2023 State NE – 5'9 S – Bergan
Baker helped lead the way for an Archbishop Bergan team that was agonizingly close to a state title in 2020. Now an upperclassman, Baker has the experience and drive to be one of the best setters in Class D1 this season.
Faith Van Eck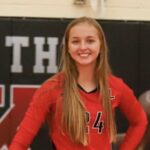 Faith Van Eck 5'7" | DS/L Lincoln | 2023 State NE – 5'7 DS/L – Lincoln High
Whether it's with VCN or Lincoln High, Van Eck has been a very steady performer over the past year. She is able to see what's coming at her and adjust her defense accordingly. Further training will allow Van Eck to perfect her craft.
Ruthie Loomis-Goltl Ruthie Loomis-Goltl 6'2" | OH Bridgeport | 2023 State NE – 6'2 OH – Bridgeport
Loomis-Goltl is an athlete that puts up big numbers every time she steps on the court. Last season, she put down over 300 kills in just 75 sets for Bridgeport. This standout from western Nebraska is also an impressive basketball player, which is a testament to her incredible athleticism.
Lily Snodgrass Lily Snodgrass 5'11" | MB Duchesne | 2023 State NE – 5'11 MB – Duchesne
Omaha Duchesne has been a formidable Class B opponent over the last few years, and talented attackers like Snodgrass help maintain the team's place near the top.
Kaitlyn Mlnarik Kaitlyn Mlnarik 5'7" | MB Bergan | 2023 NE – 5'7 OH/MB – Bergan
Another Bergan product to make this feature, Mlnarik took a big step forward in last year's high school season. After earning a starting role, she tallied nearly 200 kills and also contributed to backcourt defense. Mlnarik will help out any way she can.
Brielle Unseld Brielle Unseld 5'7" | S Pierce | 2023 NE – 5'7 S – Pierce
Moving up to northeast Nebraska now, Unseld has been running the Pierce offense ever since her first year with the program. Her numbers have been on an upward trajectory throughout her career, and she is a natural choice to lead Pierce for the next two seasons.
Kylee Wessel Kylee Wessel 5'9" | OH St. Francis | 2023 NE – 5'9 OH – Humphrey St. Francis
St. Francis is a team that's probably itching to get back to the state championships this fall. Wessel can help get them there. After accumulating an impressive 3.2 kills per set in 2020, this outside hitter seems ready to take on an even bigger role.
Kennedy Hurt Kennedy Hurt 5'6" | OH Ravenna | 2023 NE – 5'6 OH – Ravenna
Hurt is another player on this list who has put together a lot of standout performances in both volleyball and basketball. On the volleyball court, she has made a habit of racking up kills and digs in bunches.
Cora Gideon Cora Gideon 5'6" | MB Burwell | 2023 NE – 5'6 MB – Burwell
Gideon's impact on the floor usually comes in the blocking phase. She was one of the most productive shot-stuffers in her class last year, and she'll look to repeat that performance for Burwell in 2021.
Charli Coil Charli Coil 5'9" | S Hastings | 2023 NE – 5'9 S – Hastings
This setter's smooth delivery and fiery personality have been a sparkplug for Hastings. You can see Coil's passion in every point she plays, and her teammates thrive off her skill and leadership.
Mae Siegel Mae Siegel 5'9" | MB St. Patrick's | 2023 NE – 5'9 MB – St. Patrick's
Siegel's game is probably best defined by her blocking presence at the net. She's a natural jumper who takes pride in shutting down opposing blockers, and she'll likely do a lot more of that this fall.
Ella Gardner Ella Gardner 5'5" | S Superior | 2023 NE – 5'5 S – Superior
Gardner has formed an incredibly strong connection with her group of hitters at Superior. Her teammates can always expect to get a hittable ball, making Superior one of the most intimidating offenses in their class.